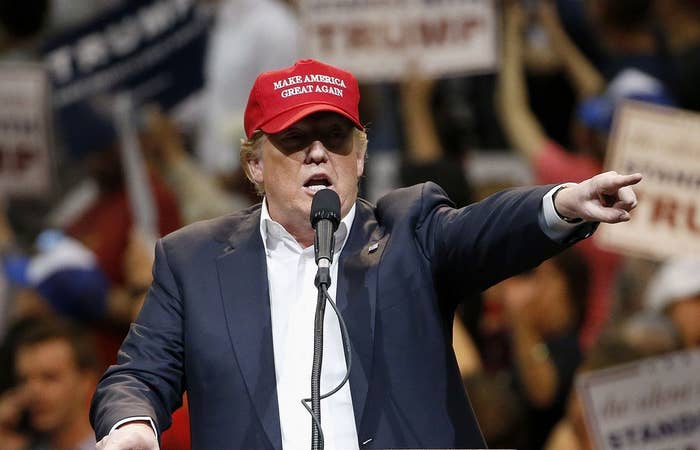 A Donald Trump rally in Tucson, Arizona, was marred by violence Saturday after an attendee brutally assaulted a man, and embattled campaign manager Corey Lewandowski appeared to grab at a protester's collar.
An altercation involving punching and kicking was captured on video. The video shows a man with an anti-Trump sign walking up stairs when he is hit from the side by another person. The man falls to the ground, and the assailant repeatedly kicks him.
The video shows bystanders and security eventually intervening, after which police led the assailant away.
NBC News described described the victim as a protester.
Tucson Police Sgt. Kimberly Bay told BuzzFeed News officers had arrested Tony Pettway, 32, on suspicion of assault. He was later identified as a staff sergeant for the Air Force.
Officials at Davis-Monthan Air Force Base in Tucson, Arizona, where he is based are reviewing the incident and will take appropriate steps, they told the Associated Press.
A woman was also arrested for assault at the rally for an unrelated incident, Bay said.
In a separate incident that was also captured on video, campaign manager Corey Lewandowski appeared to reach out and grab onto or near a man's shirt collar.
In the video, Lewandowski's hand appears to make a grabbing motion toward the shirt of a man standing with protesters. Another person beside Lewandowski also appears to reach out. The man then stumbles backward.
In a statement to CBS News, Trump's campaign said that Lewandowski was not to blame for what happened.
Images from the video appear to show Lewandowski — on the left in a sport coat and blue shirt — with his hand on or around the man's collar. It was not immediately clear why Lewandowski was in the middle of the crowd.
Speaking on Sunday morning to George Stephanopolous on ABC's This Week, Trump defended his campaign manager, denying he touched the protester.
"They had signs up in that area, that were horrendous, that I cannot say what they said on the sign," Trump said. "And, I will give him credit. Now he didn't touch him."
"I give [Lewandowski] credit for having spirit," he said. "He wanted them to take down those horrible profanity laced signs."
Lewandowski is currently embroiled in controversy for allegedly manhandling a journalist at a Trump event.
Michelle Fields — who at the time was working for Breitbart News but who has since resigned — said earlier this month that Lewandowski grabbed her from behind and nearly threw her to the ground.
A Washington Post reporter saw the incident, and Fields shared photos of her bruises, but Trump has denied that it happened, saying he thinks it was "made up."
The incident with Fields has generated significant controversy, with many — including Trump's chief GOP rival Ted Cruz — calling for Lewandowski's ouster.
Trump has come under increasing fire for campaign events that include violence and violent rhetoric.
Earlier this month, Trump called off a rally in Chicago amid tensions and fights between supporters and protesters. On March 12, a man charged the stage at a Trump event in Ohio, and police fired pepper spray at protesters in Kansas City, Missouri.
Many observers have also criticized Trump for rhetoric that they say incites violence. Last fall, after several white rally attendees assaulted a black protester, Trump responded by saying "maybe he should have been roughed up." In February, when Trump was interrupted by a protester, he said "I'd like to punch him in the face." And earlier this month, Trump responded to someone interrupting him by saying "try not to hurt him. If you do I'll defend you in court."
Trump's campaign did not respond to BuzzFeed News' request for information on Saturday's incidents.