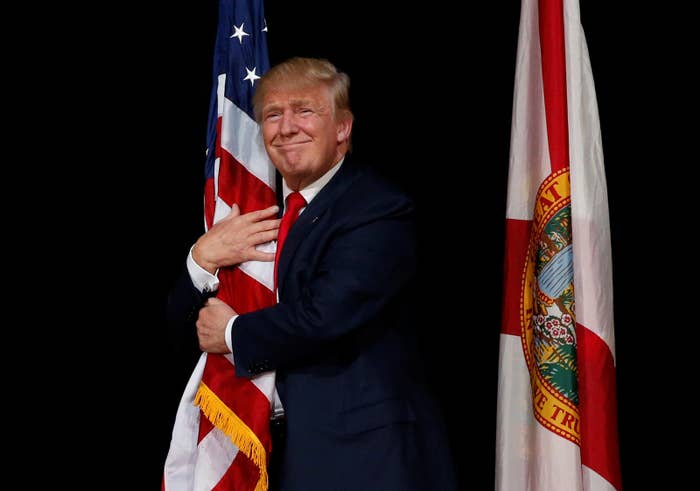 Donald Trump on Tuesday called for an investigation into Barack Obama, claiming the president knew about the private email server Hillary Clinton used while secretary of state.

Trump made the comment in an interview with Reuters, saying the president "stuck up for Hillary, because he didn't want to be dragged in. Because he knew all about her private server."
"This means that he has to be investigated," Trump added.

Trump has made Clinton's private email server a central part of his campaign, referring for months to the former secretary of state as "Crooked Hillary." More recently, he has promised that if he is elected he will appoint a special prosecutor to investigate Clinton. Trump has also expressed outrage at recent rallies that Clinton was allowed to run for president in the first place.
"Hillary Clinton threatens the foundations of democracy," a camouflage hat-wearing Trump told a cheering crowd Tuesday in Sanford, Florida.
The interview with Reuters, however, appears to mark the first time Trump specifically called for an investigation into Obama over the server.
The White House has said that Obama did not know details about the setup of Clinton's private email server, Reuters reported.
Trump also told Reuters on Tuesday that Clinton's plans for Syria — which is being ravaged by civil war and is experiencing a refugee crisis — could "lead to World War Three."
"What we should do is focus on ISIS," Trump said. "We should not be focusing on Syria."
The Republican nominee has made Syria a major part of his stump speeches as well, saying Clinton would expose the US to terrorism by increasing the number of refugees the US takes in. He repeated this point Tuesday in Florida, saying of the refugees that "we have no idea where they come from, no idea who they are and Crooked Hillary wants to have that increased by 550%."
"Tell you what, you vote for her you're crazy," Trump said at the Tuesday rally. "She is the worst."