Fox Says Trump Asked For A $5 Million Donation To His Charities To Attend Debate
Trump spoke with Fox News CEO Roger Ailes Thursday and said he'd appear at the GOP debate if Fox donated $5 million to his charities.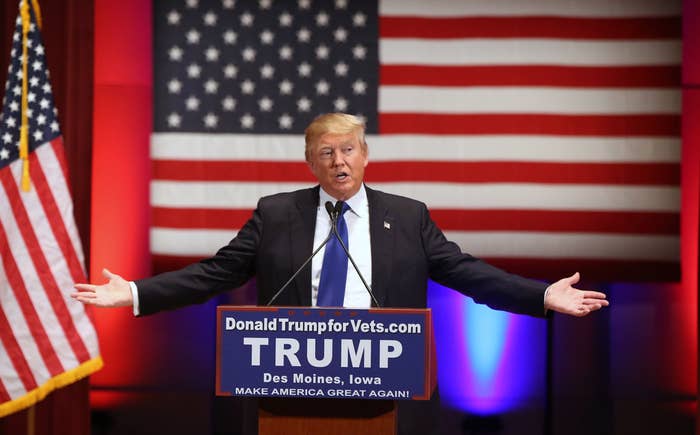 Donald Trump offered to show up at Thursday night's Fox News GOP debate — which he vowed not to do — if Fox donated $5 million to his charities.
Fox, however, refused Trump's offer, according to a statement distributed by the network Thursday evening.
The back-and-forth over the debate is the latest in a months-long feud between Trump, currently the GOP frontrunner, and Fox News. The feud began during an August debate when moderator Megyn Kelly asked Trump about his past comments about women.
For Thursday night's debate, Trump demanded Kelly be removed as moderator. Fox responded by issuing a satirical news release about Trump, prompting him to pull out of the debate.
Shortly before Thursday's debate began, Trump said on CNN that someone from Fox had called to apologize. Fox then quickly released a statement, explaining that CEO Roger Ailes spoke with Trump three times Thursday. During the conservations, Fox acknowledged Trump's "concerns about a satirical observation we made in order to quell attacks on Megyn Kelly."
"Trump offered to appear at the debate upon the condition that Fox News contribute $5 million to his charities," the statement adds.
Fox refused the offer, according to the statement, saying it would never "compromise our journalistic standards" and no money could change hands for any reason.
Fox News and Trump's campaign did not immediately respond to BuzzFeed News' request for comment.
Rather than appear at the debate, Trump spoke Thursday night at Drake University during an event to raise money for veterans. Afterward, he tweeted that the event raised $6 million.
During his veterans event, Trump said he would have preferred to be at the debate, Reuters reported, but "when you're treated badly, you have to stick up for your rights — whether we like it or not."
Trump also reiterated his comments about Fox trying to convince him to attend the debate, praised American veterans, and joked about his pregnant daughter, Ivanka, having her baby in Iowa.
"I'd definitely win!" Trump said, according to CNN.
Trump was joined at the event by fellow GOP presidential contenders Rick Santorum and Mike Huckabee — both of whom participated in Fox News' earlier undercard debate. According to USA Today, Trump praised Santorum and Huckabee, describing them as different from the other candidates.
Trump's event was sold out and CNN reported that some people waited hours in the cold to attend. It also netted Trump significant attention, with CNN and MSNBC airing video from the scene and other media discussing at length the impact of the frontrunner's absence at the debate.
Meanwhile, the remaining GOP candidates — all of whom trail Trump in the polls — appeared on stage for the last debate before the Iowa caucuses, which happen Monday.