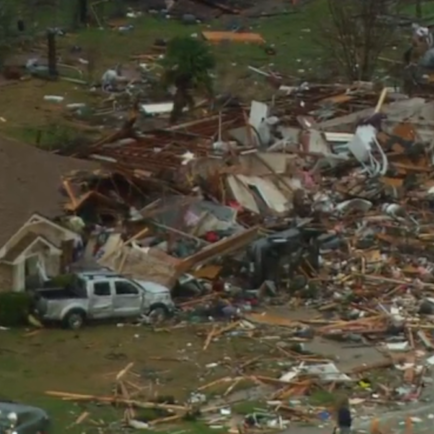 At least 11 people have died, including one child, after tornadoes tore through the Dallas, Texas, area on Saturday night, leaving a path of destruction.
Speaking at a press conference on Sunday morning, Garland Police Lt. Pedro Barineau said eight people had died in his county, and 15 had been taken to hospital with various injuries.
The deaths were caused by tornado-related traffic accidents near the intersection of Interstate 30 and the Bush Turnpike, Barineau said.
"As the sun comes up we will be able to see more but walking and driving through around Garland at the moment shows it is total devastation," he said.
About 600 buildings had been damaged by the tornadoes, he said.
A further three people were killed in Collin County, a sheriff's dispatcher told BuzzFeed News.
She did not have information about those victims, though local media reported two of the deaths happened in the community of Copeville and the third happened in Blue Ridge. One was believed to be a baby.
In nearby Rowlett, City Manager Brian Funderburk said 23 people were injured and "huge amounts of damage" was caused in the southern part of the city.
A 24-hour curfew is in place in the affected areas and 6,000 homes are without power.
Garland Lt. Barineau said authorities would continue to search the wreckage for survivors Sunday morning.
"The downpour and the cold weather is going to searches this morning. So far I don't have any official reports of people missing. But we will continue to search the area as the sun comes up," he said.
Gov. Greg Abbott on Sunday cautioned Texans to be vigilant of weather conditions over the next several days, to listen to local authorities, and above all, to stay off roads.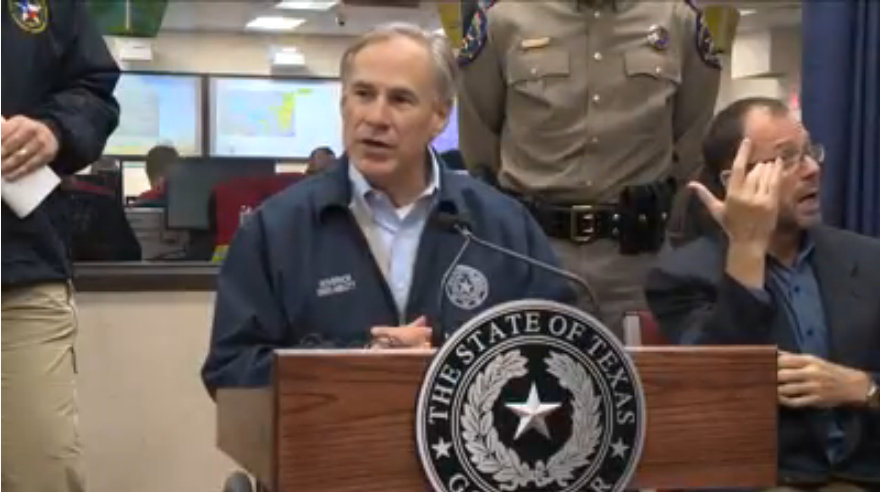 "We need Texans to be aware that there will be an ongoing problem for the next 24 hours especially, but really for the next several days," he told reporters.
Across the state, weather including snow, rain, and ice presented ongoing challenges, he said. The possibility for more tornadoes also remained.
Rising water levels in particular would pose danger in coming days, he said.
"We don't want you to become a victim yourself," he said.
The National Weather Service said it could not yet give an exact figure on how many tornadoes hit the region.
But TV meteorologists said they believed it there could have been as many as 11 twisters, the Dallas Morning News reported. By Sunday, the governor said reports showed more than a dozen.
State of emergencies have been declared in four counties, including the Garland and Rowlett areas.
Red Cross shelters have been opened across the state for people whose homes had been destroyed as well as others stranded by road conditions.
Severe storms are expected to continue to batter the Dallas area through Sunday.
The U.S. Weather Service in Fort Worth said on their Facebook page: "Storms in this area will be capable of damaging winds, hail, and isolated tornadoes.
"Otherwise there will be a continued threat for heavy rainfall and flash flooding for all areas from the I-35 corridor and eastward into East Texas as additional non-severe thunderstorms move north across the area," the Weather Service said.
Melinda Urbina, a spokesperson for the Dallas County Sheriff, told BuzzFeed News that one possible tornado touched down in the Sunnyvale area, about 15 miles east of Dallas.
The tornado apparently hit a trailer park, Urbina said.
Information about the extent of the damage was limited and Urbina called the situation "fluid," but added that some trailer homes had been damaged and ambulances were sent to the scene. She also said the road was strewn with debris.
"It was kind of a perfect storm gathering," Urbina said of the unusual December weather.
"Because we've been really warm and now there's a cold front coming through. This is spring weather right now," she said.
Images posted online showed extensive damage in Ovilla, about 20 miles south of Dallas, as well as in other nearby communities.
Just before 8 p.m. CT, Urbina said the worst of the possible tornadoes seemed to have passed the Dallas region, but said additional rain could still lead to flooding.
Storm chasers and other witnesses in the area captured images of at least one massive tornado as it moved through the region.
Saturday's tornado strikes follow several days of storms across the larger region that killed at least 20 other people and left a path of destruction.
Earlier in the week, tornadoes touched down in Alabama, Mississippi, and Tennessee. In total, those incidents left at least 60 people injured. Hundreds of homes were reduced to rubble or sustained some damage.