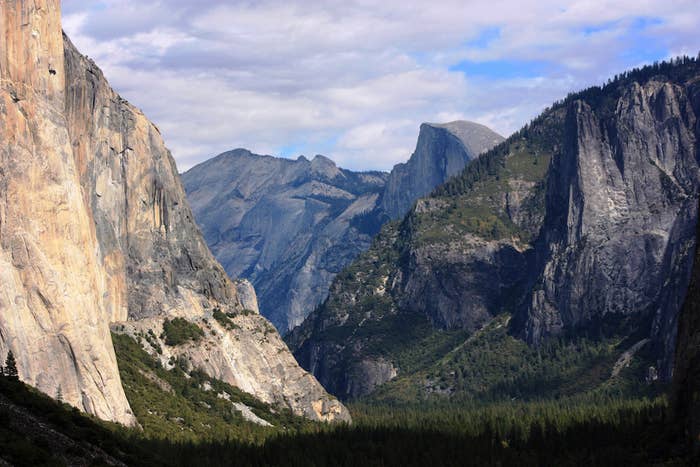 The top official at Yosemite National Park has announced his retirement amid an ongoing sexual harassment scandal that has engulfed national parks across the country.

Yosemite Superintendent Don Neubacher tendered his resignation Thursday, National Park Service spokesman Andrew Munoz said in a statement to BuzzFeed News. The resignation will take effect on Nov. 1.
Neubacher announced his departure after the agency took measures to move him out of his position as superintendent, Munoz said. Neubacher did not respond to a BuzzFeed News request for comment.
"The National Park Service is taking a comprehensive approach to address and prevent sexual harassment and hostile work environments," he added.
Neubacher's retirement comes as dozens of NPS employees have blasted the agency for creating a hostile work environment where sexual harassment is rampant. The complaints are not limited to Yosemite, but Neubacher was singled out last week at a congressional hearing for allegedly humiliating and intimidating employees.
"I regret leaving at this time, but want to do what's best for Yosemite National Park," he said in a message to colleagues. "It is an iconic area that is world renowned and deserves special attention."

Others have described a widespread cultural of sexual harassment in which perpetrators are rarely punished, and more often promoted.

On Thursday, Nancy DiPaolo, director of external affairs for the Interior Department's Office of Inspector General, also told BuzzFeed News that Yosemite has been the subject of an ongoing investigation by her office since late August. She declined to provide details about the investigation, but said recent congressional and media attention will hopefully help reassure people that they can speak out.
"I think that adds a layer of protection there," DiPaolo said.
News of the investigation came out Wednesday.
Rep. Jason Chaffetz told BuzzFeed News Wednesday that Neubacher's wife essentially shielded him from responsibility because she works as a San Francisco-based regional manager for the NPS.
Chaffetz repeatedly said that the overall scandal — which also involved allegations at Yellowstone, the Grand Canyon, and Canaveral National Seashore — meant people should be fired and potentially prosecuted criminally.
"I want to see somebody in handcuffs," Chaffetz said of the nation-spanning scandal.

In a letter to Yosemite employees, Neubacher said though he regretted leaving, he agreed new leadership was necessary for the park.
Dear Yosemite Colleagues:

Today, during a discussion with the Regional Director, it was determined that new leadership was needed at Yosemite National Park. I was offered a detail in Denver as a Senior Advisor to Michael Reynolds, Deputy Director for the National Park Service. Since my home is in California, I have opted to retire effective November 1, 2016. I will be on leave effective immediately.

Over the course of the last six years, we have done incredible work together. The two controversial Wild and Scenic River Plans for the Merced River and Tuolumne River have been completed and approved. Mariposa Grove restoration is nearing completion; it is the culmination of our vision with incredible collaboration that is fitting for the birthplace of the National Park idea. We also added the 400 acre Ackerson Meadow to Yosemite, a major Centennial gift to the national. And we have restored western pond turtles, Sierra Nevada bighorn sheep, and red-legged frogs to Yosemite National Park. For employees, we started together the Yosemite Leadership Academy and mentoring program. The list of accomplishments is much longer, but I wanted to keep this message brief.

I regret leaving at this time, but want to do what's best for Yosemite National Park. It is an iconic area that is world renowned and deserves special attention.

I appreciate all you have done for me, Yosemite and each other. Our employees, our park and our partners are some of the best in the nation.

Thank you for your past support.

With lasting respect and admiration,

Don Neubacher