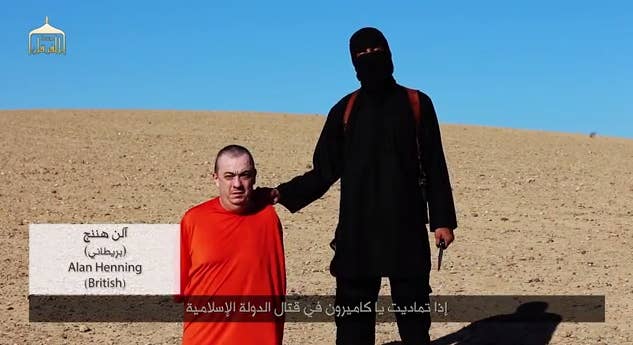 In a video released Saturday, ISIS threatened to kill a British man named Alan Henning. There's very little information about Henning online, but this is an account of how he reportedly became an ISIS prisoner:
A Syrian activist reportedly saw and spent time with Henning in an ISIS jail. The activist talked to journalist Harald Doornbos on Jan. 16, and Doornbos recounted the story to BuzzFeed News Saturday in an email.
The Syrian activist told Doornbos that while in the jail, his captors one day brought in a man named Alan Henning. The two men then spent a day and a night in the same cell, during which time Henning appeared to be in good spirits. The activist told Doornbos that Henning said he was from Manchester and that he worked for a "Muslim NGO." Henning also told the activist he believed he would be released soon because he was in the region doing aid work, Doornbos said.
The activist told Doornbos the prison was in Ad-Dana, a town about 24 miles from Aleppo, Syria.
Instead of releasing Henning, however, the activist said ISIS took him to Raqqa, the Syrian city that ISIS has declared the capital of its "Islamic State." The activist later escaped when the Free Syrian Army attacked Ad-Dana, but by then Henning was already gone. Doornbos said that after initially hearing the story he looked Henning up online and found nothing. As a result — and out of potential safety concerns — he never wrote about Henning. But on Saturday, when ISIS released its latest video, Doornbos went back, checked his notes, and found Henning's name.
Doornbos is a Dutch journalist who writes for the magazine edition of the The Post Online. English-speaking audiences have seen his writing in Foreign Policy, among other publications. He has reported on conflicts in the Middle East, Ukraine, and the Balkans.
A Twitter user going by the name @SaiyanSyrian seemed to confirm some details from Doornbos' story.
According to @SaiyanSyrian, Henning was captured when ISIS moved into Ad-Dana.
Henning kept an extremely low profile online, so it's difficult to definitively confirm these accounts or immediately report other details about Henning's life.
There are no social media pages that obviously belong to Henning, and contact information for friends and family was not immediately available.