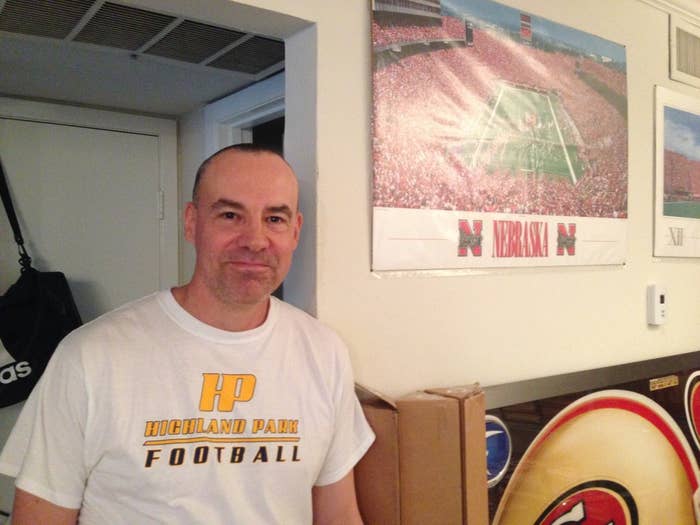 Frank Shepard lives in The Village apartments in Dallas. His next-door neighbor is nurse Amber Vinson, who became ill with Ebola last week.
For days now, whenever Shepard walks out of his apartment, the first thing he sees is this quarantine sign taped to his neighbor's door: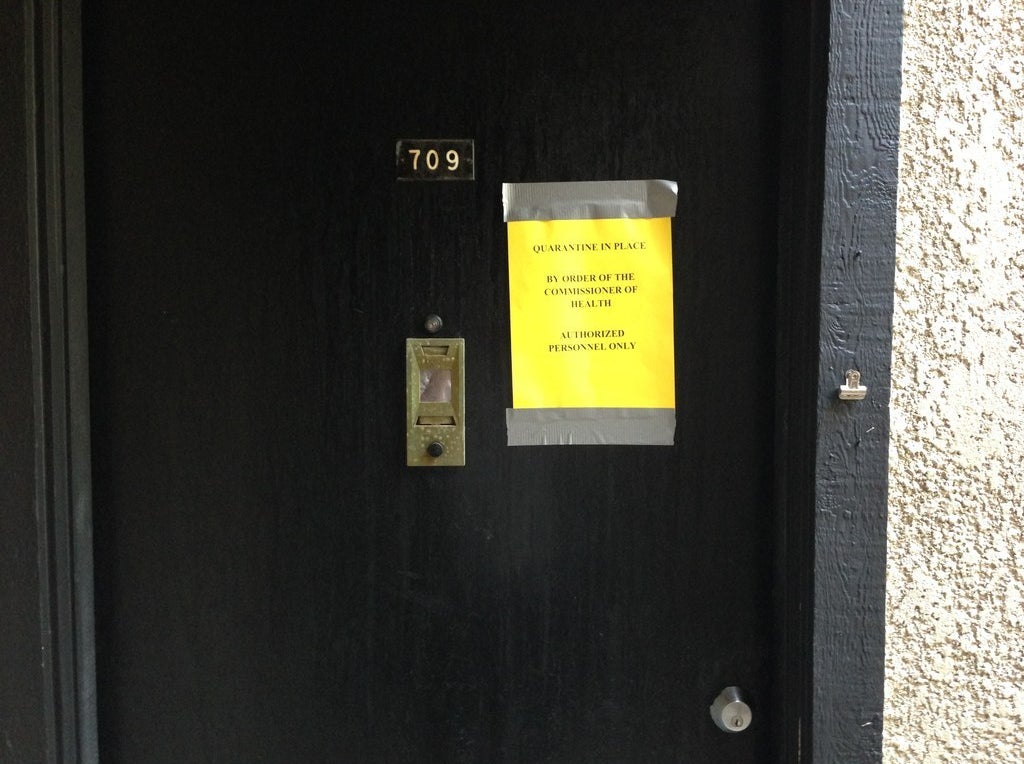 Though Shepard doesn't know Vinson well — "we probably just said hello a couple of times" — he stressed to BuzzFeed News that at this point his main Ebola-related concern is with her condition.
Nina Pham was the first Dallas nurse to get sick, and her neighbor Beth — who asked that her last name not be used — said almost the exact same thing. "I feel for Nina," said Beth, who only casually knew Pham. "She's going through a lot."
Beth and Shepard don't have Ebola and aren't considered at risk of it in any way. But as the nearest neighbors to Pham and Vinson respectively, they both had the weird and disruptive experience of seeing moon-suited hazmat crews cordon off their homes. For Beth it began on Oct. 12. For Shepard, on Oct. 15. Literally no one was closer to the action.
In interviews with BuzzFeed News Sunday, this is what they said went down:
Day 1: The Calm and the Build-Up
Barrels, tarps, and police tape: Those are the things that show up on the first day after your neighbor comes down with Ebola.
Over at The Village, Shepard said the crews arrived before dawn. He woke up to the sound of commotion outside, and when he looked out the window, he saw the clean-up crews pacing the complex's winding paths.
"There were a bunch of hazmat fellows out there," he said, "and the fire department. That sort of thing." Soon, crime-scene tape stretched around the building. Then guards were posted at the entry points. When Shepard stepped onto his balcony, a passing worker told him about his neighbor's Ebola.
Beth wasn't home early on the morning that Pham's diagnosis went public, but she heard later from neighbors that officials entered the old, brick eightplex as early as 5 a.m. to tell them what was happening.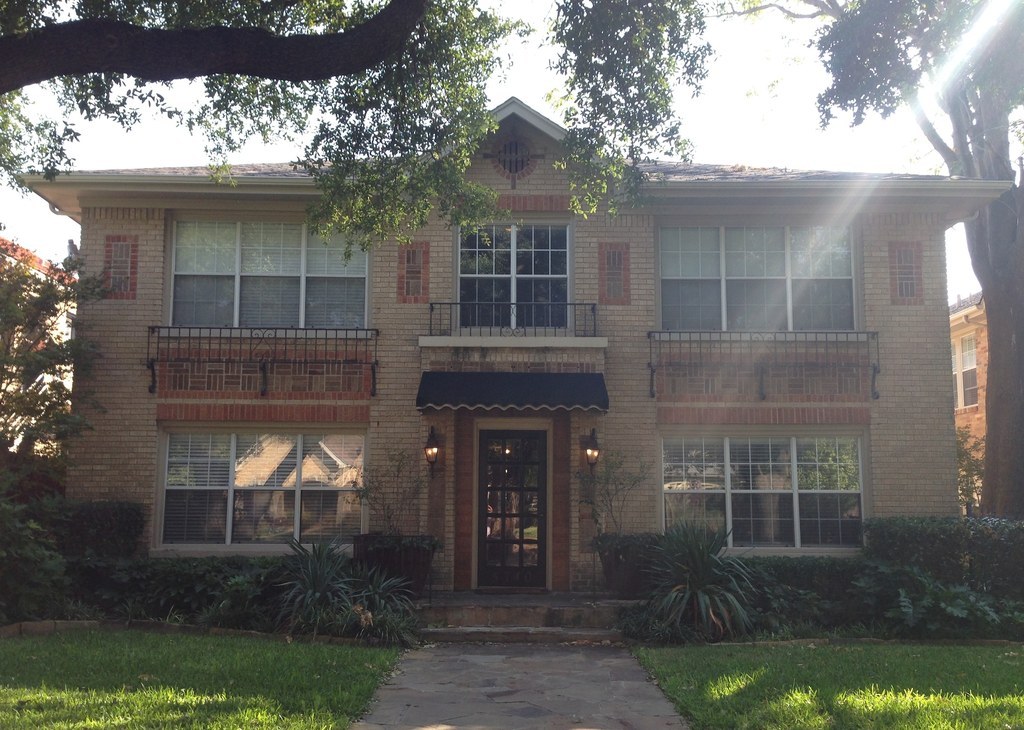 Beth got home about 10 a.m. that Sunday, and one of those neighbors gave her the news.
"I could see the news cameras and I could see the biohazard barrels in my front yard," she recalled. "But I said, 'You're joking, right?' It was just shock."
Media attention on Ebola hadn't yet peaked at that point and Beth still had a lot of questions, so she immediately began reading. That helped.
"The more informed I became, the less kind of unsettled I was about it," she said.
But that was pretty much it for that day. Despite dramatic openings at both apartment complexes, the first post-Ebola day mostly saw crews bringing in gear. The only other major thing that happened to Shepard that day was when a security guard saw him and backed away in fear.
"Suddenly I'm like a pariah," he said.
Shepard and Beth both spent the first night at home.
Day 2: The Quarantine Begins
The second day after your neighbor gets Ebola is when things really start getting intense.
Beth said hazmat crews were in full action mode on Monday, Oct. 13. "They looked like spacemen," she remembered. "They had helmets and the suits."
The crews went on to decontaminate Pham's apartment, as well as all the common areas in the building. Six days later, faint zig-zags were still visible in the brown hallway carpet, the footprints of heavy machinery crews pushed back and forth as they cleaned.
Something similar happened over at Shepard's place. In his case, he left about 9 a.m. for work, then returned late in the afternoon only to discover he was stuck.
"I got told pretty brusquely that I can't go back into my apartment," Shepard said. "I thought I was just going to be a bum and wander around for a while."
Night 2: Exile in a Hotel
Shepard and Beth were both displaced during the second night.
Although they were both put up in hotels, in Shepard's case, it was a long and uncomfortable experience. He works as a freight handler for UPS, and hadn't been told he'd ultimately be locked out for as long as 24 hours. That meant he didn't have his anti-anxiety and anti-depressant medications, or even a change of clothes.
"I was sweat-soaked and stinking and putrid, and I couldn't even get into this apartment to get underwear, a toothbrush, mouthwash," he said. He smiled as he remembered the experience, and added that it obviously wasn't as bad as getting Ebola. Still, it wasn't fun. "God, I was miserable. I was really just pissy and miserable the whole night."
Shepard ended up going to Jack in the Box at 2 a.m. — "It was really good, I had no idea how much sodium they put in the food and I just chowed that stuff down" — then tried to get back into his apartment about half an hour later. It was still taped off and a kindly security guard told him he couldn't go inside until later that day.
Day 3: Residue and a Return to Normalcy
Shepard and Beth both returned home on the third day after their neighbors became ill.
On Shepard's front door, as well as Vinson's, a few feet away, there's still a white residue from the cleaning solution crews sprayed over the area. When it was fresh, Shepard said, it "smelled like a public bathroom that had just been cleaned." The smell had faded by Sunday, though Shepard sniffed the air as he gestured toward the door.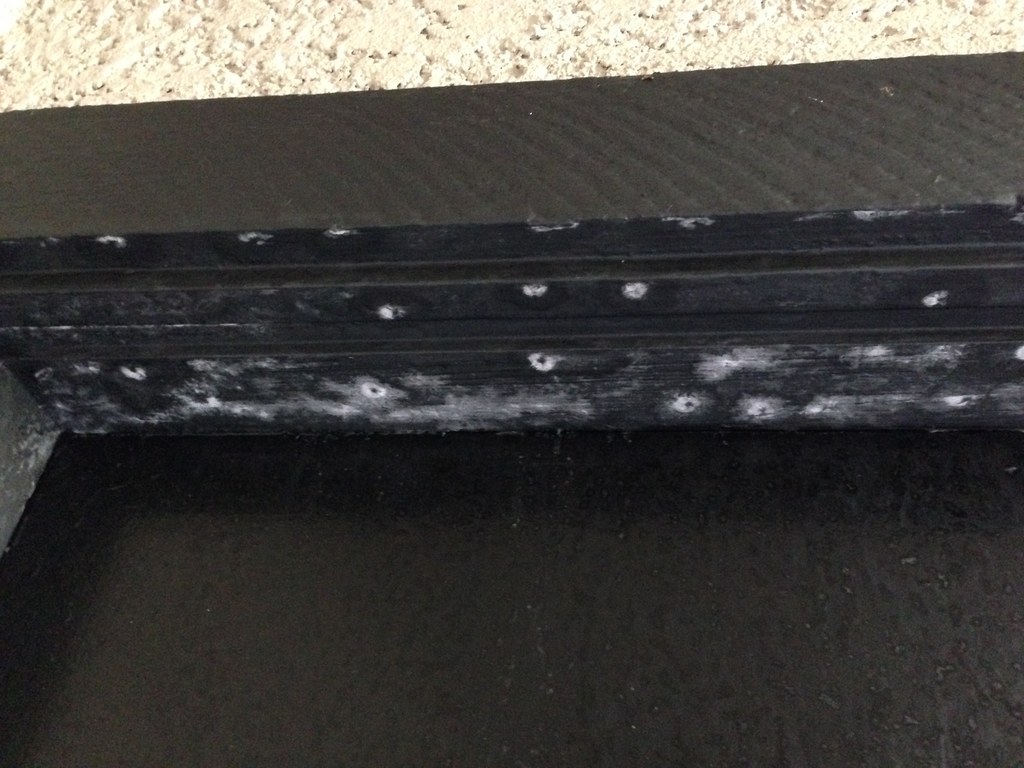 In Beth's case, when she came home the apartment didn't feel right, so she left and visited family in Amarillo.
"There was a little bit of a shadow being cast," she said. "It felt kind of like there was a cloud."
She finally returned home Sunday evening. Several neighbors who had also left were back, and the parking lot was full. The shadow was gone and the apartment felt like home again.