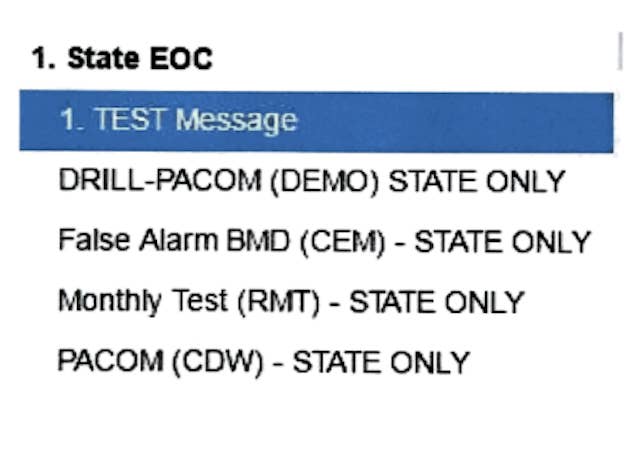 A Hawaii state employee used a button on a computer menu to accidentally send Saturday's false ballistic missile message, selecting it from a number of other options and confirming his choice before the alert finally was broadcast.

The employee works at the Hawaii Emergency Management Agency (HIEMA) and was supposed to be performing a routine test when he clicked a link titled "PACOM (CDW)," instead of the correct "DRILL-PACOM (DEMO)."

On Monday evening, the governor's office shared with Honolulu Civil Beat a mockup of what the screen looked like, which was reported on widely, including here, but HIEMA now says that image is "not an accurate depiction of the menu."
Richard Rapoza, a HIEMA spokesperson, told BuzzFeed News Tuesday night that the governor's office was not informed it was not an actual screenshot.
"This is my fault, because I'm supposed to be aware what goes on with our communications," Rapoza said to BuzzFeed News. "I personally apologize for this."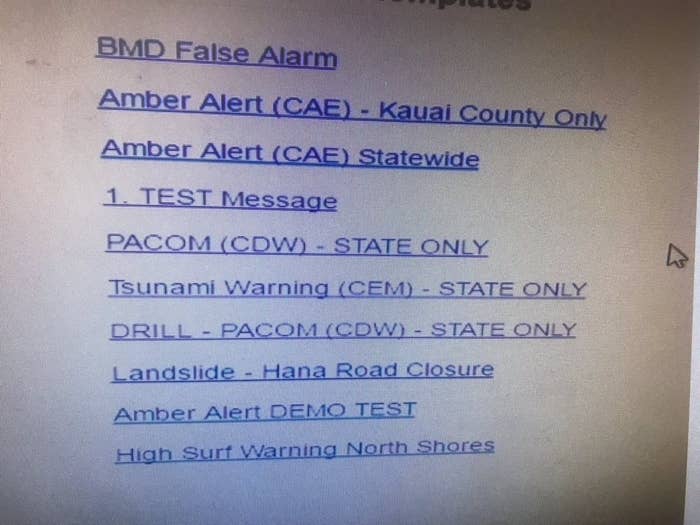 Instead, the simpler mockup is more similar to the actual screen that the employee saw when he sent the alert, Rapoza said.
"We don't release an actual screenshot, because we don't want people to know what software we use," Rapoza said.
In the screenshot obtained by Civil Beat the option clicked by the employee appears as one of ten choices and sits just above a tsunami warning and two lines below the trigger for an amber alert. In HIEMA's mockup provided to BuzzFeed News on Tuesday there are just a handful of options.
"The image that came from the governor's office is incredibly confusing," Rapoza said. "There are too many different entries on it."
After choosing the wrong link, the employee then reportedly clicked on a confirmation message.

The resulting alert went to more than a million cell phones in Hawaii and warned of an incoming ballistic missile. It advised recipients to take shelter and stressed that "this is not a drill."
Nearly 40 minutes passed before a second alert was pushed to area cell phones letting people know it had actually been a false alarm.
In the wake of the false alarm, the employee who sent the alert has now received "dozens of death threats," HIEMA executive director Toby Clairmont told the Honolulu Star-Advertiser. Threats have also been made against the family of the employee, a man who has not publicly been named.
"This person is distraught that they've received death threats," Clairmont said. "This is hard. What can be worse than this? Running over a child in a crosswalk and you realize you did it? It's that kind of feeling. … This employee is not doing well. We need to help them, too."
Richard Rapoza, a HIEMA spokesperson, told BuzzFeed News Tuesday that the agency has "received threats of physical harm, directed at its employees." The agency is in the "process of collecting and cataloguing the threats" and will present them to police soon.
In the meantime, the employee who sent the false alert has been reassigned and an investigation, led by Hawaii Army National Guard Brig. Gen. Kenneth Hara, is underway.
Clairmont also suggested Tuesday that the incident could be more than just a case of someone pressing the wrong button, telling the Star-Advertiser that "it's not as easy saying it was one person doing this." A total of four people were on duty Saturday morning, he added, and the employee who sent the alert is both a 10-year veteran of the agency and "very well-trained and seasoned."
"He's not someone we hired off the street," Clairmont added. "This was someone we could depend on. There had to be more to it."