These Very Good Dogs Are Comforting The Survivors Of The Deadly Las Vegas Shooting
"The whole week, you've got dogs with patients who have been shot several times. And they see the dog and they just melt."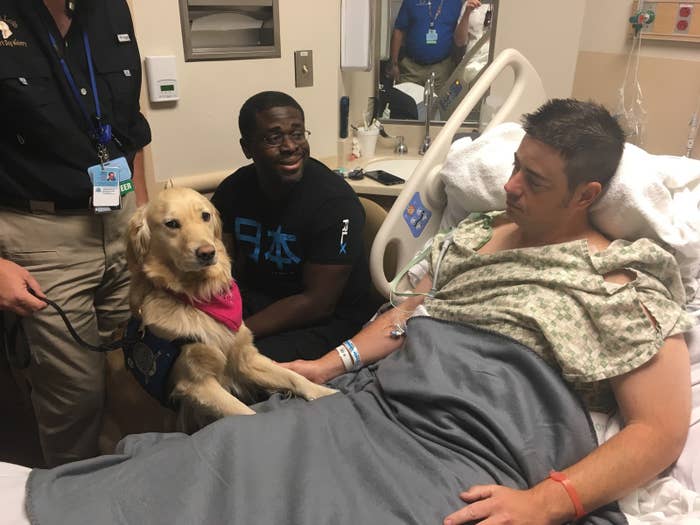 LAS VEGAS — It's been four days since Michael Caster was shot and injured while attending the Route 91 Harvest music festival and he still hasn't regained feeling in his legs.

Sitting in Las Vegas' Sunrise Hospital, Caster said a bullet hit him in the back and a fragment struck his spine. His long road to recovery will include rehabilitation and eventually a trip back to his home in Indio, California. It's a daunting future, but on Thursday there was at least one thing bringing him comfort: Lois, a golden retriever who at that moment was gently resting her head on Caster's hospital bed.
"You kind of look to the dog for some clarity," he explained. "Your mind's totally on what you need to do going forward and the tragic nature of this event. And they bring the dog there and they're so innocent."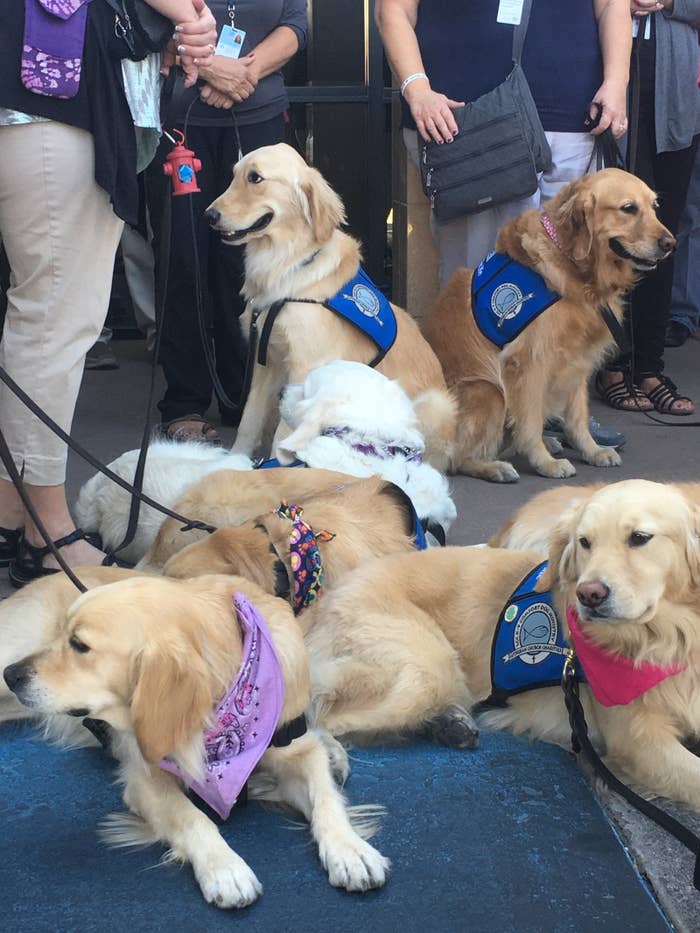 Lois is one of 19 comfort dogs in Las Vegas this week responding to the shooting on the Strip that left at least 58 people dead and more than 480 others injured. The dogs are all from LLC K-9 Comfort Dogs, an organization that dispatches pooches to help after tragedies.

Tim Hetzner, president of the charity, told BuzzFeed News that the dogs in Las Vegas hail from seven different states. They're all golden retrievers, Hetzner explained, and are "lovers by nature."
The dog's role is simple: to bring comfort to people who are hurting both physically and emotionally. This week they've had hundreds of interactions with hospital patients as well as people who were physically unharmed but still traumatized by what is the largest mass shooting in modern US history.
"People relax, their heart rate goes down," Hetzner said. "Through that process they start talking about what's happened, and talking about what's happened is a critical part of healing."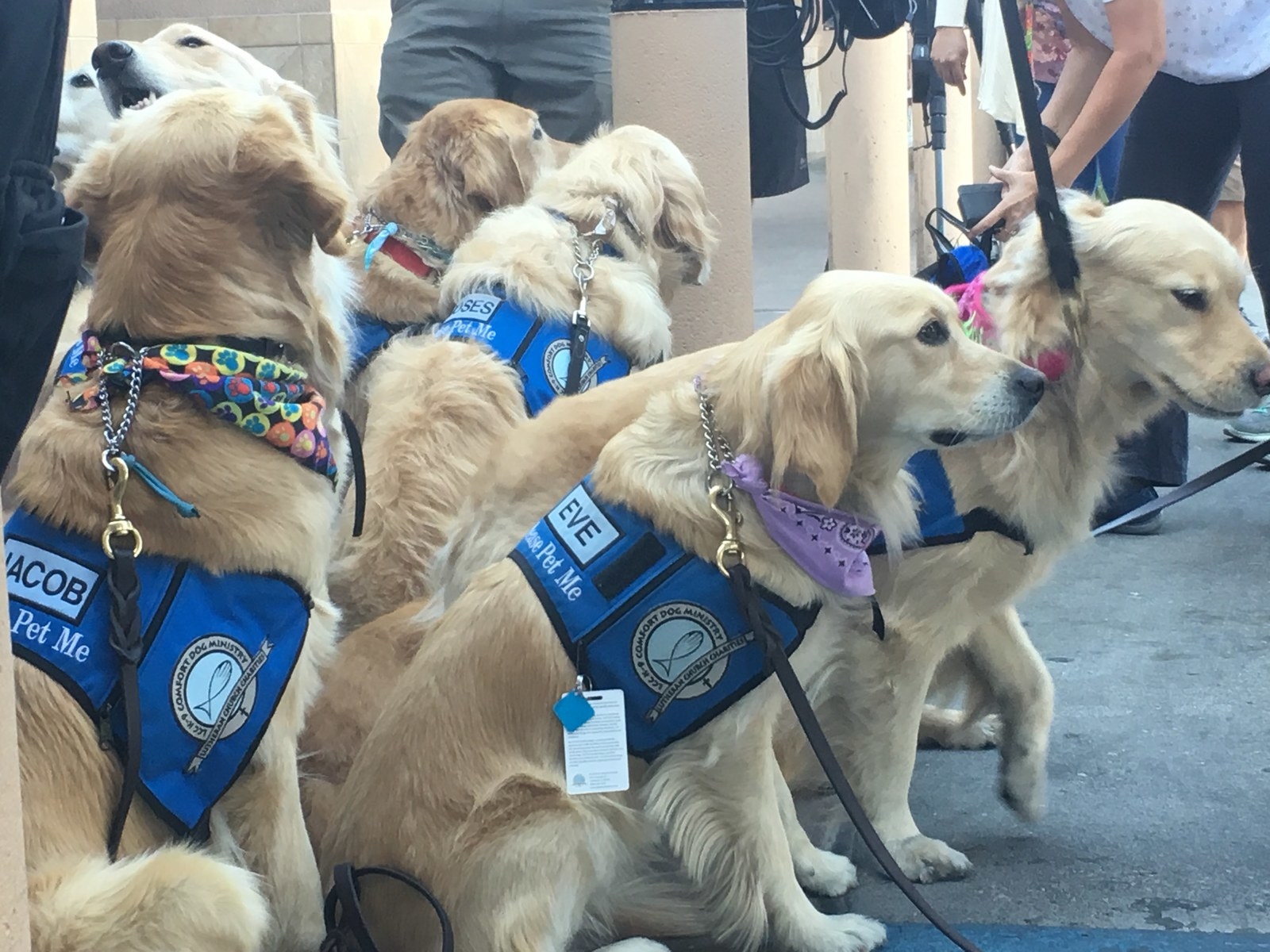 This week, the dogs have spent time in hospitals, casinos on the Strip, and schools, including an elementary school that Cubby, a female golden retriever from Colorado, visited Wednesday.
"We had an adult come up and there were no words said," said Bonnie Fear, Cubby's handler. "She came up to Cubby, put her head down, head to head, and just stayed there for 30 seconds. It was a moment that she needed, and Cubby knew."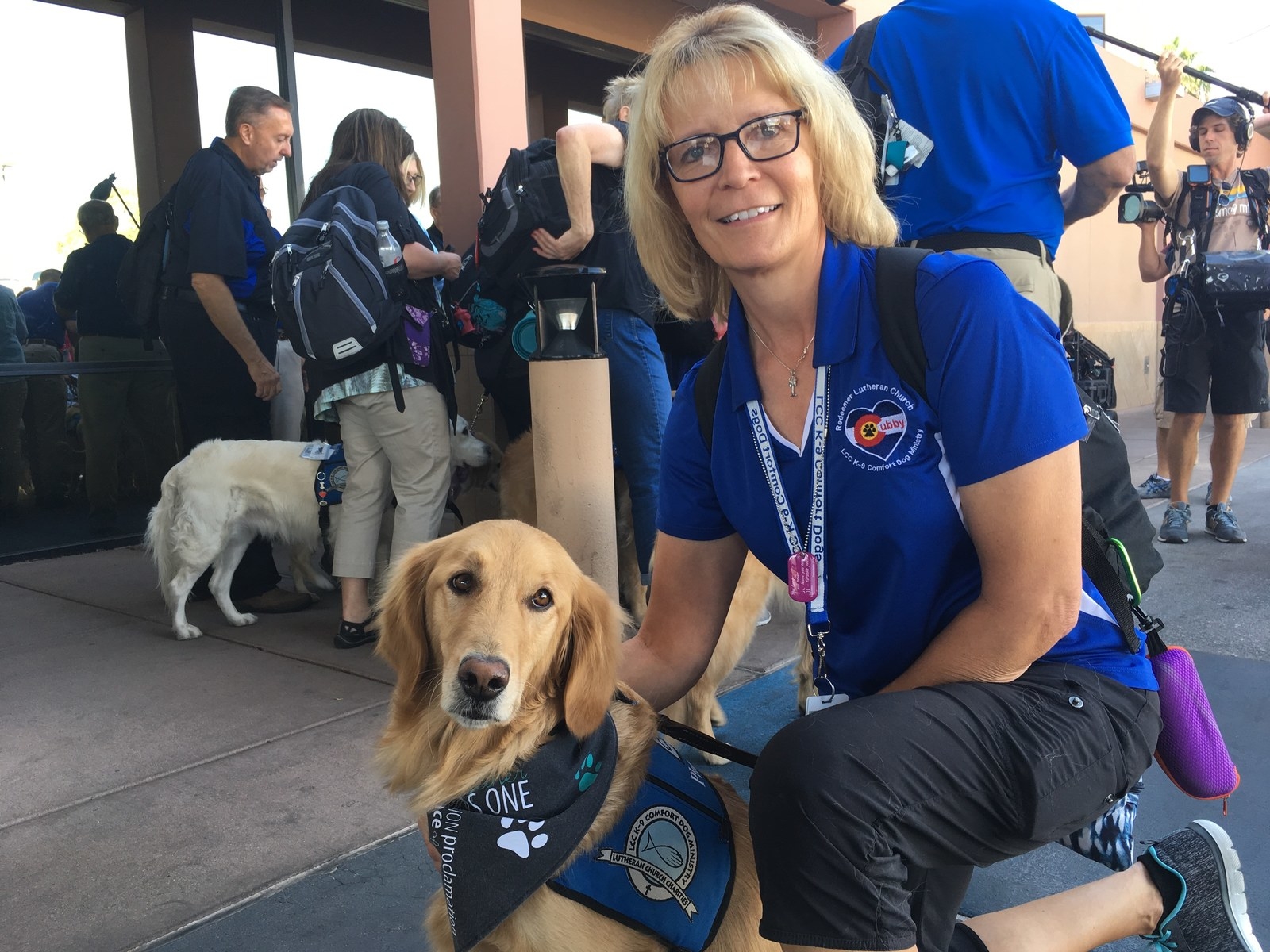 Similar scenes played out Thursday at Sunrise hospital. Around 11 a.m., a group of more than a dozen dogs gathered outside the main entrance. The group drew long stares from patients and hospital guests entering the facility, and several strode over to pet the dogs or ask their names.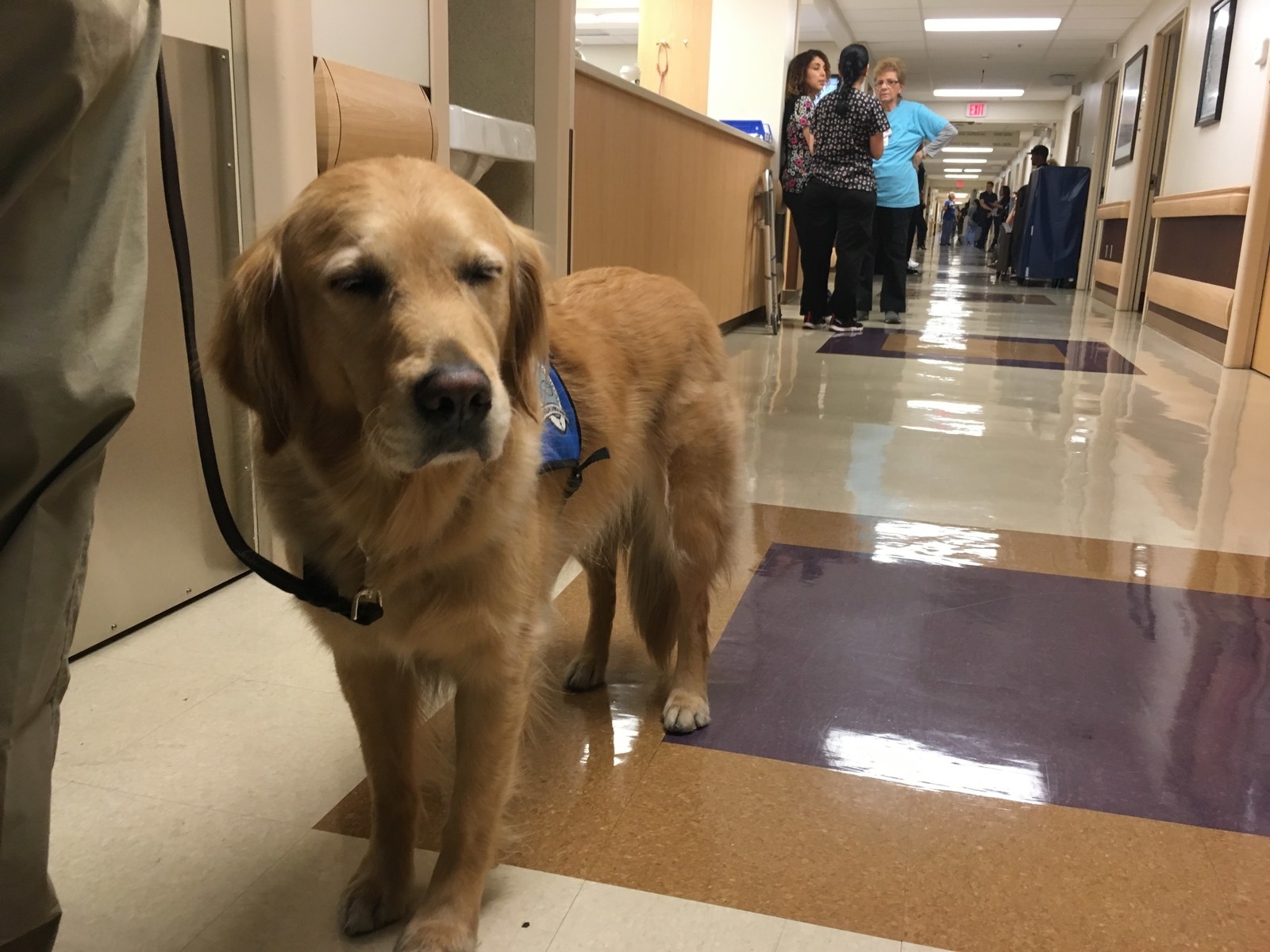 Once inside, Lois, who lives in Las Vegas, and Ruthie, a dog from Illinois, were stopped in the halls by patients, visitors, and delivery people to pet them. One woman in scrubs crouched down and wrapped her arms around Ruthie.
Hetzner said that similar scenes have been playing out all week, beginning the moment the dogs arrived at the airport. On Thursday morning, that included a firefighter who was visiting one of the patients, who Hetzner said had "basically been working the whole time" since the shooting.
"He stopped and said, 'Can I pet them,'" Hetzner said. "We're very concerned about first responders."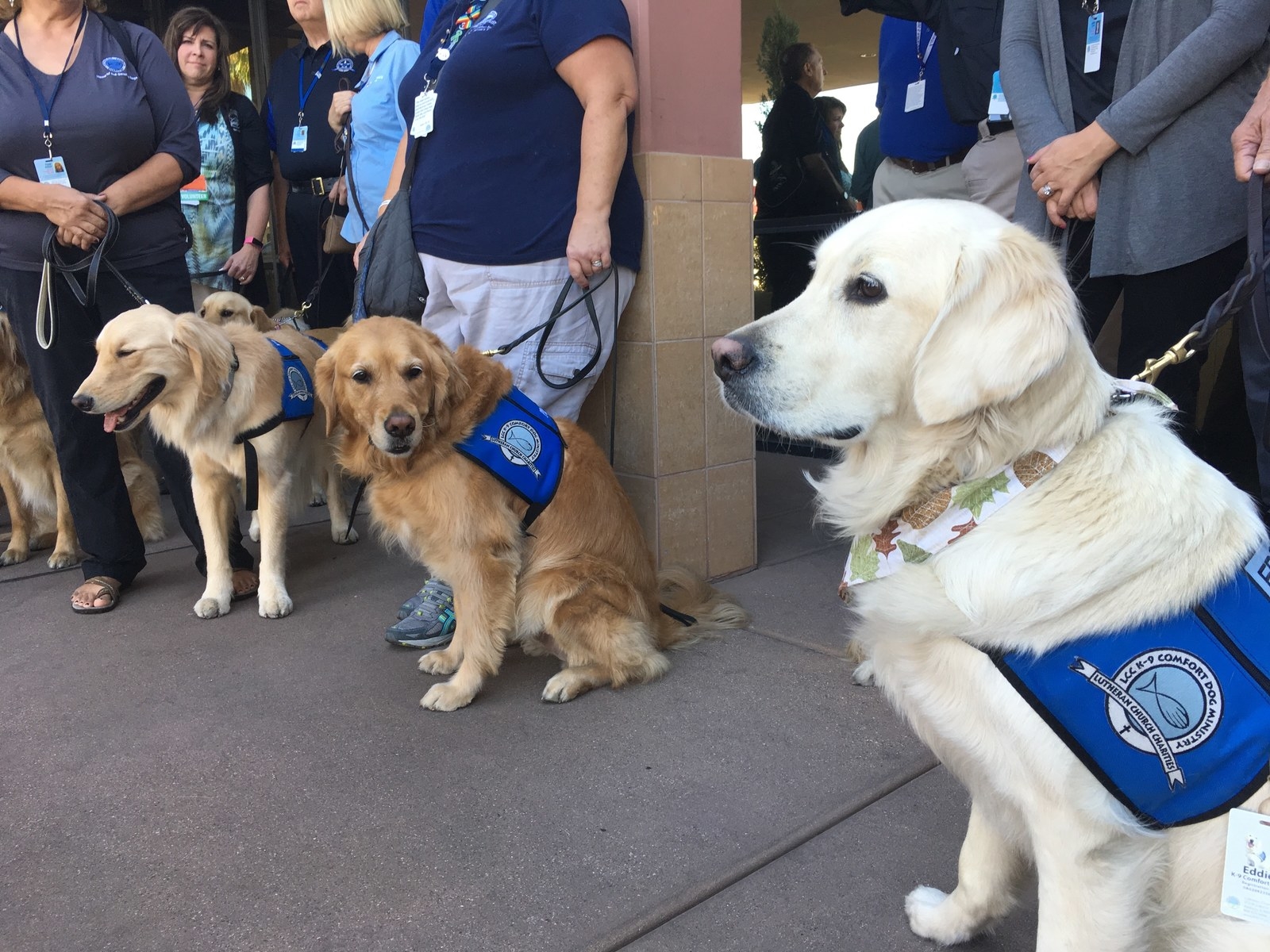 While the dogs have spent time comforting shooting victims in multiple hospitals across the city, over and over again the moment played out the same way.

"You'll see people kind of walking around in a kind of zombie state, and then they'll see the dog and they'll start petting them and then they start releasing," Hetzner said. "The whole week you've got dogs with patients who have been shot several times. And they see the dog and they just melt."