Earlier this month, officials discovered a growing hole in the concrete spillway at America's tallest dam. But with heavy rain continuing to fall in the area, officials had to keep letting water spill down the long ramp-like structure at Northern California's Lake Oroville. Now, new photos show the destruction that water has caused.
Officials first noticed the damage to the spillway — which is meant to drain excess water from the dam — in early February. This is what it looked like on Feb. 7, when the damage was a large, but relatively limited, hole:
However, a series of storms and rain runoff meant officials had to keep draining water from the lake to prevent it from overflowing. This is what the spillway looked like two days later, on Feb. 9, as nearly 750,000 gallons of water per second continued rushing out: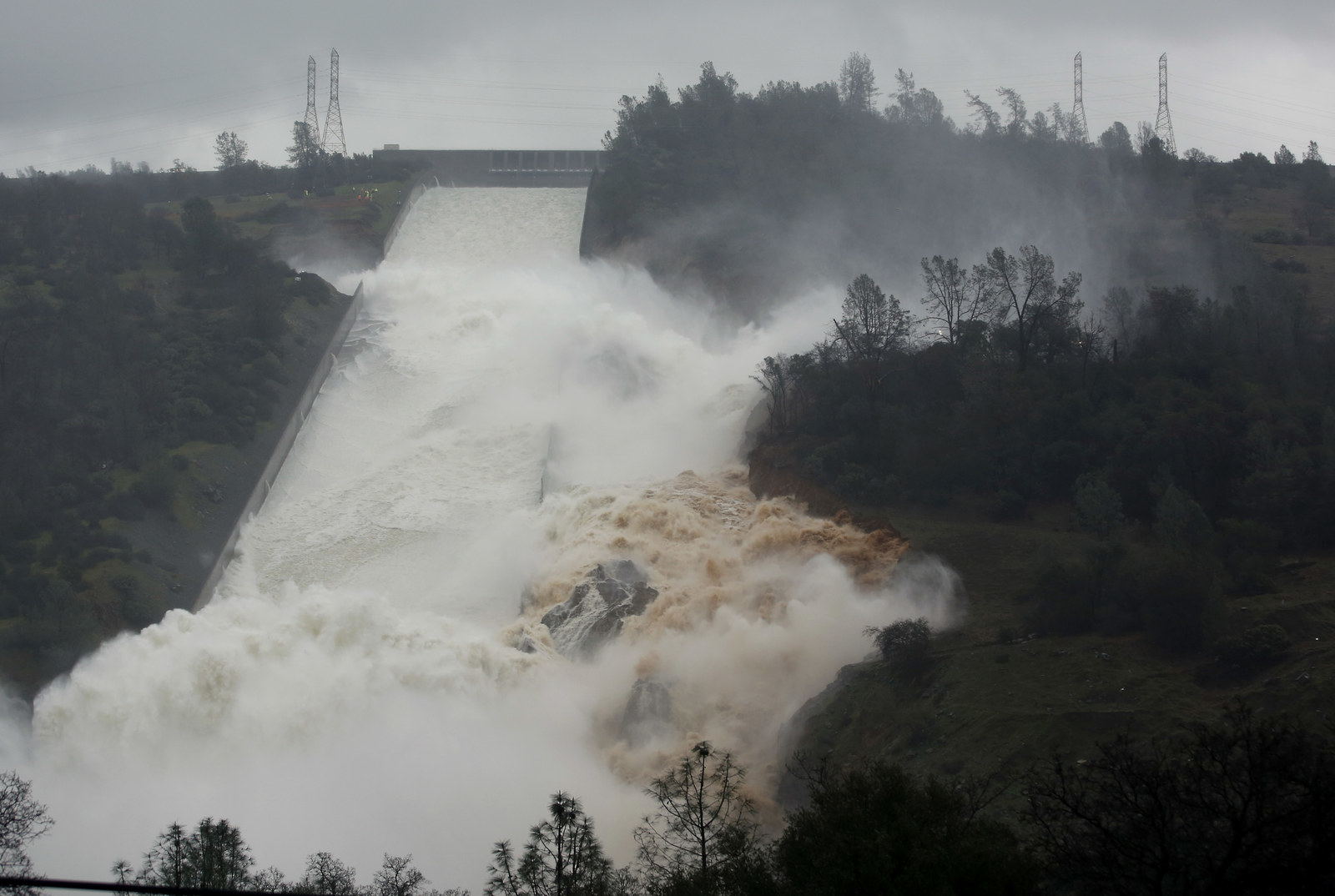 Despite state officials' decision to keep draining the lake, it eventually overflowed onto an emergency spillway for the first time, causing massive erosion: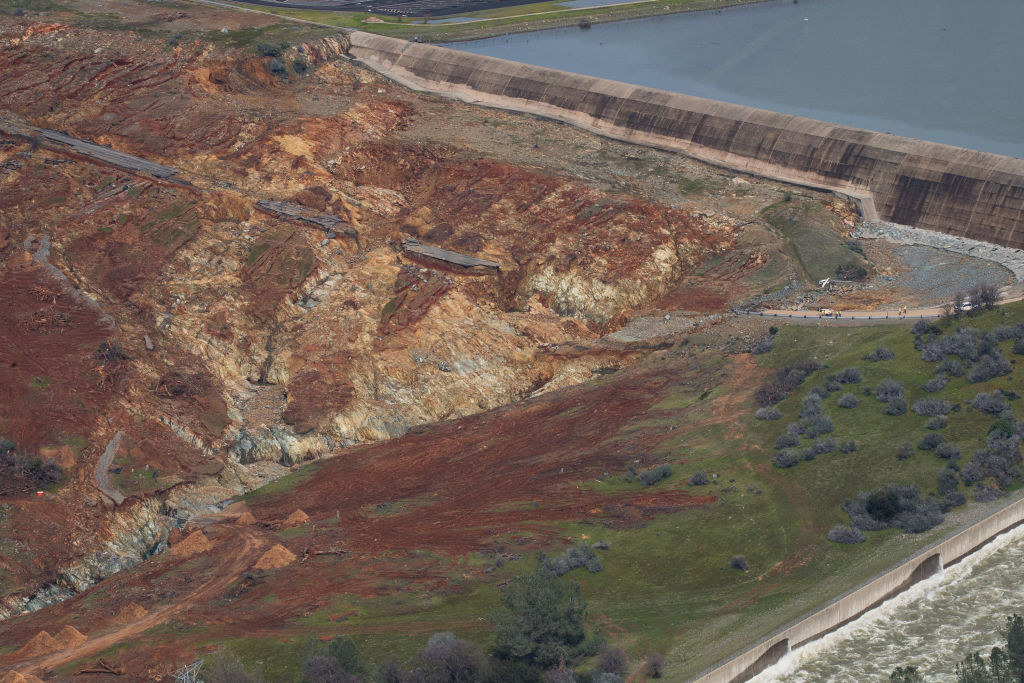 The situation eventually prompted about 200,000 people to evacuate the region after authorities warned that rapid erosion could cause the emergency spillway to fail. Ultimately it didn't fail, but the damage was significant.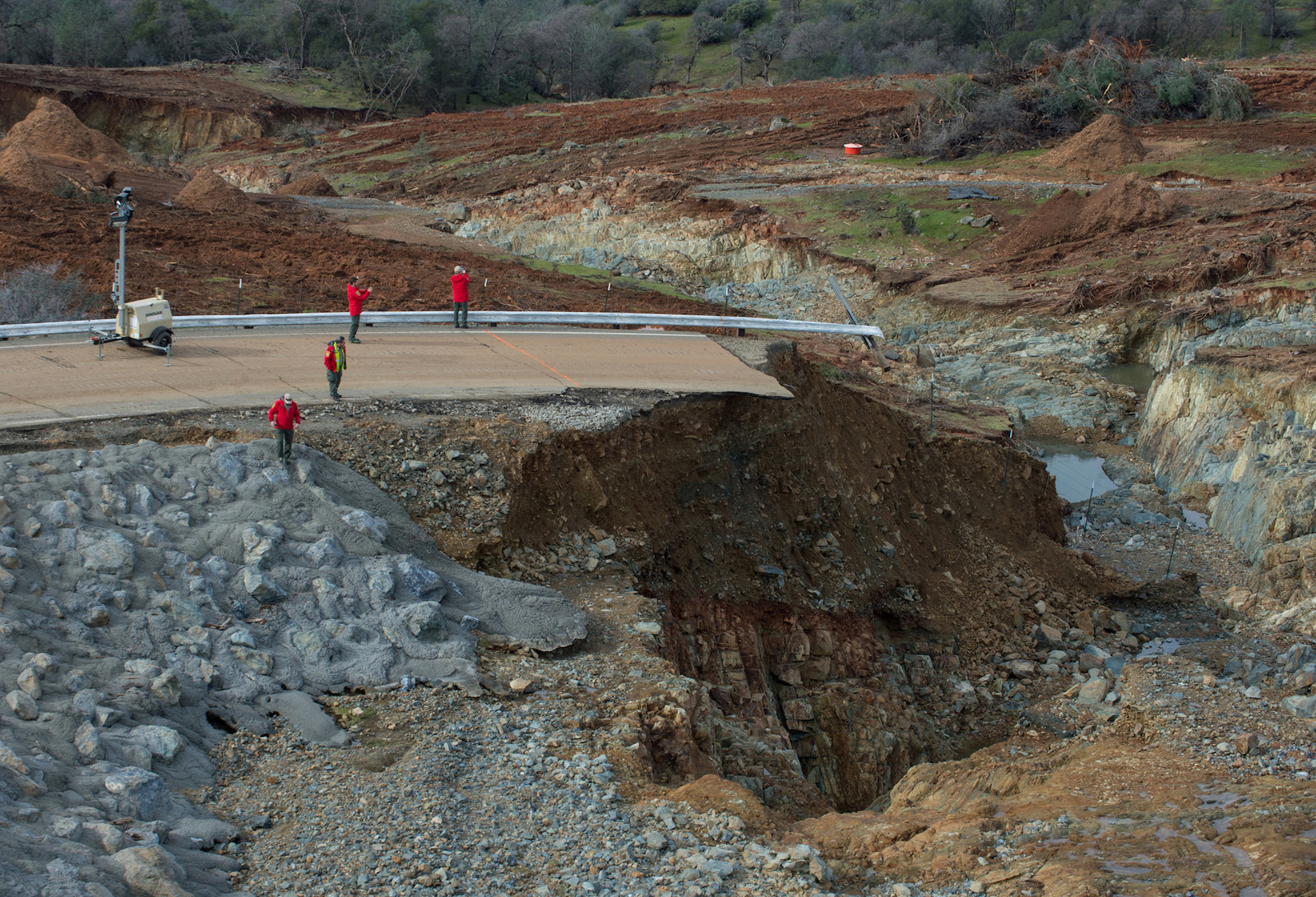 After several days without rain, and with lake levels falling, officials finally shut off the flow to the spillway Monday, revealing a massive gash in the concrete, as well as the hillside below. In some areas, the water ripped away the surface layer of earth, exposing the bedrock below.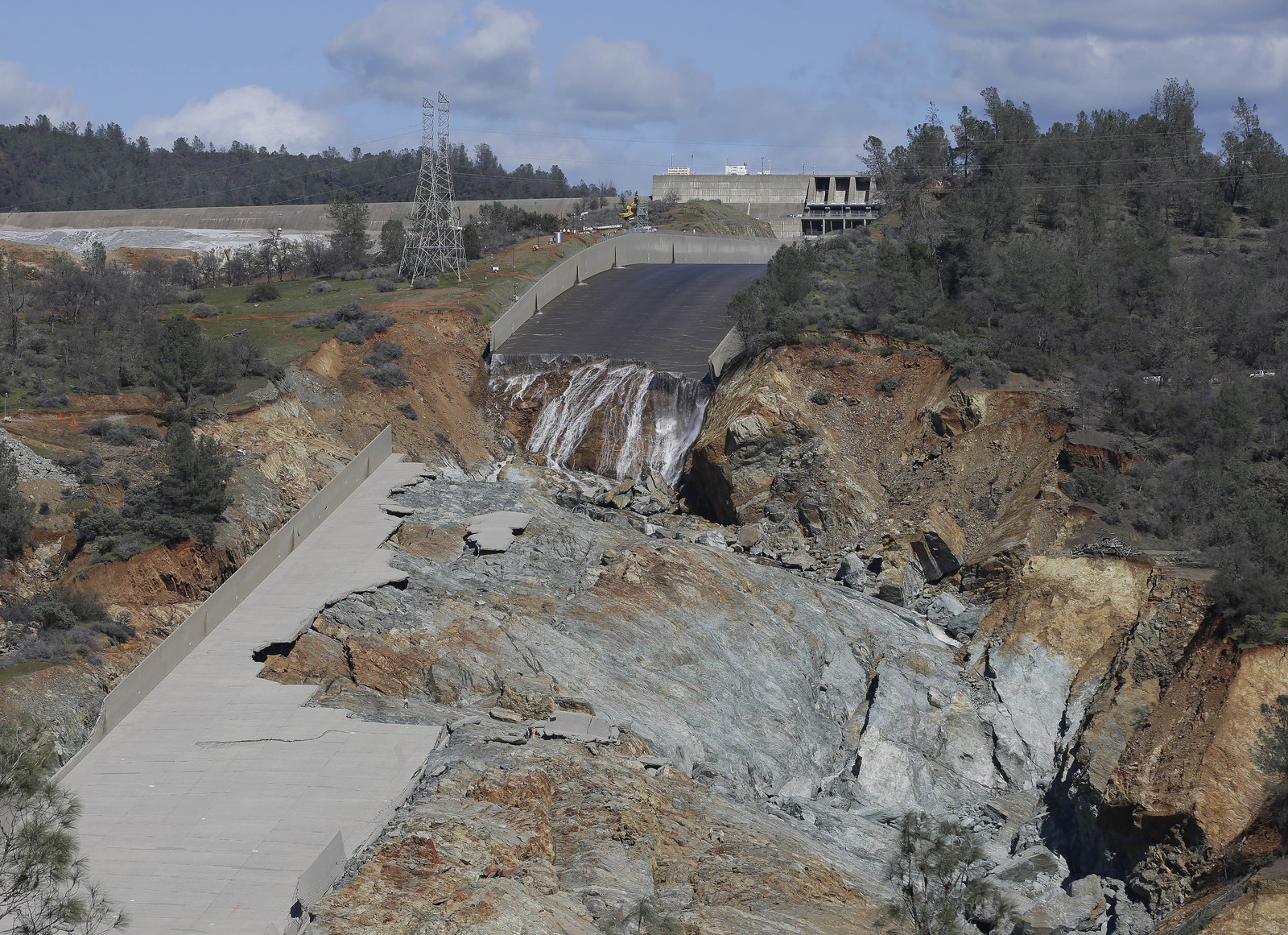 Officials gradually cut off the flow of water over a six-hour period, the Sacramento Bee reported. The goal was to give crews a chance to clear debris and restart the dam's hydroelectric power plant.
New aerial photos of the dam show that the original hole has spread to much of the spillway's lower section.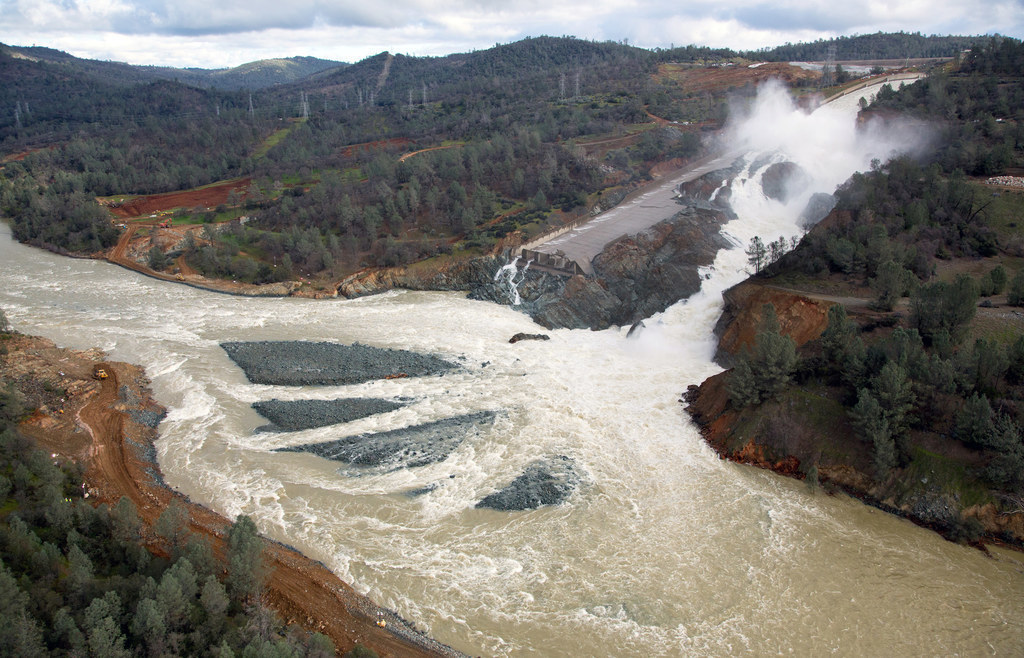 The water and erosion has also formed a debris cone in the river below.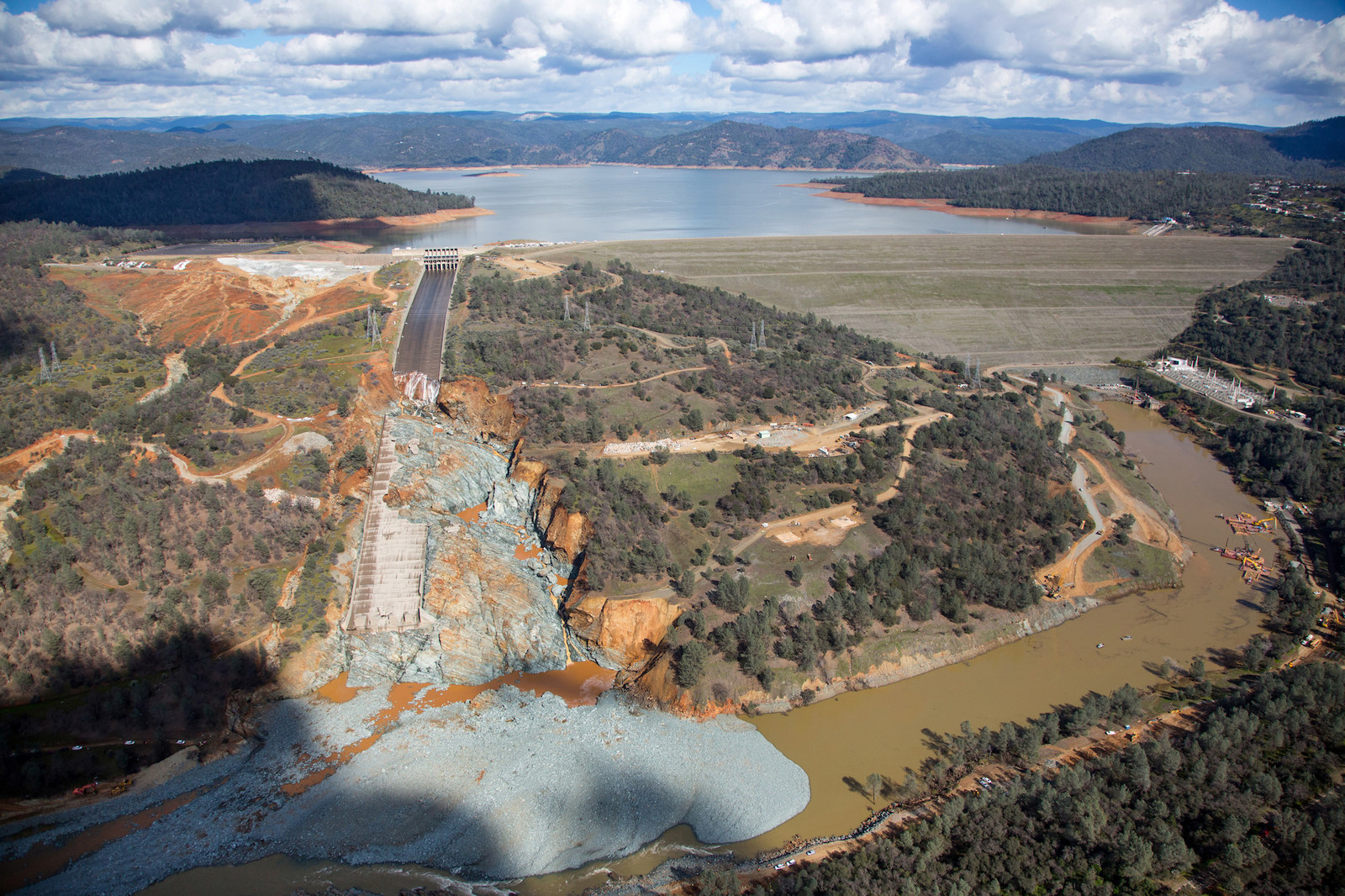 The damage to the spillway comes amid an extraordinarily wet winter for California, which had struggled through more than five years of drought. Many of the state's other reservoirs are near capacity, and snowpack in the mountains is well above normal.
Though the desperately needed rain and snow has been a boon to the state, it also highlighted neglected infrastructure that could cost $65 billion per year to fix and maintain, the Mercury News reported.
The spillway is expected to remain shut off for about a week, the Bee reported.