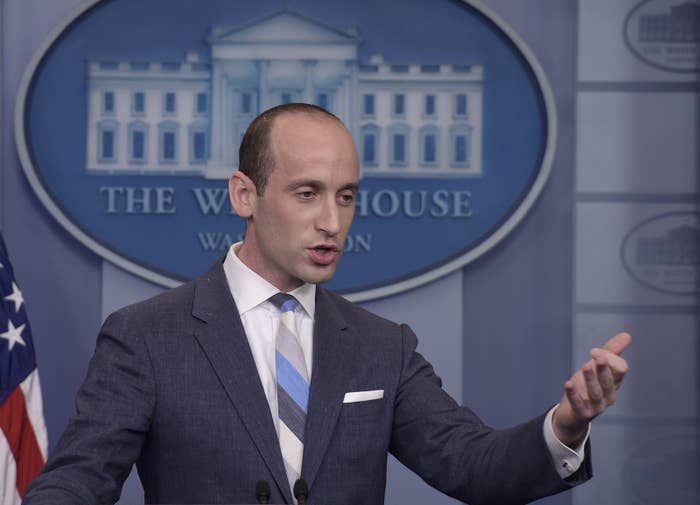 President Trump's senior policy adviser Stephen Miller got into a heated exchange with a reporter about the Statue of Liberty during a White House press briefing Wednesday on immigration policy, dismissing the famous poem that includes the line, "give me your tired, your poor."
Miller's comments came in response to a question from CNN White House correspondent Jim Acosta, who quoted "The New Colossus" — a poem about welcoming immigrants engraved on a plaque at the Statue of Liberty — over a bill heralded by Trump that would curtail legal immigration and give preference to people who speak English.
Acosta asked Miller if the White House was changing "what it means to be an immigrant coming into this country." But Miller instead seized on the poem itself, saying it was "added later" and "not part of the original Statue of Liberty."
"The New Colossus" was written by Emma Lazarus in 1883 as part of a fundraising effort for the statue, which was dedicated in 1886. An engraving of the poem was added to the statue in 1903.
Miller said immigration to the US has "ebbed and flowed" over the decades and sarcastically asked Acosta if that violated a "Statue of Liberty law of the land."
Acosta looked confused by Miller's question, and responded that the White House adviser was "bringing a 'press one for English' philosophy here to immigration and that's never been what the United States has been about, Stephen."
As the two men continued to spar, Acosta said Miller's comments sounded "like some national park revisionism" and asked why it's also necessary to build a wall on the US–Mexico border as President Trump has long promised.
"Surely you don't think that a wall affects green card policy," Miller fired back.
As the exchange continued, Acosta pressed Miller about English-speaking requirements for immigrants, asking if the US is "just going to bring in people from great Britain and Australia?"
In response, Miller focused on Acosta's mention of the two anglophone countries, saying, "I am shocked at your statement that you think that only people from Great Britain and Australia would know English."
"It reveals your cosmopolitan bias to a shocking degree that in your mind — no, this is an amazing moment," Miller said. "This is an amazing moment — that you think only people from Great Britain or Australia would speak English is so insulting to millions of hard-working immigrants who do speak English from all over the world."
Acosta replied if immigrants should be able to "learn English when they get here."
Miller responded that "it's a requirement that to be naturalized you have to speak English" — a claim that is only partially true.
Would-be US citizens do have to take civics and English tests as part of the naturalization process. The English test requires applicants to be able to "read, write and speak...simple words and phrases...in ordinary usage in the English language."
However, there are a number of exceptions and all immigrations applying for citizenship do not need to learn English. For example, people who are more than 50 years old who have lived in the US for at least 20 years don't have to take the English test. People with certain disabilities also don't have to speak English to become citizens.
Miller's comments generated considerable pushback Wednesday afternoon on Twitter. The Anne Frank Center — a New York City–based civil and human rights advocacy nonprofit — also called Miller's comments "grotesque" and tweeted that both he and Trump "don't love" the Statue of Liberty "like they should."
Watch the entire exchange here:
CNN