The US government and European Union are set to hold urgent talks on Friday following alarm among European governments over a proposed ban on laptops in all plane cabins aboard flights from Europe to the US.
The European Commission's transport spokesperson Anna-Kaisa Itkonen confirmed to the Associated Press that the talks were taking place, and added that the EU had no fresh information on specific security concerns related to the ban.
The ministerial-level call between the Department of Homeland Security and France, the UK, Spain, Italy and Germany is due to take place on Friday afternoon.
The Department for Homeland Security confirmed to BuzzFeed News Wednesday that a large electronics ban is "under consideration." However, the agency also said that "no final decisions have been made on expanding the restriction on large electronic devices in aircraft cabins."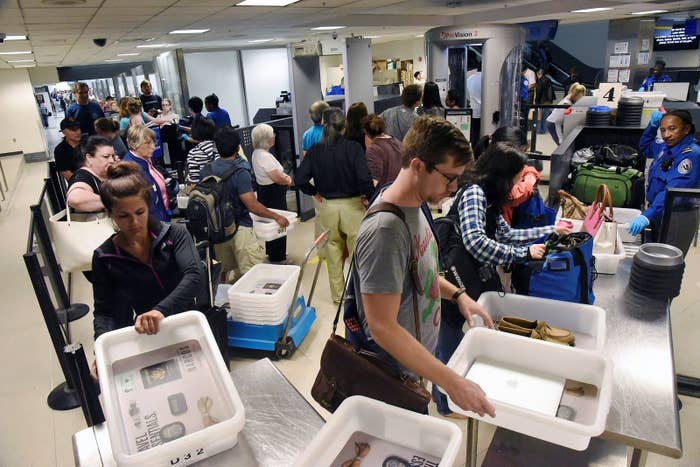 "DHS continues to evaluate the threat environment and will make changes when necessary to keep air travelers safe," the agency said in an email.

The Daily Beast first reported the potential large electronics ban, citing European officials, and said it would be announced Thursday.
After the announcement a ban was being considered, the US Travel Association issued a statement praising airlines for prioritizing security.
"Travelers have been through this kind of thing before and are more resilient than we often think," Executive Vice President for Public Affairs Jonathan Grella said in a statement. "Plus the consequences of a major attack on the transportation system hardly need to be repeated. Threats are ever-evolving, and so must we all be."

Grella went on to say that it is critical that the government clearly communicates the anticipated change in policy to minimize disruption for travelers.
The US first banned laptops in plane cabins in March. However, that ban only included flights heading to the US from 10 airports in Turkey, the Middle East, and Africa. After that ban went into affect, DHS issued a statement citing the "2015 airliner downing in Egypt, the 2016 attempted airliner downing in Somalia, and the 2016 armed attacks against airports in Brussels and Istanbul" as examples of why increased security was needed.
DHS also said at the time that terrorists were "aggressively pursuing innovative methods to undertake their attacks, to include smuggling explosive devices in various consumer items."
The March ban included laptops and other large electronic devices, such as tablets, e-readers, cameras, and portable DVD players. On flights where large electronics are banned, passengers are required to place their devices in checked baggage.
Though the scope of the March laptop ban was limited to 10 airports, aviation observers quickly began speculating about how it could be expanded.
"Let's not forget, it wasn't that long ago after 9/11 that they were banning all electronics," John Goglia, an aviation safety consultant and former member of the National Transportation Safety Board, told BuzzFeed News in March. "We may be going back to that."
On Thursday, Department of Homeland Security Secretary John Kelly repeated an April 18 statement explaining the initial ban on electronics.
"This program will likely expand given the sophisticated threats aviation faces," he said in a statement, adding that the move was not against any country, religion or foreign airline, but based on intelligence that explosives can be hidden in electronic devices.
Leticia Miranda and Francis Whittaker contributed reporting to this report.