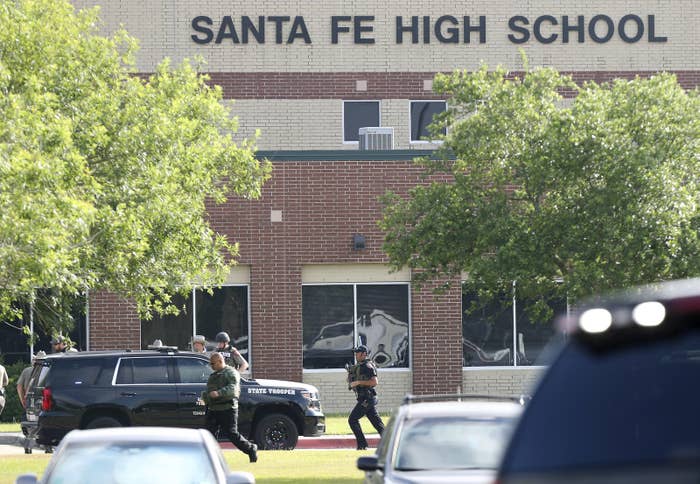 Texas Lt. Gov. Dan Patrick, a fierce opponent of gun control, blamed the deadly school shooting near Houston on Friday in part on "too many entrances" to the campus and suggested that schools should be redesigned to limit access and allow police to watch students as they arrive for class.

Patrick made the comments hours after 17-year-old Dimitrios Pagourtzis allegedly opened fire, killing at least 10 students and staff members at Santa Fe High School, south of Houston. During a news conference Friday afternoon, Patrick said that "it's 90 degrees. Had there been one single entrance possibly for every student, maybe he would have been stopped."

Patrick also suggested that restricting entry points to schools across the state would be an effective way to curtail school shootings.
"There are too many entrances and too many exits to our over 8,000 campuses in Texas," Patrick said. "Over 8,000 campuses. There aren't enough people to put a guard in every entrance and exit. You would be talking 25–30–40,000 people."

Redesigning schools so students enter through fewer doors, Patrick continued, would allow law enforcement to view "the people who come in one or two entrances." He also suggested staggering school start times so students aren't showing up all at once.
"We need to harden our schools and make them safer," Patrick added.
Patrick has long been a vocal proponent of gun rights. His campaign website touts his "A" rating from the NRA, describes him as a "defender of the Second Amendment," and states he will "fight to allow campus carry." In 2016, he argued that places with more guns have less crime, and in 2017 — after a deadly shooting at a church in Sutherland Springs, Texas — he expressed support for having guns in churches.
Patrick's suggestions Friday followed Texas Gov. Greg Abbott's announcement that he would convene a roundtable discussion to deal with school shootings.

"We need to do more than just pray for the victims and their families," Abbott said at a news conference. "It's time in Texas that we take action to step up and make sure this tragedy is never repeated ever again in the history of the state of Texas."