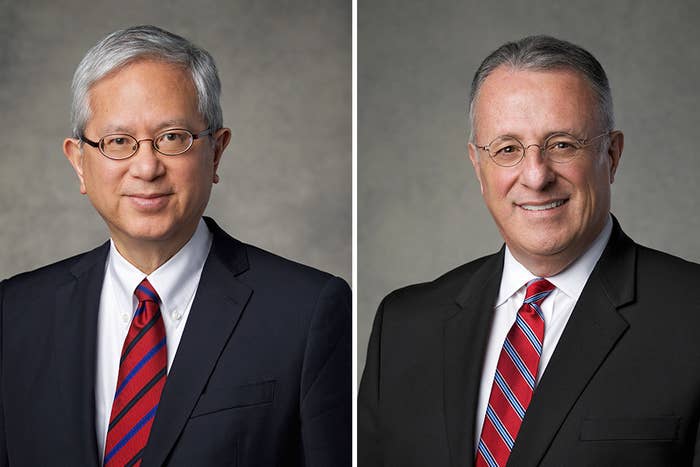 The Mormon church appointed an Asian American man and a Brazilian man to top leadership positions Sunday, marking a historic moment for the faith that — since its founding in the 1800s — had previously only had top leadership with European ancestry.

Gerrit W. Gong and Ulisses Soares both joined the Quorum of the Twelve Apostles, which is the second-highest governing body of the Church of Jesus Christ of Latter-day Saints (LDS), often known informally as the Mormon Church. The quorum has broad authority to govern the faith and is second only to the three-person First Presidency.
Gong, 64, was born in Redwood City, California, and is of Chinese ancestry. Soares, 59, was born in São Paulo, Brazil. Both men had previously been leaders in a lower church governing body, and had occupied a number of volunteer positions, or "callings," in local congregations. Soares has a business background, and Gong worked in international relations before assuming full-time church positions.
Unlike many local roles in the church, an appointment to the Quorum of the Twelve Apostles is full time, and for life.
The LDS church was founded by Joseph Smith in 1830. Since that time, the majority of the church's top leadership has been from the US, and there had never previously been any non-white or South American members of the Quorum of the Twelve Apostles. Prior to Sunday, the only living non-American serving in a top leadership position was Dieter Uchtdorf, a German.
The appointments are the first since Russell M. Nelson took over as president of the church in January, following the death of the previous president Thomas S. Monson.
Gong and Soares are assuming top church leadership posts as the church faces intense scrutiny, and some criticism, for its handling of issues such as domestic and sexual abuse. Earlier this month, a former church leader admitted in a leaked audio recording that he sexually assaulted multiple women.
In February, dozens of current and former Mormon women told BuzzFeed News their church leaders had advised them to remain in abusive relationships. The church also is facing calls to end the practice of having leaders ask members, including minors, questions about their sexual behavior.
In response to the various recent controversies, the church altered several policies earlier this week.
Reaction from Mormons to the appointments was overwhelmingly positive, with many praising the move to increase diversity in the church's upper echelons.