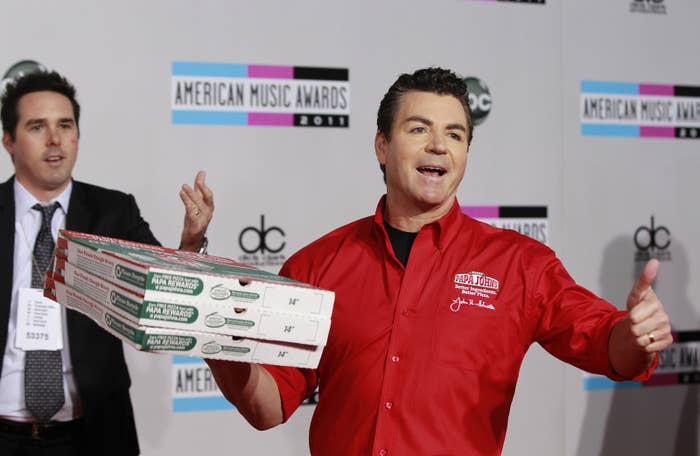 Papa John's founder John Schnatter resigned as chair of the pizza company's board of directors Wednesday following reports that he had used the n-word during a conference call earlier this year.

The company announced Schnatter's resignation Wednesday evening in a statement, saying that a new chair would be appointed in the coming weeks.
The resignation came hours after reports, confirmed by BuzzFeed News, that Schnatter had used the n-word during a conference call in May. The call was intended as a public relations training exercise for Schnatter after he faced backlash last year for saying NFL players who kneel during the national anthem were hurting pizza sales.
During the call, Schnatter referred to the founder of KFC and said that "Colonel Sanders called blacks n-----s," according to Forbes, which first reported the call and censored the word in its story.
The call was with marketing agency Laundry Service, which reportedly "moved to terminate" its contract with Papa John's after the comments. The comments also reportedly involved graphic descriptions of violence against black people.
Schnatter apologized Wednesday, saying that "racism has no place in our society."
The pizza company founder has courted controversy since last year when he made the comments about NFL players, and in December was ousted as company CEO. The NFL remarks were made during a call with Papa John's shareholders in early November 2016.
The company later apologized, but some on the far right hailed the comments and a blog post on the racist website the Daily Stormer proclaimed Papa John's the "official pizza of the alt-right."
On Wednesday, the news that Schnatter had used the n-word also cost him a spot on the University of Louisville Board of Trustees.
Papa John's is named after Schnatter, and his image is prominently displayed in the pizza chain's logo. The company did not respond to BuzzFeed News' request for comment Wednesday or say if it planned to reduce Schnatter's prominence in Papa John's branding materials.