2015 Was A Crazy Year For L.A. Police Chases
Every year is a crazy year in L.A., but 2015 brought us a horse chase-turned-police beating, an acrobatic motorcyclist, a slow moving "victory parade," and much, much more.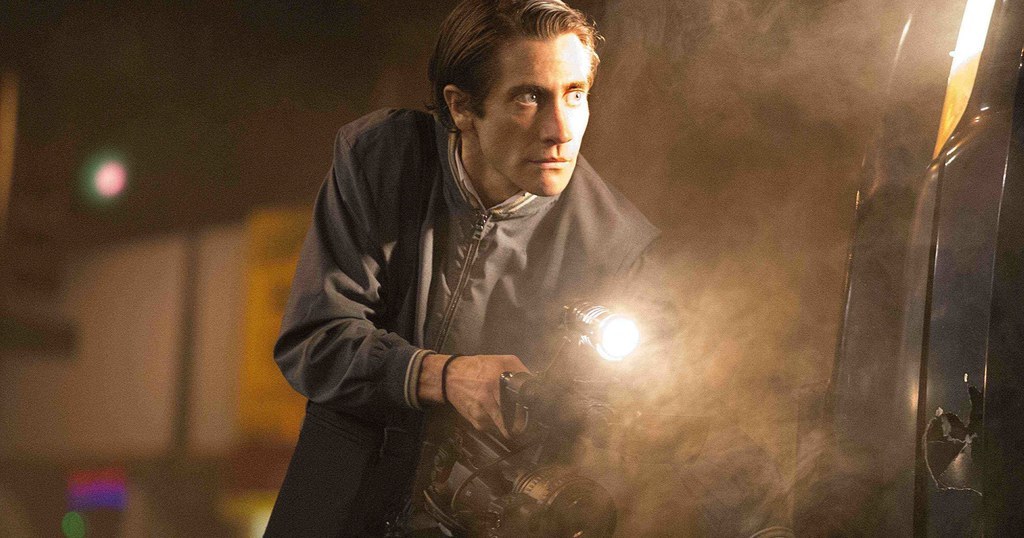 There are a lot of things people will tell you define Los Angeles — beaches, palm trees, plastic surgery, kale, gentrification, yoga mats. But there's something more L.A. than all of those things combined: police chases.
Maybe it's because chases represent the convergence of the city's iconic freeways, Nightcrawler-esque news culture, and entertainment, but they've become a big and often weekly part of the culture here in the City of Angels, covered relentlessly from helicopters in the sky.
There were too many chases in 2015 to list them all, but here are a few of the ones that stood out, from offroading to a galloping horse.
Police chased 22-year-old Phillip Resendez across two Southern California counties in March, sometimes at speeds of over 100 mph. Resendez eventually surrendered, but first he repeatedly stood on the motorcycle seat and flipped off the pursuing officers.
Police reportedly first began chasing Resendez because he was driving recklessly.
The afternoon of April 9 began with what might have simply been one of the more unusual, gonna-tell-my-kids-about-it chases in Southern California. A man on horseback, Francis Pusok, galloped over the hills of San Bernardino County trying to evade sheriff's deputies like it was 1899.
But then Pusok fell from the horse, and the chase turned into a graphic police beating that was broadcast on live TV. The beating eventually prompted an FBI investigation, charges for three deputies, and a $650,000 settlement for Pusok.
Back in May, a driver led police on a slow speed chase in a convertible Mustang with a sign on the door displaying the words "Victory Parade."
It was a slow, strange afternoon that got even weirder when a random pedestrian on the street stepped in front of the Mustang and apprehended the driver.
As the scene unfolded, the KCAL-TV crew described the vigilante thusly: "It looks like a crazy person."
In April, Derrick Bogar allegedly stole a lime green Prius taxi, then led police on a lengthy chase around L.A.
Apparently, not content to merely flee officers, Bogar repeatedly stopped and slowed down to give cheering onlookers high fives. He also appeared to be handing things out from inside the car.
Bogar — who was eventually charged with robbing three cab drivers — also at one point considered taking his chances against a train (below), but finally thought better of it.
August: A woman makes time to dance mid chase.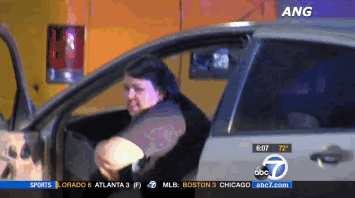 In August, a woman suspected of stealing a car led police on what ABC 7 described as a "wild chase in downtown Los Angeles."
Police eventually swarmed her car and made the arrest, but not before she got out and "did a little dance."
September: A man escapes into the sewer.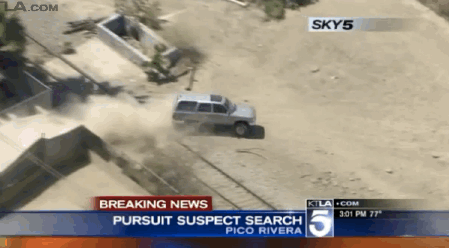 As chases go, this Sept. 2 outing in pursuit of a suspected burglar wasn't particularly remarkable. There was a bit of off-roading and some high speeds, but that's par for the course in Los Angeles County.
What made this chase noteworthy, however, was that the suspect actually got away —something that's almost impossible once helicopters get involved. The driver pulled off the rare escape by ditching his SUV before running into a large drainage tunnel.
Police spent the rest of the afternoon monitoring manhole covers, but the search was eventually called off.
Bonus: The time a wildfire burned up the freeway
It wasn't a police chase, but it did happen on a California freeway and it was batshit crazy so it made the list by default.
Caught on video was the North fire jumping Interstate 15 in the Cajon Pass on July 17.
The fire quickly scorched several cars, a small boat, and at least one semi truck. No one was killed, but one person told local media the scene was like something out of The Walking Dead.