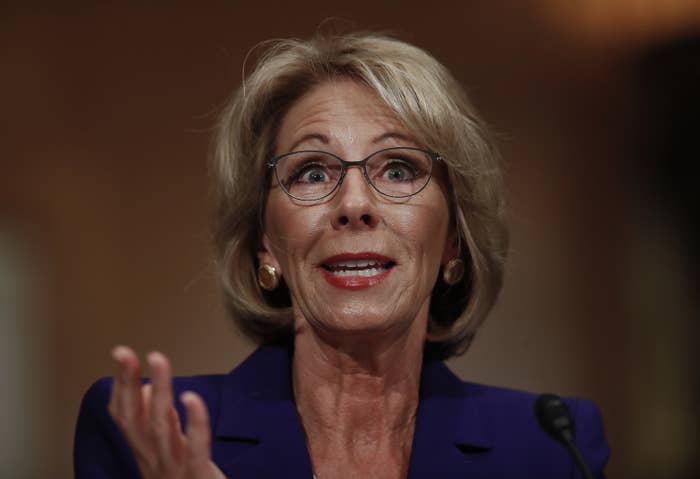 Donald Trump's pick for secretary of the Department of Education indicated Tuesday that guns may be necessary in schools in order to protect students from grizzly bears.

During her confirmation hearing, Betsy DeVos, a Michigan businesswoman, was pressed by Sen. Chris Murphy, a Connecticut Democrat, to state if she believed guns "shouldn't be in schools." DeVos replied by mentioning Wyoming.
"I think probably there," she said, "I would imagine that there is probably a gun in the schools to protect from potential grizzlies."

The comment came after DeVos said she felt the decision about whether or not to allow guns in schools "is best left to locales and states to decide."

Murphy — a former House member whose district included Sandy Hook at the time of the deadly school shooting — later asked DeVos what she would do if Trump "moves forward with his plan to ban gun-free school zones."
DeVos responded that she would "support what the president-elect does."
"If the question is around gun violence and the results of that, please know that my heart bleeds and is broken for those families that have lost any individual due to gun violence," DeVos said.
As terrifying as it sounds, bears have infiltrated American schools in the past. In 2015, for example, a small bear was caught on video roaming the halls of a high school in Bozeman, Montana. The bear was guided into a field, where it wandered off.
In addition, several Alaska schools last year were put on lockdown after a bear "came out of the woods and basically ran me over and stepped all over me," local high school student Kyle Hubbard told the Alaska Dispatch News. However, the incident happened in a subdivision, not at a school.
And in 2015 in Wapiti, Wyoming — a city mentioned by DeVos during her hearing — a man had a close encounter with a mother grizzly and her cubs, though that incident did not have anything to do with a school and the man escaped after firing bear spray, not a gun.
DeVos's hearing Tuesday touched on an array of other topics as well. At one point, for example, she said "it would be premature" to commit to keeping campus rape rules. She also said that she "may have confused" the federal Individuals With Disabilities Education Act.
Other topics included "conversion therapy," which purports to change a person's sexual orientation and which DeVos said she "never believed in," and her support for charter schools.