"We Expected To Come Back To Nothing": Residents Survey The Damage After Hurricane Harvey
After widespread evacuations, some Texas residents returned home to find entire neighborhoods reduced to rubble.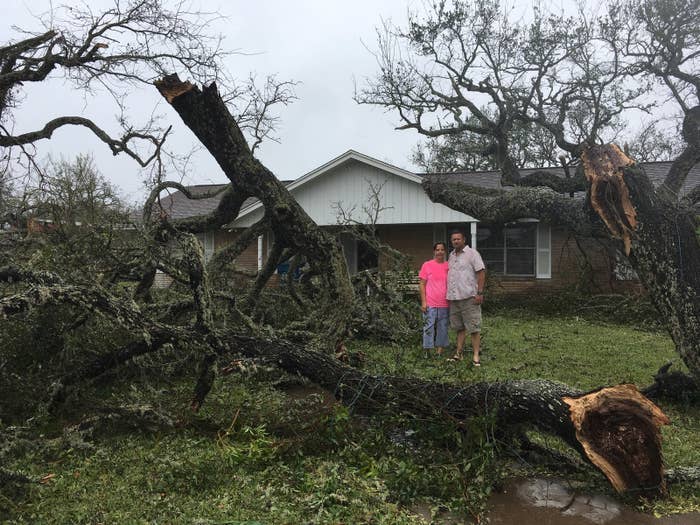 ROCKPORT, Texas — Rhonda and Randy Johnson didn't know what they would find when they returned home after Hurricane Harvey swept through their seaside neighborhood in Rockport, Texas, but they feared the worst.

"We expected to come back to nothing," Rhonda said Saturday as she pointed to the massive oak branches the wind had ripped from the trees in front of her yard. "We thought it was gone."
In the end, the Johnsons were relatively lucky. Though the storm knocked large trees into their roof, flung a tool shed into the air, and crushed a wooden fence, their home was still standing.
Others in the area did not fare as well. When Hurricane Harvey made landfall as a Category 4 storm Friday night, Rockport and surrounding towns on the southeastern coast of Texas felt the brunt of the storm's force. Hours later, entire neighborhoods lay in ruin.
Thousands of residents like the Johnsons left their homes for the heaviest part of the storm, abiding stark mandatory evacuation warnings as the storm approached Friday. By Saturday, some were making their way back home to survey the damage.
Not everyone in the area evacuated, however. At least one person died in their home in Rockport, and more than a dozen people were injured as the storm ripped through the town over night, local officials said Saturday.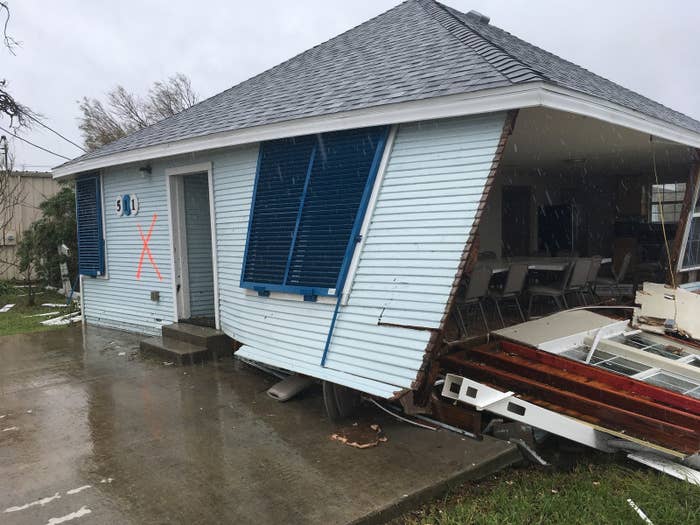 With the buzzing sound of a generator in the background and a pistol holstered by his hip, Lee Grantham stood inside his damp one-story home Saturday, recounting the previous night, when the eye of the hurricane swept over his home in Taft, Texas.

"It was bad. I mean, look at the roof in there," Grantham said, motioning to the back of his home where two gaping holes revealed the sky above. "The house was flexing like this," he said, motioning the palms of his hand towards and away from each other.
Grantham, a retired Navy officer, and his wife Tammy, who works for an offshore oil rig company, spent the long night in their home with their five dogs as Hurricane Harvey made landfall just 10 miles away.
Grantham said he has no plans to leave, even as the threat of floods increased after the hurricane was downgraded to a tropical storm Saturday.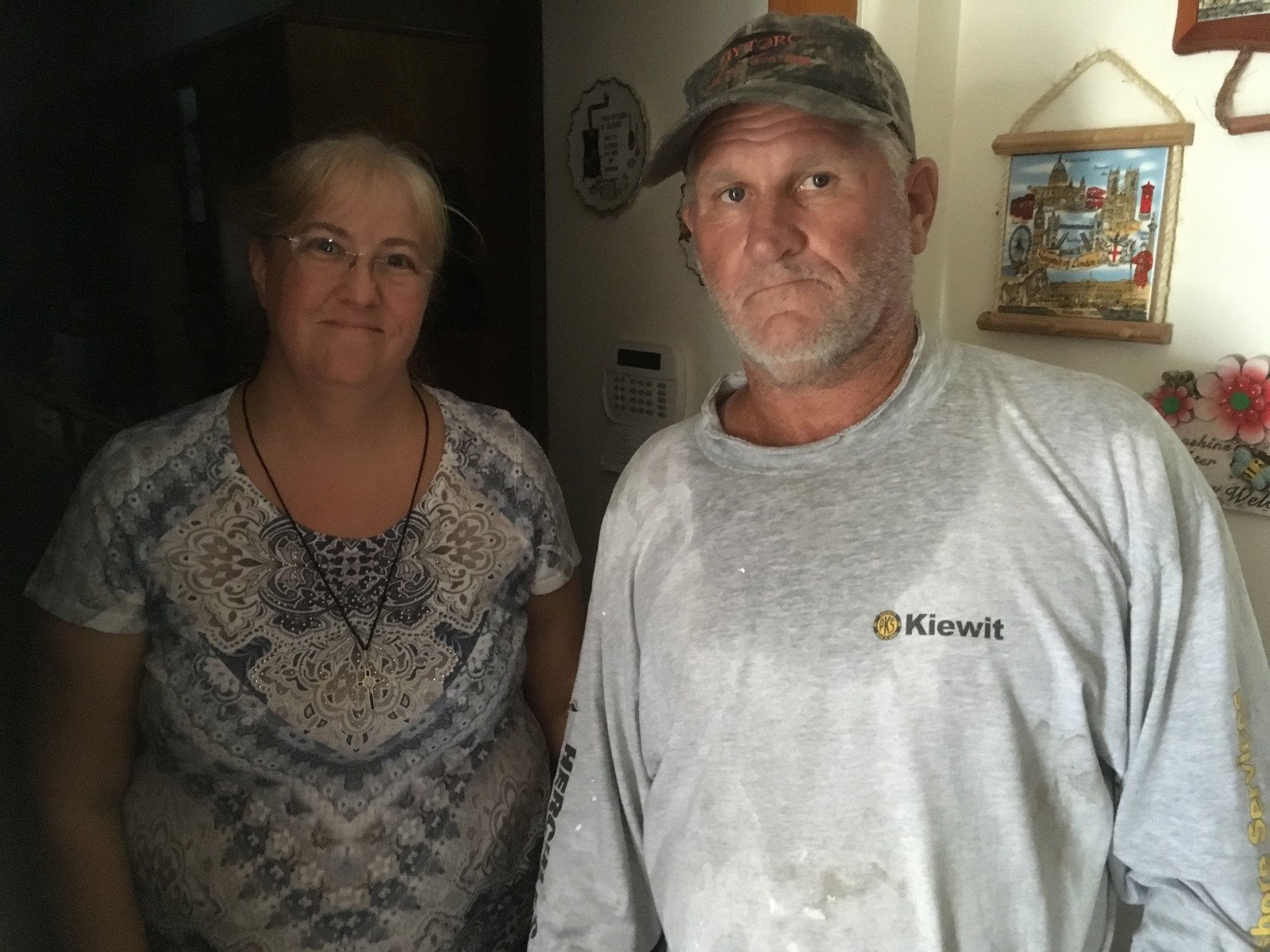 About 20 miles away, across the bay from Rockport, the tiny town of Bayside, Texas, looked like a ghost town Saturday. Corrugated metal roofs swung from trees and homes lacked entire walls. An old Victorian house sat slightly off its foundation, leaning to one side. The roads into the town — like many in the region Saturday — were a web of downed power lines and piles of broken wood.
"We were hit pretty bad, pretty bad," James Dyche told BuzzFeed News as he and a friend worked to fix a flat tire on a flooded Bayside street.
Dyche added that his town took an even greater beating Friday night and Saturday than it had during the devastating Hurricane Celia, which battered Texas in 1970.
"This Category 4, it's probably the worst Bayside's ever had it," he said.
Back in Rockport, the Johnsons said the same thing. They said they made the decision to evacuate because "we had to get our kids out." And though their house fared relatively well, Randy's mother lost her entire mobile home.
"It's devastating seeing everything people worked hard for gone," Randy said. "But it's just property. We'll rebuild."
Nearby, Eliseo Torres was rummaging through his house, assessing the damage to the place he has called home for 10 years.
"I think it's going to be hard," Torres said of the coming days ahead. "We have no running water and no electricity. You're not going to have any of the stores open."
Torres, who left for his brother's house in Corpus Christi the day before the hurricane made landfall, added that major storms are an expected part of life for people living on the Gulf Coast.
"You roll the dice," he said. "At the end of September, October you say, 'Alright I lived through this season, I'll wait for the next season."
Torres, who was worried about the flood waters closing the road out of Rockport back to Corpus Christi, hurriedly checked his neighbor's home for damage before departing. "When you live by the coast, you like the beauty of it. But this is the negative part," he said.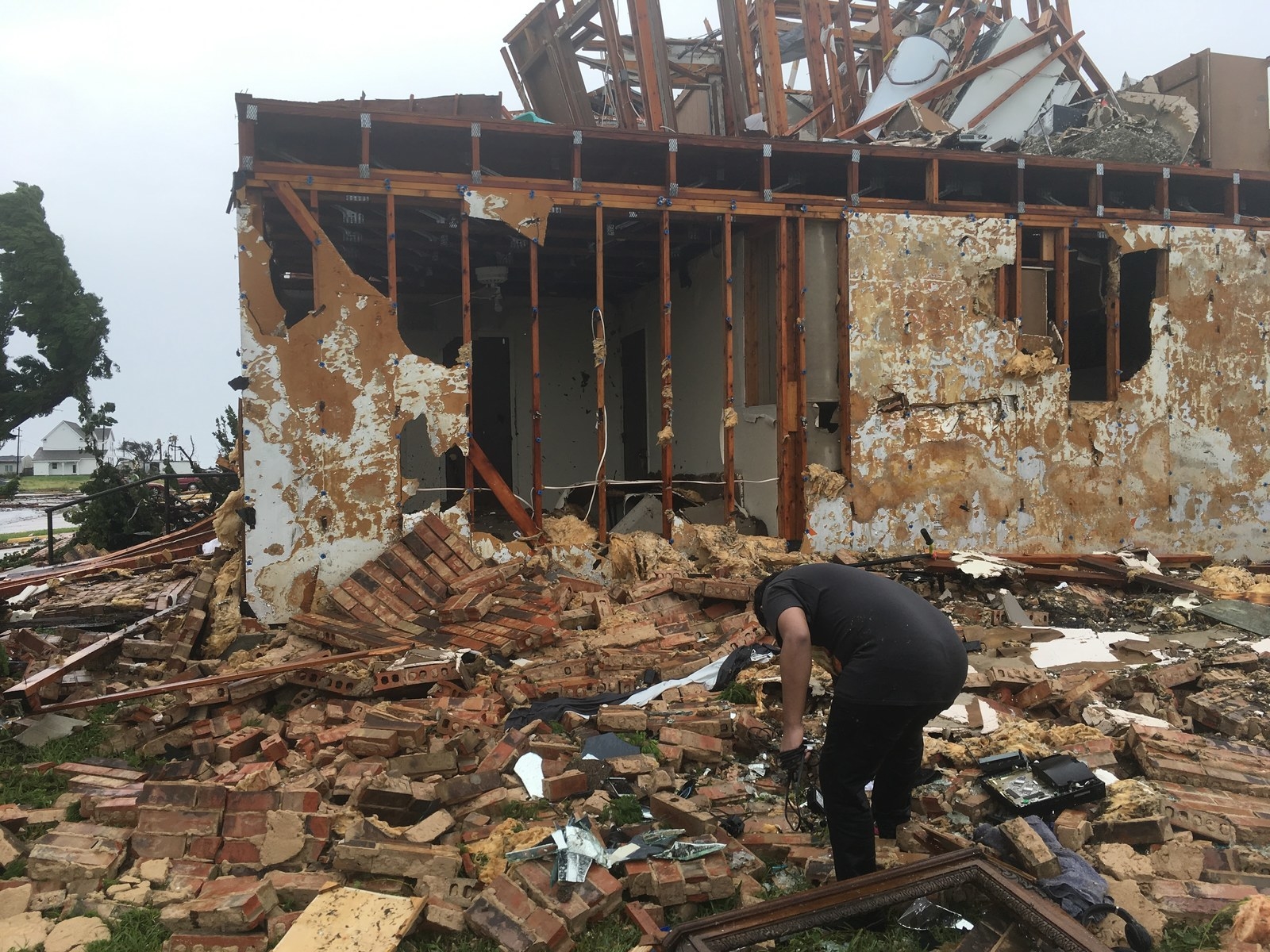 And Torres was one of the lucky ones.
Just a few blocks away, at the heavily damaged Salt Grass Landing apartment complex, an entire second story of a building was blown off by the storm. Leeanglo Longoria stood amid the rubble in the rain Saturday, tossing bricks aside as he looked for any belongings he could salvage.
Longoria lived on the second floor — his home was completely destroyed — but as he pulled a cracked cellphone from the wreckage he said he "didn't mind that my house is gone."
"I'm just glad that other people have a place to go," he said.
If you've been impacted by the storm in Texas or have a tip about rescue, relief, government, or aid efforts, call the BuzzFeed News tipline at (646) 589-8598. Find us on Signal, email, SecureDrop, and more here.