Texas Gov. Rick Perry Indicted By Grand Jury On Two Charges
A grand jury indicted Perry on Friday for abuse of official capacity and coercion of a public servant.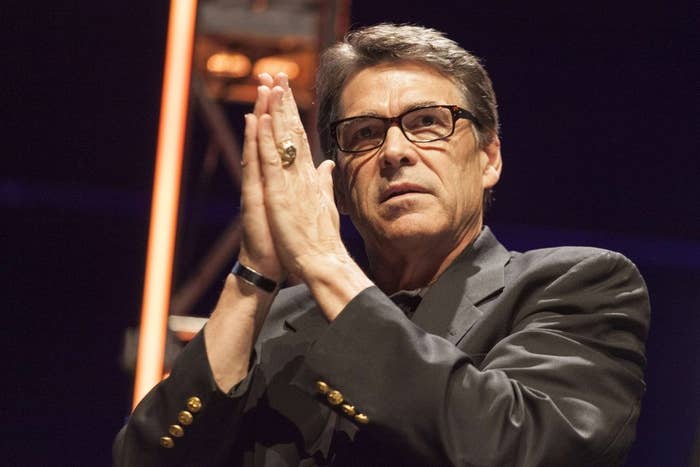 A grand jury indicted Texas Gov. Rick Perry Friday for abuse of official capacity and coercion of a public servant.
The two charges stem from Perry's attempts to force Travis County District Attorney Rosemary Lehmberg out of office. Lehmberg was arrested in April 2013 for drunk driving. She later took a plea bargain that included serving 45 days in jail as well as paying $4,000.
Perry responded to the case by calling on Lehmberg, an elected official, to resign. She refused, and when Perry's efforts to oust her also failed he threatened to veto more than $7 million in funding for a program she was running. The program, called the Public Integrity Unit, investigates allegations of political corruption. Perry ultimately followed through with his threat in June.
Lehmberg supporters believed Perry's veto was a form of political retribution, and a grand jury consequently began investigating, the Austin Statesman reported.
Perry's lawyers issued a pair of statements Friday afternoon.
The first statement came from Mary Anne Wiley:
The veto in question was made in accordance with the veto authority afforded to every governor under the Texas Constitution. We will continue to aggressively defend the governor's lawful and constitutional action, and believe we will ultimately prevail.
David Botsford, another lawyer for Perry, later issued a second statement saying he was "outraged and appalled" by the indictment. He called it "political abuse of the court system," insisted Perry's veto was legal, and described it as an "effort to weaken" the governor's authority.
Perry is the first Texas governor to be indicted in almost a century, the Associated Press reported.
Perry has been a rumored contender for the upcoming 2016 Republican presidential nomination.
Perry rose to national prominence when he challenged Mitt Romney for the Republican presidential nomination in 2012. Though he lost, Perry had been working to return to national prominence — possibly for another run at the White House.
Read the full indictment document: