Tens Of Thousands Of Walruses Come Ashore As Sea Ice Melts Off Alaska
The walruses would normally gather on floating sea ice, but as that ice disappears they are forced to swim longer distances in order to rest on land.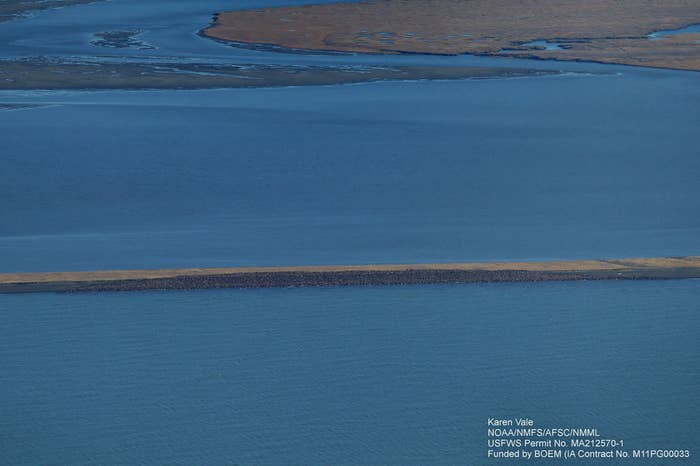 Tens of thousands of walruses have come ashore on a remote northern Alaska beach in recent weeks as sea ice disappears in the Arctic, wildlife officials said.
The walruses have been gathering, or "hauling out," near Point Lay, a small village on Alaska's northern coast about eight hours by plane from Anchorage. Andrea Medeiros, a spokesperson for the U.S. Fish and Wildlife Service, told BuzzFeed News that observers found about 35,000 walruses on Sept. 2 during an aerial survey.
Authorities flew back over the beach Thursday and estimated there were between 15,000 and 20,000 walruses, though Medeiros said the estimates were rough because they were made from an airplane. The numbers also rise and fall as the animals come and go for feeding.
Images of the walruses began to circulate after photographer Gary Braasch flew over the beach on Aug. 23. Braasch told BuzzFeed News he was watching government maps of tagged walruses and noticed what appeared to be a gathering near Point Lay. He flew to the area and, using a telephoto lens, took several pictures of the animals.
"It was amazing to see," Braasch said. "I'd never seen it before."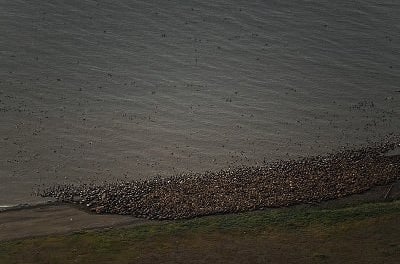 The walruses often spend time on floating Arctic sea ice because it gives them easy access to their food sources. The problem is, there's not a lot of ice right now.
Walruses feed on clams, snails and worms on sea floor. Typically, the animals dive down into the ocean in search of food, then swim back up and rest on the ice.
Walruses have always used dry land as well, but ice is particularly useful for females and younger animals, which can't swim as far as males in open water.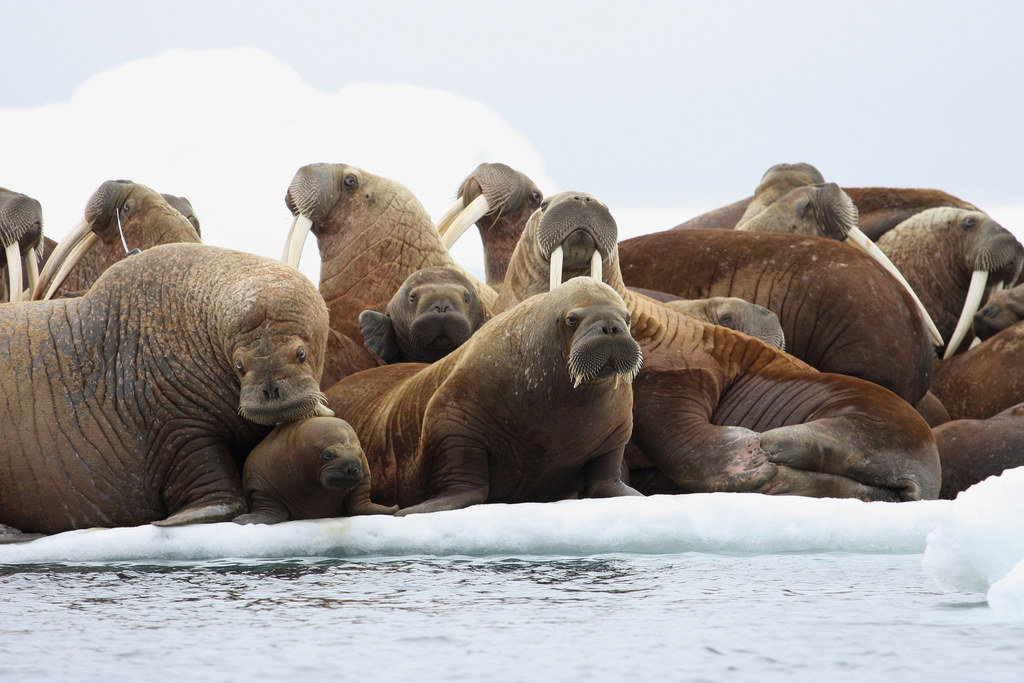 When there is no ice available, more animals have to swim to land to rest.
"The advantage of being on the ice, over their feeding area, is they're not having to expend as much energy," Medeiros added.
In the case of the current haul out, some of the walruses are swimming 150 miles from Point Lay to a feeding area known as Hanna Shoal, Medeiros said.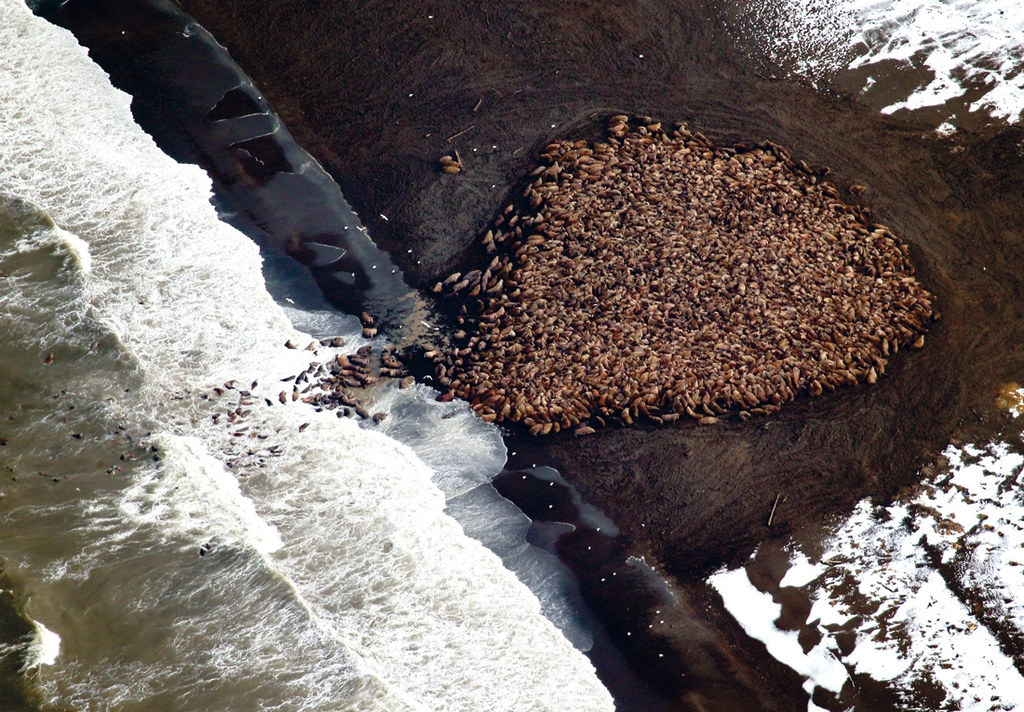 The area around Point Lay has seen several big walrus haul outs in recent years, and many are pointing to climate charge as a contributing factor.
Other big haul outs happened in 2010, 2011, 2013, and 2014, according to the FWS. Large events also happened in the 1930s and 1970s, but FWS reported that the current haul out is unusual for "its timing, location, and number of animals involved."
According to data from the National Snow and Ice Data Center, the amount of sea ice currently in the Arctic is well below average. Though there's more ice cover than at this time in 2012, NSID reported that this year "is likely to be the third or fourth lowest in the satellite record."
"All four of the lowest extents have occurred since 2007," the center said.
According to the Fish and Wildlife Services, sea ice "has been steadily declining in the Arctic since 1979 along with increasing sea surface temperatures and air temperatures."
Medeiros added that climate change "certainly plays a role" in big haul outs like the one happening now in Alaska.
"Typically, when the ice hadn't receded as far back as it has now in the last few years, the walrus would prefer to be on the floating ice pack," Medeiros said. "Now with the ice retreating they don't have that any more."