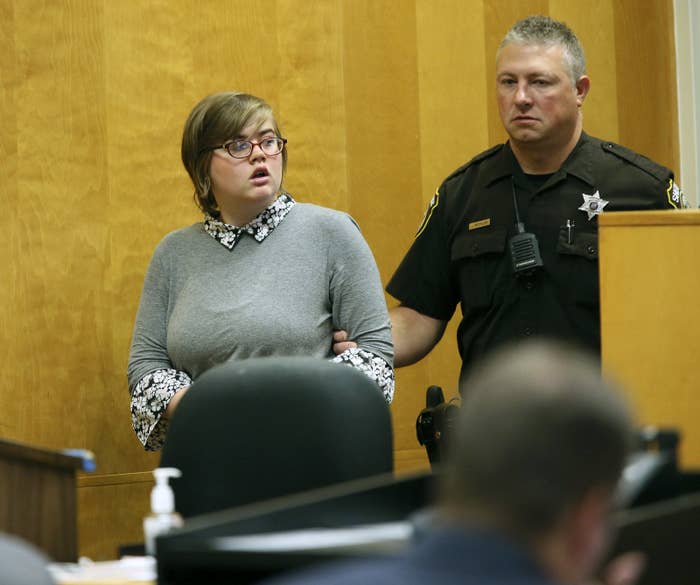 A teenage girl has been sentenced to 40 years in a mental hospital for her role in a stabbing that was prompted by a fictional character known as "Slender Man."

A Wisconsin judge sentenced Morgan Geyser, 15, on Thursday to the maximum commitment term in the case that began in 2014 when she and a friend, Anissa Weier, stabbed another girl, Payton Leutner, 19 times. Leutner survived and crawled out of the woods, where she was found by a bicyclist.
All three girls were 12 at the time of the attack.
Geyser and Weier, now 16, later said they carried out the attack in an attempt to appease Slender Man, a fictional online boogeyman that is often photoshopped into old pictures. The character is typically described as tall and faceless, has prompted abundant fan fiction, and in stories is sometimes associated with disappearing children or people going crazy.
Geyser struck a deal with prosecutors last year, pleading guilty to attempted first-degree intentional homicide in exchange for prosecutors agreeing that she is not criminally liable due to mental illness. She was diagnosed with early-onset schizophrenia in 2014.
The plea deal allowed Geyser to avoid jail or prison time.
During Thursday's sentencing, defense attorneys asked that Geyser be committed to a less restrictive facility that might have allowed her to go on supervised outings, the Associated Press reported. Two doctors, called by the defense, reportedly testified that Geyser no longer had psychotic symptoms.
But prosecutors pushed for the maximum possible sentence, according to the AP, saying that as recently as September Geyser was still hearing voices. Brooke Lundbohm, a doctor called by prosecutors, said that Geyser was still dangerous.
"This is not a close call," Lundbohm reportedly said in court.
Geyser also offered a tearful apology Thursday.
"I just want to let Bella and her family know that I'm sorry," she reportedly said in court, referring to Leutner by a nickname.

However, in handing down the sentence, Judge Michael Bohren said, "What we can't forget is this was an attempted murder," the AP reported.
He also reportedly described Geyser's sentence as "an issue of community protection," saying he believed the girl posed a risk to both herself and others.
Geyser can petition for conditional release in the future, but both the judge and the staff treating her would have to approve, the Milwaukee Journal Sentinel reported.
Weier also took a deal with prosecutors last year, pleading guilty to attempted second-degree homicide. In December, a judge sentenced her to 25 years in a mental hospital.