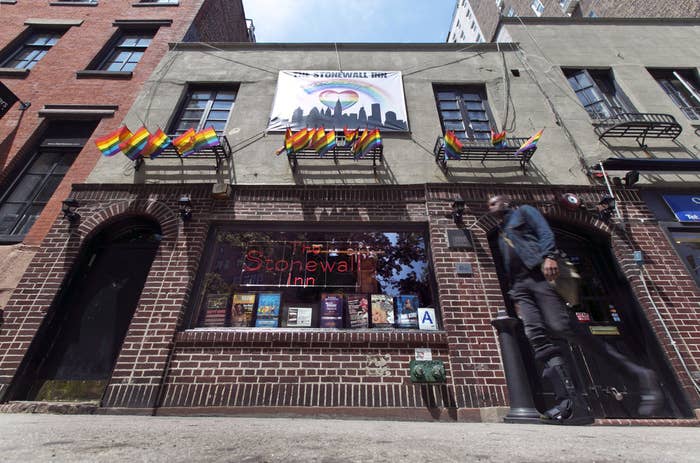 President Obama is preparing to designate New York City's Stonewall Inn and the surrounding area as the first national monument dedicated to gay rights, according to multiple reports.
The president could take action as soon as next month, The Washington Post reported Tuesday. Interior Secretary Sally Jewell, National Park Service Director Jonathan Jarvis, and other officials will be in New York City Monday for a meeting on the proposal.
According to the Associated Press, the national monument could include a small park and the area surrounding the Stonewall Inn, which is a bar in Manhattan's Greenwich village.
Representatives for the Obama Administration and the Stonewall Inn did not immediately respond to BuzzFeed News requests for comment Tuesday.
The U.S. has more than 400 sites that have been set aside for their historic or natural significance and which are managed by the National Park Service. However, the Stonewall Inn would become the first location preserved for its role in the struggle for gay rights.
The Stonewall Inn, a hub of gay culture, was the epicenter of protests and rioting in June 1969. The unrest followed a police raid on the site and is widely seen as a spark that ignited the gay rights movement.
Obama has repeatedly mentioned the significance of the Stonewall Inn, including during his second inaugural address in 2013. The site was dedicated as a New York City landmark last year, and lawmakers have lobbied the Obama administration for national park status.
Sen. Chuck Schumer, one of the lawmakers who has pushed for preservation, compared it last year to other pivotal places and moments in American history.
"Independence Hall, the Gettysburg address, Seneca Falls, Rosa parks and the Montgomery Bus Boycott," Schumer said in a statement. "It's time for the Stonewall Inn to take its place in the panoply of sites and events that were sparks in the march to the kind of freedom and equality that is the very wellspring of the American Dream."
Lawmakers have asked Obama to designate the site as a national monument using the Antiquities Act, which dates to 1906 and has often been used to set aside areas that have archeological significance, including controversial sites in the American West.