St. Louis Police Allegedly Turned Off Dashcam As Officers Beat Man
Newly-released footage shows the alleged beating of Cortez Bufford last April. An officer can be heard pointing out a camera was rolling before switching it off.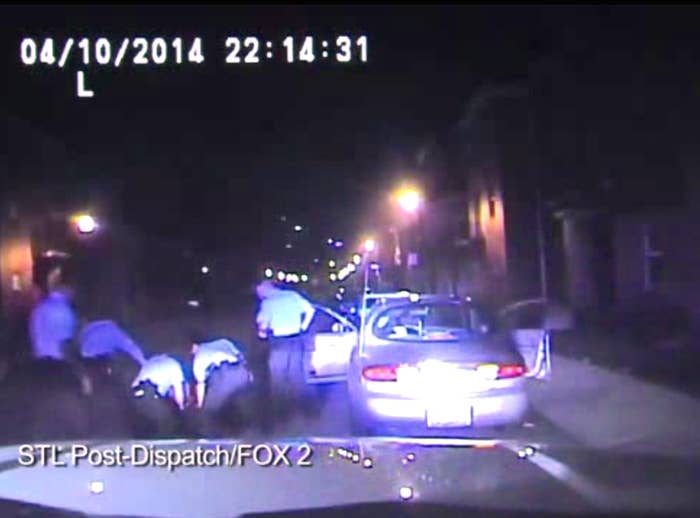 Newly released video appears to show St. Louis police officers beating a man, then turning off a dashcam that was recording the incident.
The footage shows officers Nathaniel Burkemper and Michael Binz pulling over Cortez Bufford in a traffic stop on April 10, 2014, the St. Louis Post-Dispatch reported. The stop took place after police received reports of gunfire and a silver car in the area. Officers then saw Bufford make an illegal U-turn and park abruptly.
After stopping Bufford, Burkemper can eventually be heard saying he recognizes the smell of marijuana. Several minutes later, a group of officers can be seen pulling Bufford from the car and wrestling him to the ground. Multiple officers appear to kick him during the altercation.
Later, a female voice can be heard talking to the officers.
"Hold up. Everybody hold up," the woman says. "We red right now so if you guys are worried about cameras just wait."
The video stops shortly thereafter. However, other dashcam videos — which were released Friday — continue on. One shows officers still huddled around Bufford, while another shows him falling over, the Post-Dispatch reported.
In subsequent police reports, officers wrote that they found a weapon and bullets during the stop.
Bufford's lawyers believe the officers used excessive force during the altercation.
Joel Schwartz, one of the attorneys representing Bufford, told ABC News that "red" is police terminology for having the cameras on. Another attorney, Bevis Schock, also told the Post-Dispatch that police hit Bufford after the first camera stopped recording.
Bufford was eventually shot with a Taser, handcuffed, and charged with resisting arrest and having a weapon. The charges later were dismissed.
Turning off a dashcam is against St. Louis County Police Department policy, and a spokeswoman for St. Louis Mayor Francis Slay told ABC News an officer was eventually disciplined for violating that policy.
Bufford is seeking $500,000 in damages.
Schwartz and Schock did not immediately respond to BuzzFeed News requests for comment Tuesday evening. The St. Louis Police Department also could not immediately be reached.
The release of the videos come after months of attention on policing in the St. Louis area following the death of Michael Brown. In the months following Brown's death, police in Ferguson began wearing body cameras.