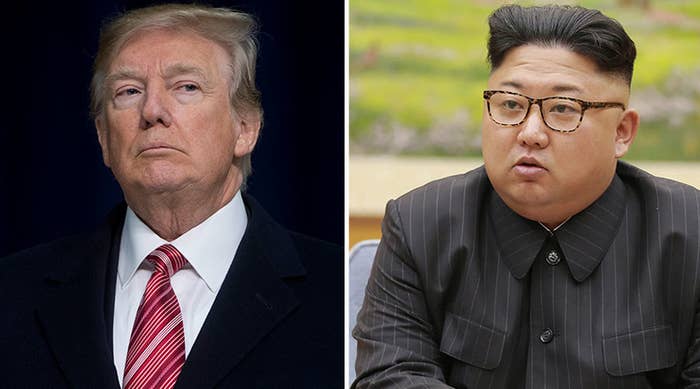 President Trump has agreed to meet North Korea's Kim Jong Un after getting an invitation Thursday, South Korean officials announced in front of the White House Thursday.

Chung Eui-Yong, South Korea's national security adviser, told reporters that the North Korean leader has "expressed his eagerness" to meet with Trump, and that he has also said he is "committed to denuclearization."
"Kim pledged that North Korea will refrain from any further nuclear or missile tests," Chung said. "He understands that the routine joint military exercises in the Republic of Korea and the United States must continue."
Chung said Trump wanted to meet by May, but on Friday, White House press secretary Sarah Huckabee Sanders told reporters the meeting would not happen until North Korea takes "concrete" steps to denuclearize and end missile testing.
"We're not going to have this meeting take place until we see concrete actions that match the words and the rhetoric of North Korea," Sanders said at a press briefing. "We haven't set a time or location."
The president confirmed on Twitter that a meeting is being planned, adding, "Great progress being made but sanctions will remain until an agreement is reached."

Chung added during his announcement that Trump said he wanted to meet to "achieve permanent denuclearization."

"The Republic of Korea along with the United States, Japan, and our many partners around the world remain fully and resolutely committed to the complete denuclearization of the Korean peninsula," Chung continued.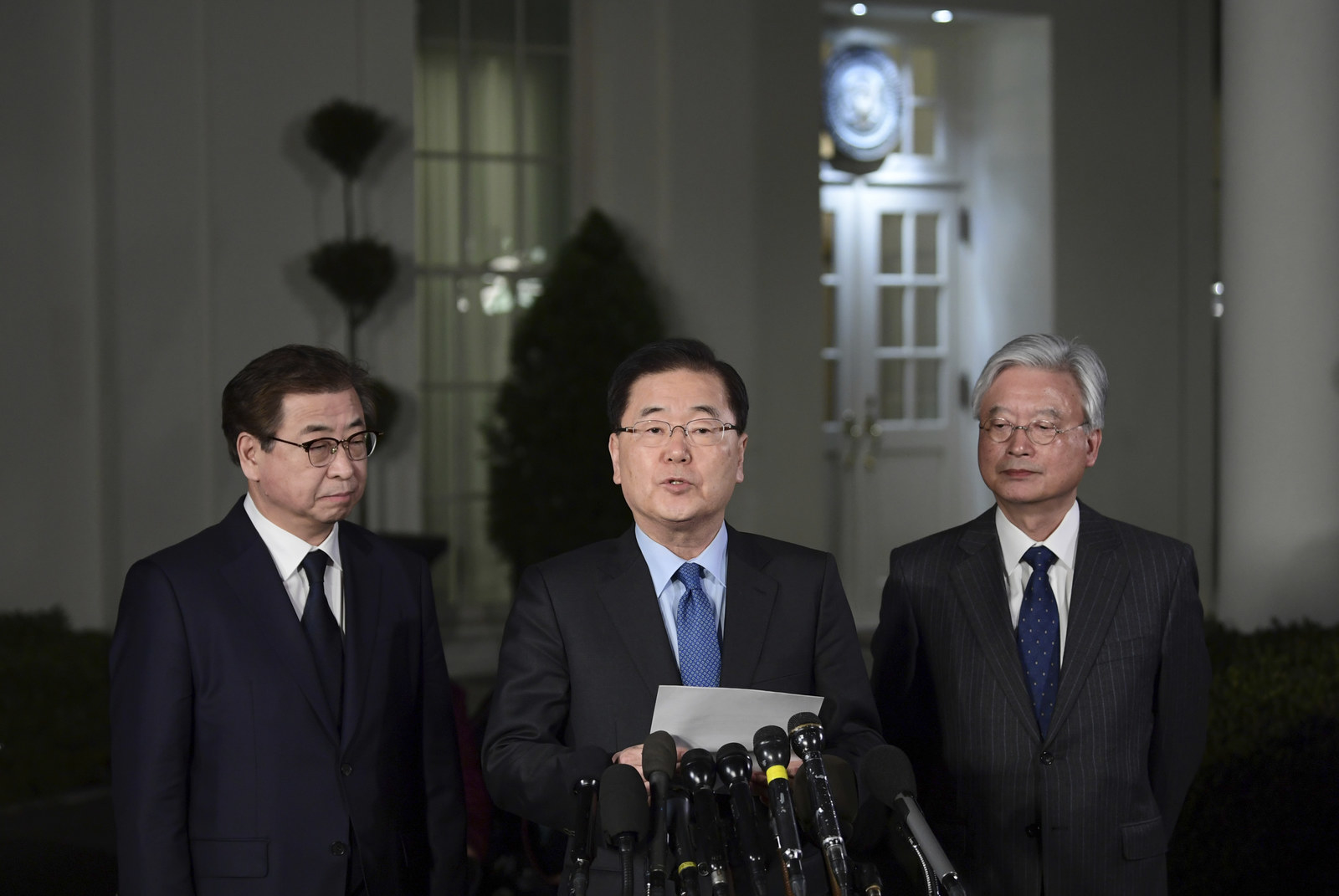 Sanders said that Trump planned to meet Kim "at a place and time to be determined."
"We look forward to the denuclearization of North Korea," she added. "In the meantime, all sanctions and maximum pressure must remain."
The announcement came shortly after a South Korean delegation visited the White House Thursday to update US officials on the status of discussions with North Korea. Following that meeting, Trump teased the North Korea news when he popped into the White House briefing room and told reporters to expect a major announcement.
He also reportedly told one journalist that "hopefully, you will give me credit" for the news.
A senior administration official, in a background call with reporters, said that in his year in office, Trump has "always left the door open to dialogue of some kind, he's left the door open to dialogue at the right time."
The invitation to meet, the official said, was conveyed in the Oval Office during a meeting that included Secretary of Defense James Mattis, national security adviser H.R. McMaster, chief of staff John Kelly, Deputy Secretary of State John Sullivan, Director of National Intelligence Dan Coats, and Deputy CIA Director Gina Haskell. In meetings last week, Kim told Chung the message he wished passed on to Trump that was then delivered orally on Thursday.
"Look, at this point we're not even talking about negotiations," the senior administration official said when asked about possible terms the United States would seek in talks with Pyongyang. "We're talking about an invitation from the leader of North Korea to meet face to face with the POTUS. The president has accepted that invitation."
On Friday, Secretary of State Rex Tillerson said that Trump decided that the time was right for "talks" with North Korea and that the US was surprised by how "forward-leaning" Kim had been in his talks with South Korea, according to the AP.
Tillerson, who spoke to reporters while traveling in Djibouti, said that it appears that Kim has shown "not just willingness but really his desire for talks" and that it will take some time to arrange the meeting.
The official also noted that Trump spoke with Japanese Prime Minister Shinzo Abe on Thursday night about the decision.
But some North Korea experts expressed skepticism about the meeting.
Andray Abrahamian, a fellow at non-profit research institute Pacific Forum CSIS, who has traveled to North Korea nearly 30 times, told BuzzFeed News "summits are supposed to put the official stamp on months of groundwork at the lower levels."
"Is Trump going to be ready for this," Abrahamian wondered, "with all the distractions and other things swirling around his presidency?"
Jon Wolfsthal, director of the Nuclear Crisis Group and a former National Security Council official under President Obama, added that "there is no hard evidence that suggests Kim is about to quickly give up his nuclear weapons."
"He has long craved the status a summit with a US President would give, and is close to getting it — all for a testing freeze," Wolfsthal told BuzzFeed News. "We seem to have accepted a May meeting with no pre-conditions, no reversal in their program, and we have no team in place to negotiate."
Zhang Liangui, a North Korea expert at China's Central Party School, told BuzzFeed News "this issue is not one that can be resolved just between the US and North Korea, it's a global issue, so China and other countries must join the process at some stage."
North Korea and the US have had an antagonistic relationship for decades, but tensions have soared under the Trump administration amid multiple ballistic missile tests. North Korea claimed one of those missiles could reach the entire US mainland.

However, earlier this week Pyongyang indicated it was willing to give up its nuclear weapons program and hold talks with the US in exchange for security guarantees. North Korea also signaled a willingness to begin a dialogue with the US after the Winter Olympics in Pyeongchang, South Korea.
Trump responded by saying that he was willing to speak with Pyongyang, but "only under the right conditions." In the past, Trump has said Tillerson was "wasting" his time with North Korea, and referred to Kim as "rocket man."