"SNL" Pokes Fun At Hillary Clinton On The Eve Of Her Presidential Campaign
Kate McKinnon's Clinton spent Saturday's SNL cold open trying to seem relatable and avoiding words like "dynasty."
SNL's cold open Saturday was spent with Hillary Clinton, played by Kate McKinnon, as she prepared to announce her candidacy for president.
In the sketch, Clinton warms up for her social media announcement.
"Hillary's a granny with a twinkle in her eye," she recites, later adding "First female president, first female president. Me me me me me me me."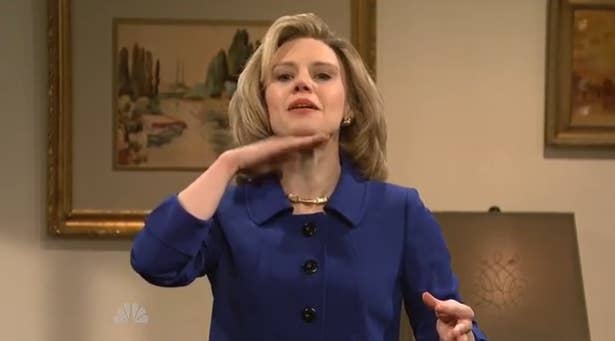 Clinton's first take at a cell phone video announcement doesn't go so well when she declares, "citizens, you will elect me, I will be your leader."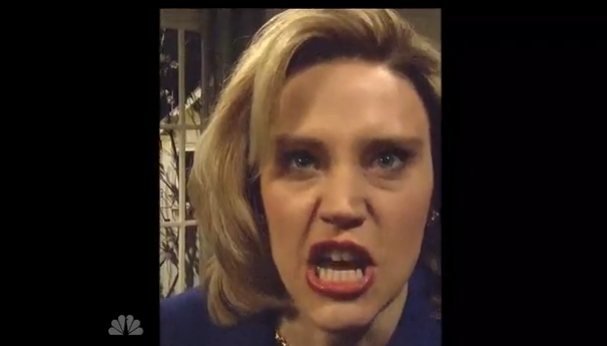 A second take also doesn't go well, but an assistant, played by Vanessa Bayer, points out they can just delete it.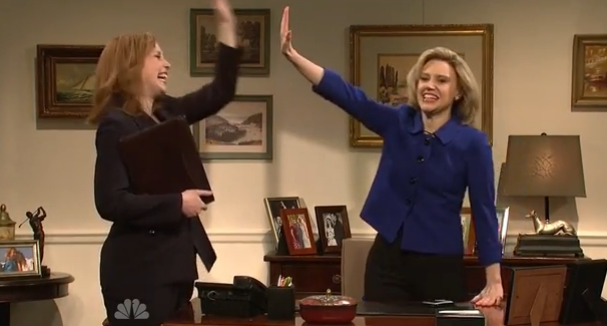 "Don't worry, we'll just delete that one off your phone," Bayer says.
"I know a thing or two about that, right?" Clinton replies, laughing.
The joke was apparently a reference to the recent controversy surrounding Clinton's emails — which she improperly sent from a private account while at the State Department — and the the fact that the department will not be releasing her text messages.
Later, Bill Clinton, played by Darrel Hammond, shows up and jokes that he will be Hillary's vice president.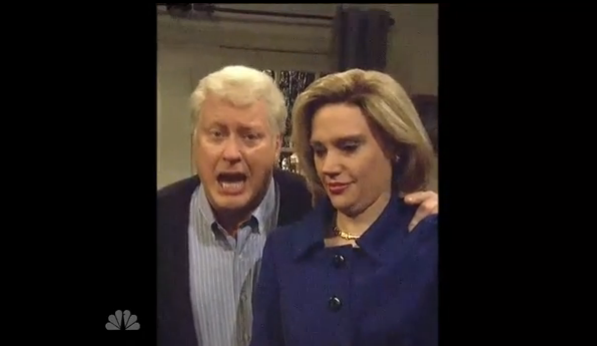 Bill Clinton promises that if anything happens to Hillary he will gladly step in as president: "It'll be Bill Clinton two, bigger and blacker."
Hillary, however, explains that she will in fact be her own vice president.
"Aren't we such a fun, approachable dynasty," Hillary says as Bill walked off.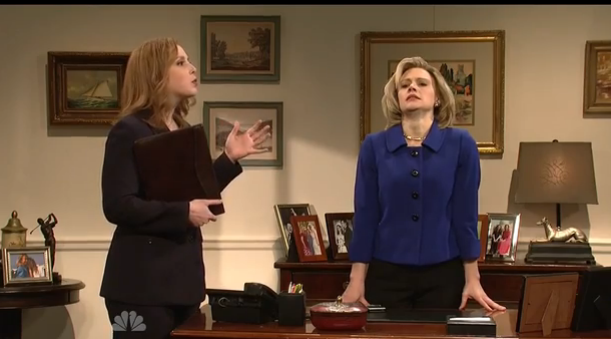 "Buckle up, America, the Clintons are back," Hillary later says.
The sketch comes the night before Hillary is expected to announce that she is running for president.
While Hillary's presidential campaign has been widely accepted as a given for years, she is now expected to formally announce on Sunday. The announcement is expected to come in the form of a video posted to social media, The New York Times reported.