Fresh off their win at the Super Bowl, six members of the New England Patriots have backed out of the traditional post-game meeting with President Donald Trump — a sharp new sign of deepening American divisions.
Tight end Martellus Bennett was the first player to back out of the meeting at the White House, which is typically held for members of the team that won the Super Bowl. Bennett announced he wouldn't be attending the meeting shortly after the Patriots defeated the Atlanta Falcons on Sunday.
The next day, safety Devin McCourty joined Bennett, saying he would not attend the meeting because "I don't feel accepted in the White House."
"With the president having so many strong opinions and prejudices I believe certain people might feel accepted there while others won't," he said in an interview with Time.
Other team members soon followed: On Wednesday, linebacker Dont'a Hightower said he wouldn't attend. Then, on Thursday, running back LeGarrette Blount, defensive tackle Alan Branch, and defensive end Chris Long all said they would not be attending the meeting with Trump.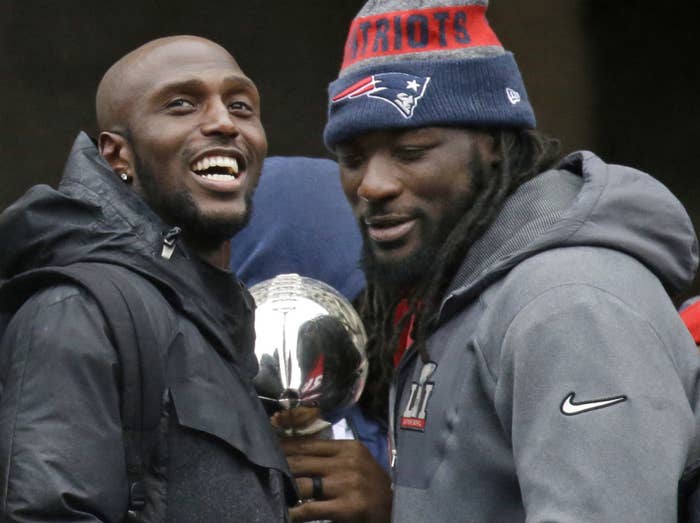 Five of the players planning to skip the meeting are black. The sixth, Long, who is white, announced he wouldn't attend in response to an open letter in the New York Daily News criticizing a "pathetic sea of NFL white silence this year."

In addition to the Daily News letter, fans have also been stepping up pressure for team members to boycott the White House meeting, and expressing support for those who won't attend.
Patriots quarterback Tom Brady is a well-known friend of Trump who skipped a post-Super Bowl visit to the White House in 2015 while Obama was president.

At the time, Brady cited a "prior family commitment."

Rob Gronkowski's rep told BuzzFeed News that the tight end "doesn't have a comment as of right now."
The past year, however, has seen the NFL became increasingly politicized as Trump rose to the presidency on a platform many have described as racist, and as police shootings against black men continued to make headlines.
Most notably, San Francisco 49ers quarterback Colin Kaepernick repeatedly refused to stand during the national anthem last year, prompting other players to do the same.