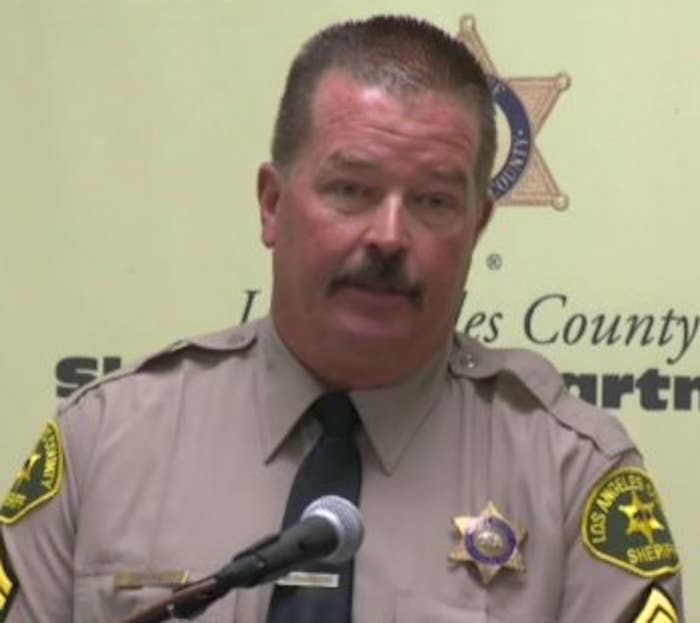 A gunman "executed" a decorated Los Angeles County sheriff's sergeant Wednesday who had arrived first on the scene of a burglary call, officials said Thursday.
Sgt. Steve Owen and another sheriff's deputy responded to a burglary call in Lancaster, about 75 miles north of Los Angeles, shortly after noon, Executive Officer Neal Tyler said at a Wednesday news conference. While at the call, Owen was struck by gunfire and later succumbed to his injuries at a hospital surrounded by family, Tyler said.

Thursday, officials identified the suspected gunman as Trenton Trevon Lovell, 27, of Lancaster. Sheriff Jim McDonnell said that Lovell hit Owen with one shot, then stood over his body and fired four more times, the Los Angeles Times reported.
"This was a calculated execution," the sheriff reportedly said.
According to McDonnell, Lovell then searched Owen for a gun "with the intent to use it to murder" another deputy, the Times reported.
After the shooting, Lowell tried to steal Owen's car, rammed another patrol car, and fled on foot, ABC 7 reported. According to the Times, Lowell ran into a nearby home. Two teenagers were there, and one managed to send a text alerting authorities.
A manhunt ensued, and local news helicopter footage later showed a suspect surrendering in a back yard.
Owen was a 29-year veteran of the sheriff's department who was promoted five years ago and beloved in the community, Tyler said.

"He goes above and beyond with respect to youth actives and community involvement," he said.
In 2014, Owen was among a group of officers awarded a meritorious conduct medal. According to the sheriff's department, Owen and the other officers subdued an armed, bullet-proof-vest-wearing chase suspect using tasers.

Members of South California's law enforcement community mourned Owen's death.
"Steve was just the most hands-on, motivated field sergeant that ever worked for me," said Sheriff's Lt. Derrick Alfred told the Times Thursday. "He was just a real hands-on street cop."
After announcing Owen's death Wednesday, Tyler commending him for his bravery.
"Steve clearly is very much a hero," he added.