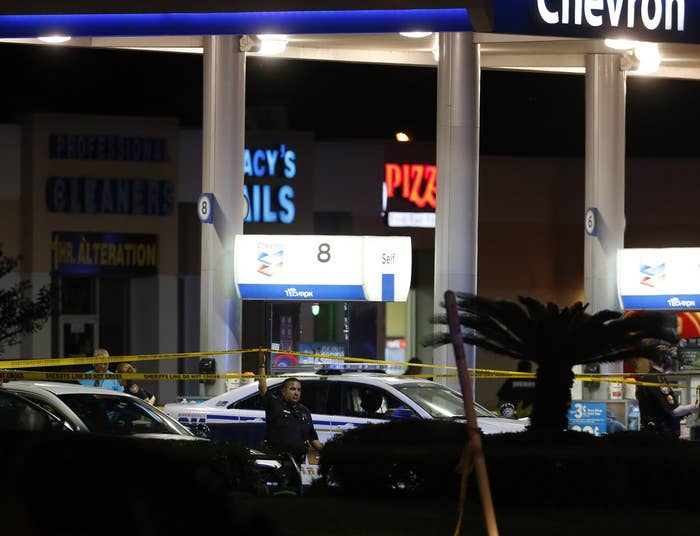 A man suspected of ambushing and killing a Harris County, Texas, sheriff's deputy was arrested Saturday and charged with capital murder.
The shooting happened around 8:30 p.m. when Deputy Darren Goforth, 47, was at a Chevron station about 24 miles from downtown Houston. Goforth was filling up his patrol car when a man — later identified as Shannon Miles — walked up and shot him without warning, police said.
"A male suspect came up from behind the deputy and shot the deputy multiple times," Harris County Deputy Thomas Gilliland told reporters. "The deputy then fell to ground. The suspect then continued over to him and shot the deputy again multiple times as he laid on the ground."
At a court hearing Monday where he was appointed two attorneys, officials said Miles allegedly shot Goforth 15 times, the AP reported. Miles is being held without bond.
Harris County Sheriff Ron Hickman told reporters Goforth "was literally gunned down" in what seemed to be "an unprovoked execution style killing of a police officer."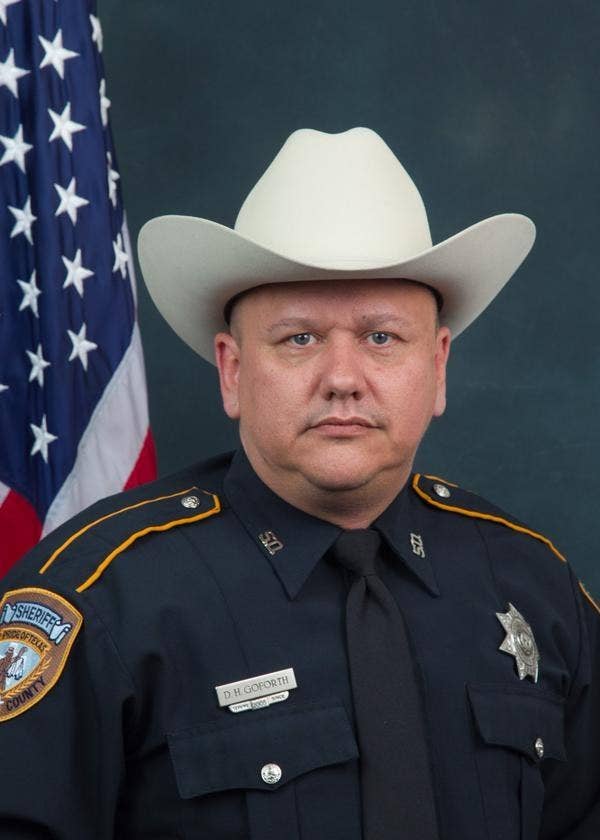 Miles, 30, is facing capital murder charges for the shooting.
Hickman identified Miles Saturday afternoon during a press conference, but said investigators had not yet determined a motive. He added that the shooting appeared to be an "unprovoked incident."
"Our assumption is he was a target because he wore a uniform," Hickman told reporters.
Prosecutors have charged Miles with capital murder, Hickman said. The charge carries a potential death penalty.
According to a White House statement, President Obama on Monday called Goforth's widow to offer his condolences:
This afternoon, on my way to Alaska, I called Kathleen Goforth, the widow of Harris County Deputy Sheriff Darren Goforth — a veteran law enforcement officer who was contemptibly shot and killed over the weekend.

On behalf of the American people, I offered Mrs. Goforth my condolences, and told her that Michelle and I would keep her and her family in our prayers. I also promised that I would continue to highlight the uncommon bravery that police officers show in our communities every single day. They put their lives on the line for our safety.

Targeting police officers is completely unacceptable — an affront to civilized society. As I said in my State of the Union Address, we've got to be able to put ourselves in the shoes of the wife who won't rest until the police officer she married walks through the door at the end of his shift. That comfort has been taken from Mrs. Goforth. So we must offer her our comfort — and continue to stand up for the safety of police officers wherever they serve.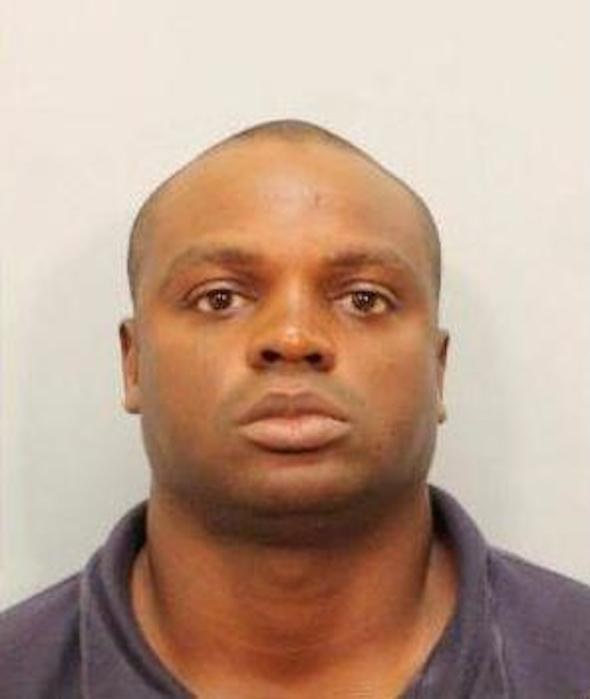 The Harris County Sheriff's Department announced that "routine research" led investigators to Miles. His arrest came after an intense manhunt overnight.
Earlier Saturday, CNN reported that police were tipped off by the alleged gunman's mother. However, the suspect's mother also said she was with him at home at the time of the shooting.
"My son is innocent," she told ABC. "I was in the house with him, so when that happened, my son was home."
Miles has a criminal history that includes convictions for disorderly conduct with a fire arm and resisting arrest,
Early Saturday, while the manhunt was still ongoing, investigators released surveillance images showing a suspect at the scene of the shooting, and a red Ford truck he allegedly used to flee.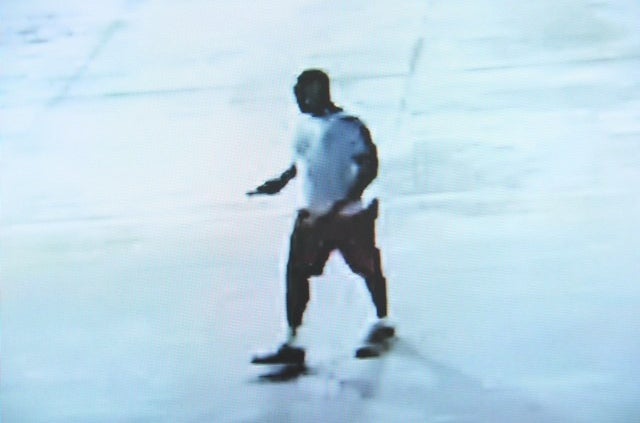 Harris County District Attorney Devon Anderson also told reporters early Saturday the shooter would be brought to justice.
"It's horrifying,' Anderson added. "It's an act of cowardice and brutality the likes of which Ive never seen before."
In an earlier news conference Saturday, Hickman pointed to the #BlackLivesMatter movement as being partially responsible for the killing. He described it as using "dangerous rhetoric" that has "gotten out of control."
"We heard 'black lives matter.' All lives matter," Sheriff Ron Hickman said at the conference. "Well, cops' lives matter too, so why don't we drop the qualifier and say 'lives matter' and take that to the bank."
Anderson echoed Hickman's sentiments, saying "it is time for the silent majority in this country to stand up and support law enforcement."
"There are a few bad apples in every profession," she added. "That does not mean there should be open warfare declared on law enforcement."
Goforth was a 10-year veteran of the force, as well as a husband and father.
Hickman said Goforth had two children, adding that the killing "strikes us in the heart."
Mckenzie Stalter, a witness to the attack, told ABC 13 she heard the shooting as she drove by. When she looked over, she saw a "lady screaming over top of him."
"She was laying on top him," Stalter said. "She was saying that was her best friend and that he had two kids."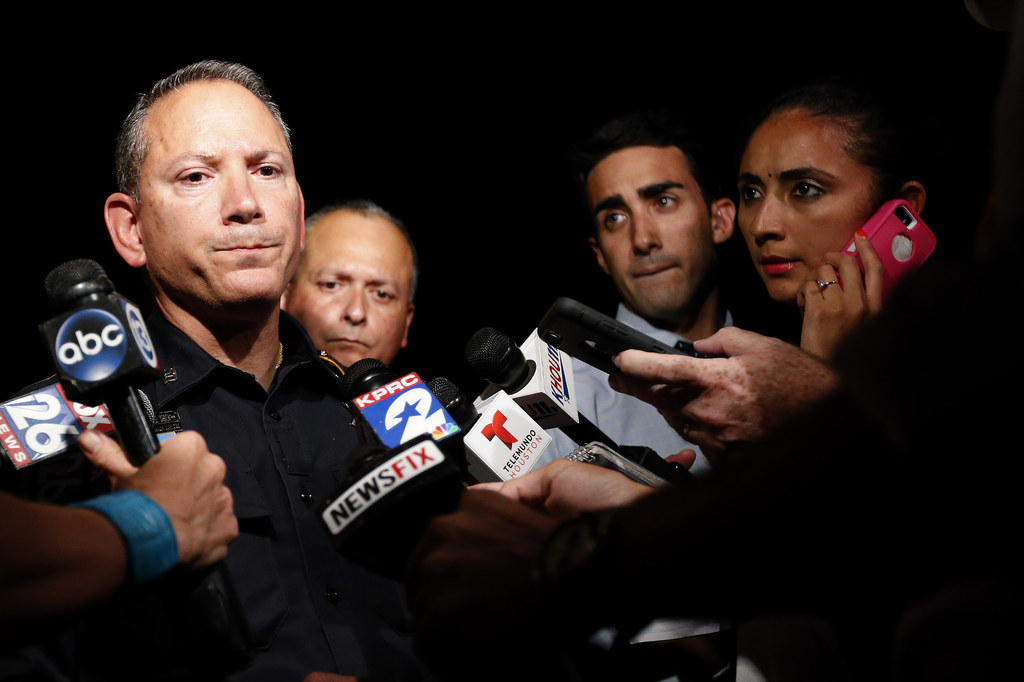 Gilliland called the shooting a "very tough moment right now for the Harris County Sheriff's Office."
"I have no words for what this type of person did," he added, "the callousness is much."
Bob Goerlitz, president of the Harris County Deputies Organization, told the Associated Press the incident was "shocking."
"We've been warned of things like this, because of public sentiment nationally and events over the last few years," Goerlitz said. "It's just horrific. That's the only way to describe it."
Correction
The Harris County District Attorney is Devon Anderson. This post originally misstated her name.