Erika Martin had just given a bag of dog food to a homeless man in the parking lot of a Safeway grocery store in Mountain View, California, last month when multiple police cars suddenly pulled up around her.

"I'm backing out and the next thing I know the cop blocks me in," Martin told BuzzFeed News of the July 8 incident. An officer soon explained that they had been "called to Safeway because you fit the description of someone taking items out of the store."
Martin, who is black, was shocked; not only had she not stolen anything, she recalled Wednesday evening, but she had never entered the store or even left her car. The only reason she was there in the first place was because she knew the homeless man, who went by the name Rabbit, had a dog that would need food.
"It happened because we were doing a good deed," she said.
In the end, police ultimately left without charging anyone. Safeway has apologized and is conducting an internal investigation. But Martin said the incident still left her 9-year-old son traumatized. And she believes she was racially profiled, making her experience the latest in a growing list of high-profile incidents in which black Americans were apparently discriminated against while doing routine activities in their neighborhoods.
Mountain View Police confirmed many of the details of Martin's story Wednesday in a statement to BuzzFeed News, saying they were called by an employee who "believed there was an in-progress theft occurring in their store." The employee thought "a man and a woman as well as children were working together to try and take items from the store," according to police.
The employee described the male suspect as a "black adult man," according to police, and also provided descriptions of children that matched Martin's son and several nieces and nephews, who were there as well.
Martin said her son, nieces, and nephews did go into the store but only to ask for free cookie samples at the bakery. They didn't steal anything, she added, though at one point she saw a Safeway manager run outside, "look at me as if I did something wrong," then return to the store.
Police arrived minutes later, Martin said. Five officers ultimately arrived — a response the department describes as "not atypical" — and spoke with Martin, Safeway staffers, and Martin's sister who was also there and recorded part of the incident on her phone.
Martin said that her son became frightened during the questioning.
"He was just crying because he thought the officers were there to arrest him," she said.
In the end, officers spent about 20 minutes at the scene, during which time it became "extremely clear to us that no one who had been identified was potentially involved in any sort of criminal activity, and we explicitly said as much to the Safeway employees," police said. The department added that Martin and her family were "extremely helpful" during the encounter.
In a statement to BuzzFeed News, Safeway spokesperson Wendy Gutshall said the company has "longstanding policies prohibiting discrimination and harassment on the basis of race and other protected characteristics" and is "committed to fostering an inclusive environment and treating everyone with courtesy, dignity, and respect."
"In this instance, the call to the police was prompted by the presence of an adult male with a history of suspected shoplifting at the store," Gutshall continued. "Safeway has reached out to Ms. Martin to sincerely apologize for the misunderstanding, and we look forward to continuing the discussion regarding her concerns."
Gutshall also said Safeway began developing "implicit bias training" earlier this year and will roll out the program soon.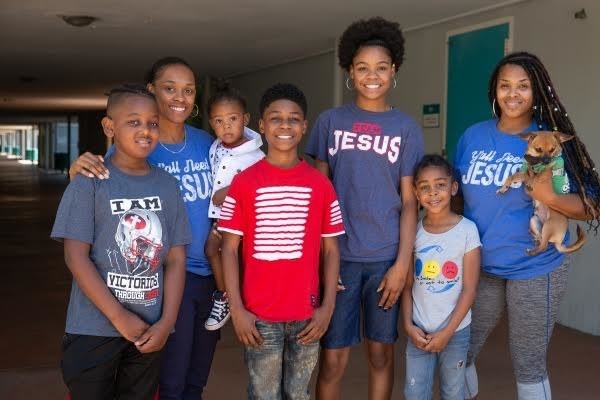 However, Martin questions how Safeway employees ever connected her to a man with a suspected shoplifting history in the first place.

"Just because there was an African American man in the store, how they can associate him with us?" She wondered. "Just because of the color of our skin? It didn't make any sense to us."
Martin's experience has drawn comparisons to numerous other high-profile examples of apparent discrimination against law-abiding black Americans. In April, two black men were arrested while waiting to meet someone at a Starbucks in Philadelphia. In June, a white woman called police about a black girl selling bottled water on the street in San Francisco. Shortly after, a white woman was charged with assault after confronting a black teenager at a pool in South Carolina, and police were called to the scene of a young black boy mowing lawns in a neighborhood south of Cleveland. In July, a white man called police on a black woman who was using a neighborhood pool.

Martin did not know the ethnicity of the Safeway employee who came out of the store and looked at her, but described him as fair-skinned. Safeway did not provide information about the employees involved in the incident or say if they faced disciplinary action.
In the wake of the incident, Martin said she was dissatisfied with the way both Safeway and police handled the situation. She criticized the fact that five officers arrived at the scene, and said that a local Safeway manager apologized on July 16 but the company's corporate headquarters didn't reach out until July 31 — incidentally the day the story began to receive media attention.
"They never said, 'Is there anything we can do for you and your family?'" Martin said.
She added that her son remains terrified and her nieces and nephews don't want to return to the store.
Martin also expressed dismay that similar incidents involving discrimination continue to happen.
"They don't even see the type of person it is; the darker the skin, the more frightened they become," she said. "To be honest with you, I don't see it ending. And it's very scary."