Father Of Royals Pitcher Dies Moments Before World Series Debut
Edinson Volquez's father reportedly died just before Game 1 of the World Series Tuesday night. It was unclear how the pitcher found out about the death.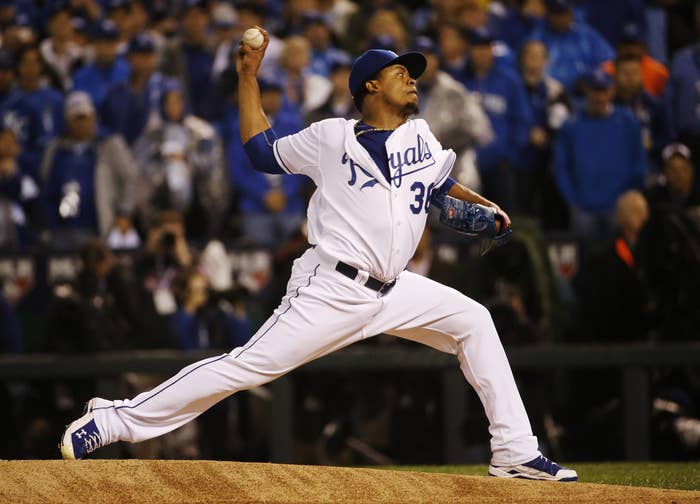 Kansas City Royals starting pitcher Edinson Volquez learned Tuesday night on the way to Game 1 of the World Series that his father had just died from heart failure.
ESPN reported the death, saying Daniel Volquez, 63, died of heart disease complications.
Royals spokeman Mike Swanson told BuzzFeed News in an email that Volquez's wife initially asked that he not be told about his father's death. Volquez eventually did find out, though Swanson said he did not know when that happened.
The Royals were playing the New York Mets in Kansas City Tuesday night, and Volquez served as his team's starting pitcher. Before the game ended, USA Today reported that Volquez was with family.
According to the Associated Press, Volquez was introduced to baseball as a 10-year-old by his father, who worked professionally as a mechanic.
In 2012, Volquez was asked about his best baseball memory in the Dominican Republic. He said it was when he signed his first contract, then singled out the importance of his parents.
"It was my best moment," Volquez recalled. "My mom and dad was there. They were more excited than even me. I jumped from being a little kid to being a professional player."
During the same interview, Volquez also said his "mom and dad always took care of me," and that the Dominican Republic was still home.
Though ESPN reported Volquez learned of his father's death while on the way to the ballpark, several reporters said the pitcher didn't hear the news before the game started.
Amid the confusion, Fox Sports — which was broadcasting the game — initially declined to report further on the death.
Fox eventually changed course and mentioned the death on air.
Volquez pitched six innings Tuesday night before being replaced by Danny Duffy.
The game was also plagued by "technical difficulties," which disrupted the live broadcast during the fourth inning.
The Royals went on to win the game 5-4 after 14 innings, the longest Game 1 in World Series history.