Romney Says He Won't Support Trump, Warns Of "Trickle-Down Racism"
The 2012 Republican nominee repeatedly slammed Trump, saying he would not vote for him and raising new questions about the candidate's tax returns.
Mitt Romney slammed Donald Trump over and over again Friday, saying he was "disturbed" by the presumptive Republican presidential nominee and doesn't "want to see trickle-down racism."
Romney made the comments during an interview in Park City, Utah, with CNN's Wolf Blitzer. When Blitzer asked Romney — who won Trump's endorsement during his own presidential bid in 2012 — about this year's election, he said flatly he would not support the New York businessman's bid.
"I simply can't put my name down as someone who voted for principles that suggest racism, or xenophobia, misogyny, bigotry, who's been vulgar time and time again," Romney said, later adding "I don't want to see trickle-down racism."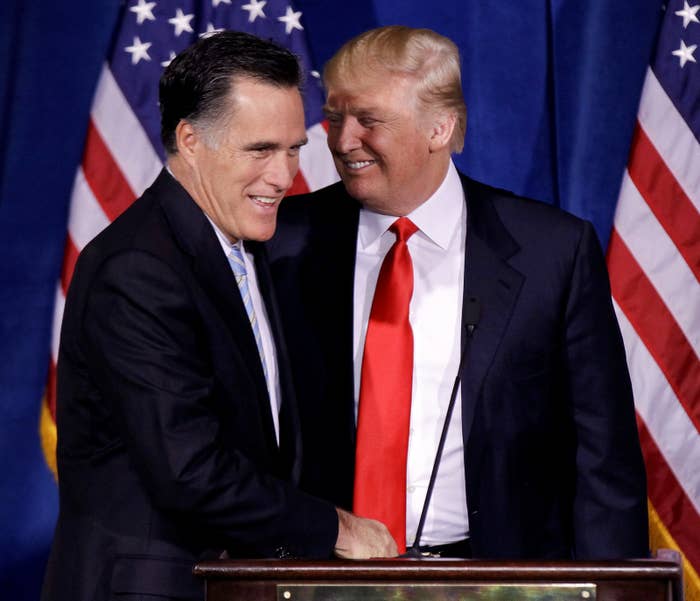 Romney singled out Trump's comments about Judge Gonzalo Curiel — who Trump has claimed cannot adjudicate fairly because of his "Mexican heritage" — as indicative of his racism and "what he believes." Romney went on to criticize Trump's temperament, and said the presumptive nominee was not qualified to handle international crises such as those in Syria and Afghanistan.
"I don't think there's anything I'm looking for from Mr. Trump to give him my support," Romney said. "He's demonstrated who he is and I've decided that a person of that nature should not be the one who, if you will, becomes the example for coming generations."
Romney also raised new questions about Trump's taxes after the candidate refused to release his returns, suggesting "there's something in those taxes that's even worse than shooting someone on Fifth Avenue."
"That I think suggests that there could be all sorts of things that could be very troubling there," Romney said, speculating that it could be that Trump "doesn't pay taxes, he doesn't have much income, he's receiving income from unsavory sources, he has ownership in enterprises that are associated with unsavory enterprises or nations or groups."
When asked who he would vote for in November, Romney said he would write in a candidate. When Blitzer suggested Libertarian Gary Johnson, Romney said that there were issues, such as drug legalization, on which he and Johnson don't see eye-to-eye.
"Marijuana makes people stupid," Romney said.
Romney also refused to say he would vote for, or support, presumptive Democratic nominee Hillary Clinton. Romney cited Clinton's likely court appointees and "destructive" economic policies as reasons he wasn't throwing his support behind her.
Despite his lack of enthusiasm for Trump and the alternatives, Romney said it was unlikely Republicans would stop their nominee by changing the rules at the July convention.
Romney said he did not regret opting against another presidential bid of his own, but wished "there would have been somebody that stopped Mr. Trump."
"I'm discouraged by the fact, disappointed by the fact, and troubled by the fact that Mr. Trump got the support that he has," Romney said.