DALLAS — Under a relentless sun and crushing heat, hundreds of protesters and supporters of Donald Trump converged near downtown Dallas Thursday for what was surely the most quintessentially Texas gathering of the recent campaign season.
The gathering — which ended with a single arrest — happened outside a campaign rally that came together at the last minute after the presumptive Republican nominee struggled to find a venue that could accommodate him and his security needs.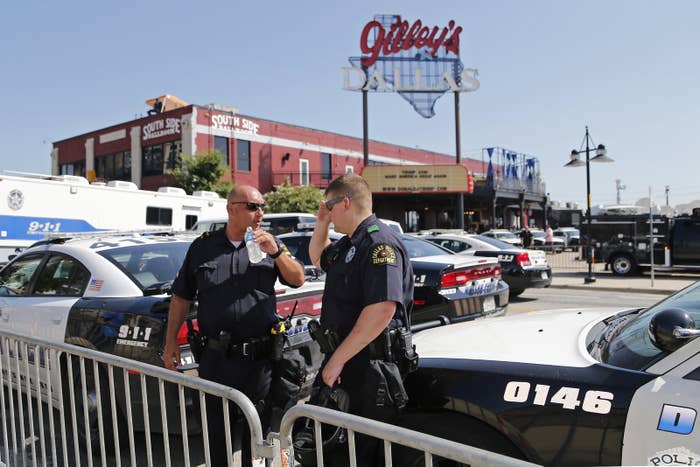 That venue turned out to be Gilley's, a nightclub on the edge of downtown Dallas tucked between a row of bars and loft apartments. As the rally began, hundreds of demonstrators outside waved flags and touted their background as immigrants, while others toted guns and riot shields.
Matthew Short — who carried a shield and handgun — told BuzzFeed News he came to the rally because "some of these rallies have turned violent in other cities and we don't want that to happen in Dallas, Texas."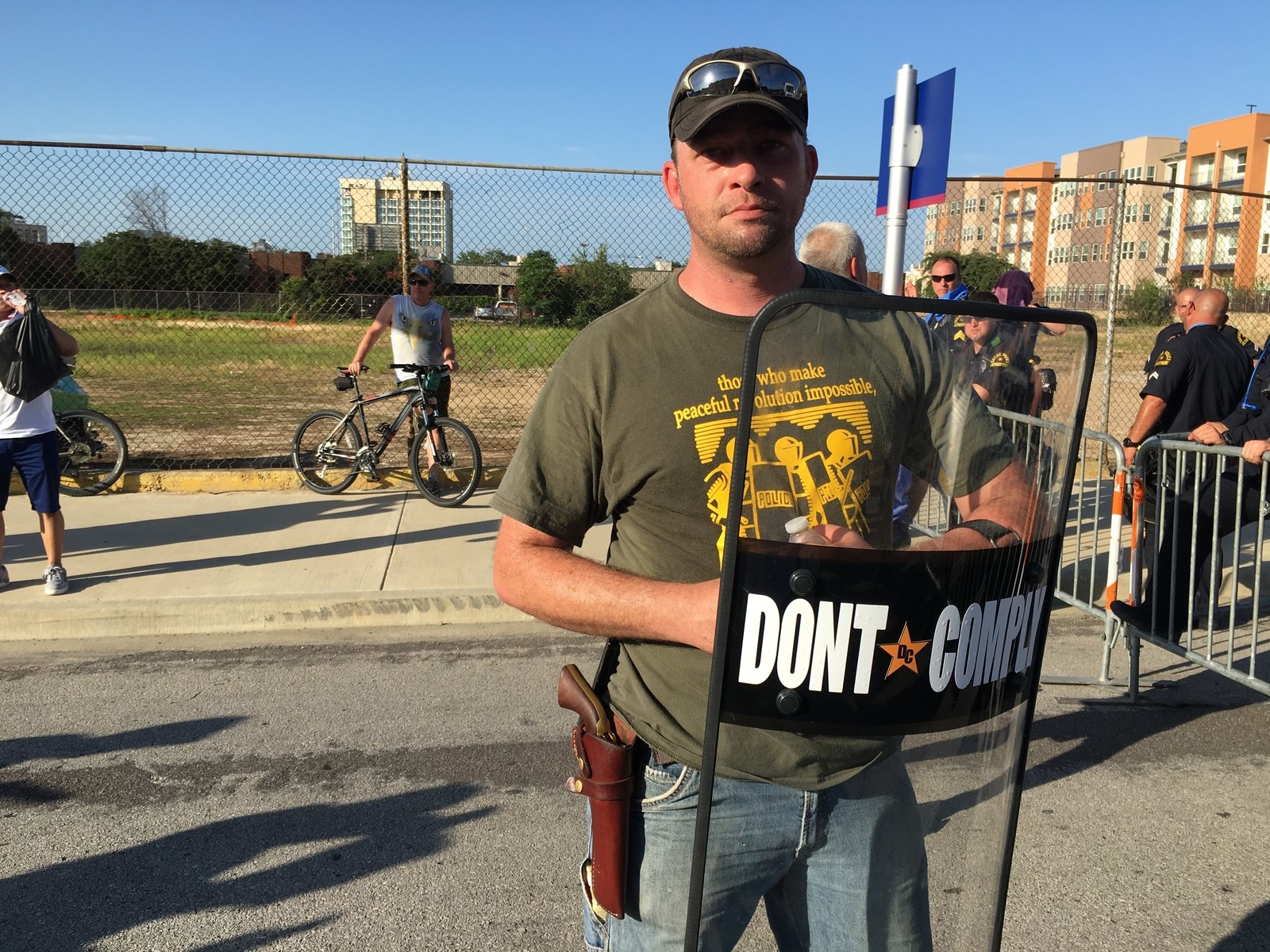 Short, who described himself as a Libertarian, said that his group of "Don't Comply" activists did not support Trump or presumptive Democratic nominee Hillary Clinton, and was there to protect people's right to protest.
"If I see someone getting their head bashed in over here, I'm the kind of guy that I'd stand in front of them and not let them get beat down any more," he said.
Clay Davis, also carrying a riot shield, described himself as an anarchist. When police suggested the group leave the event over concerns they were causing tensions to rise, he flat out refused.
"Fuck the police," he told BuzzFeed News.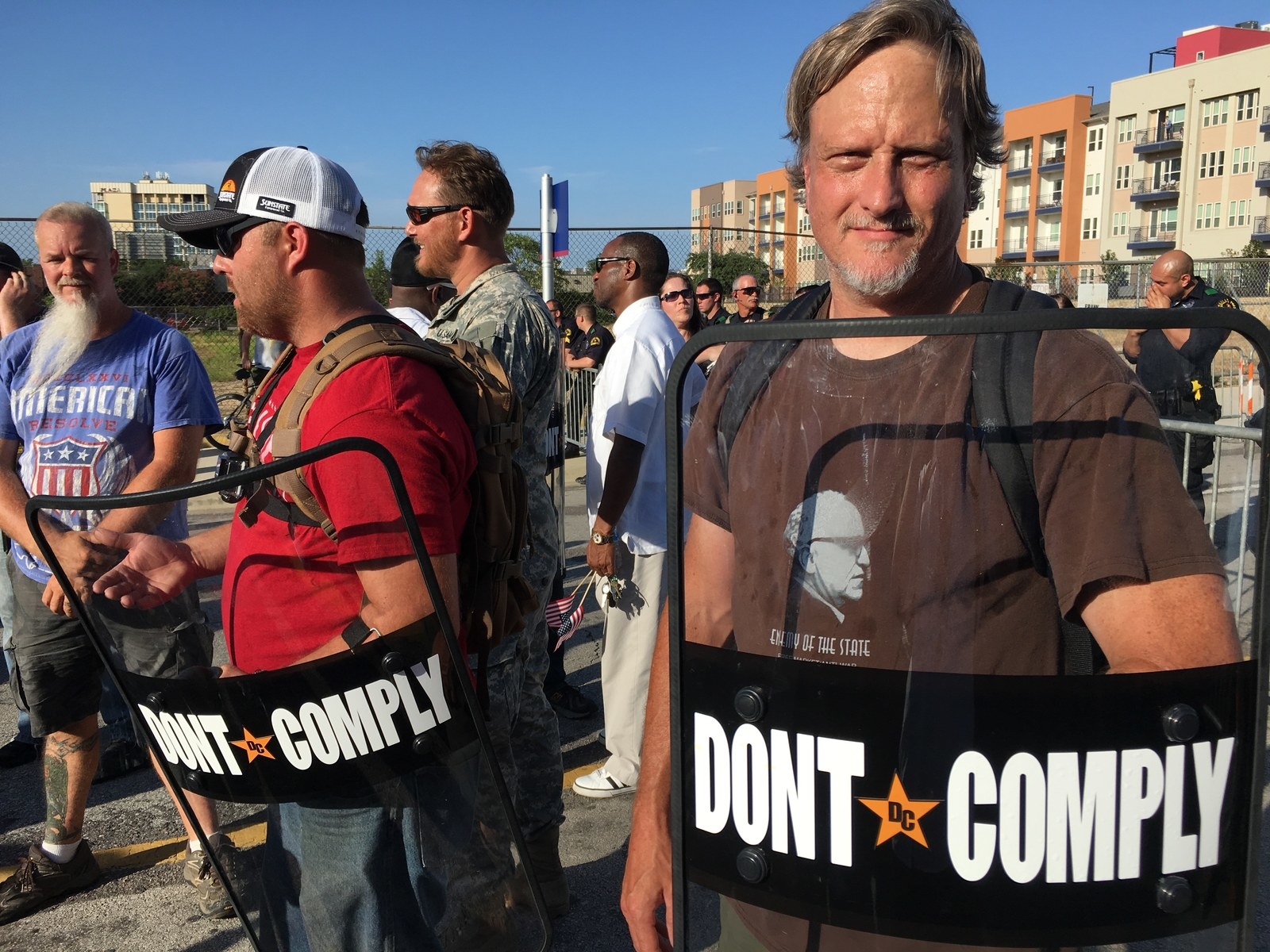 Davis said he came to the event to "defend people's natural right to gather and do what they want to do."
David Wright, who had been a Ted Cruz supporter but was no longer backing any candidate — was even more heavily armed; he and several other gun rights supporters carried assault rifles and wore flak jackets.
"They don't mess with me, I won't mess with them," he said. "I'm not here offensively, I'm here defensively."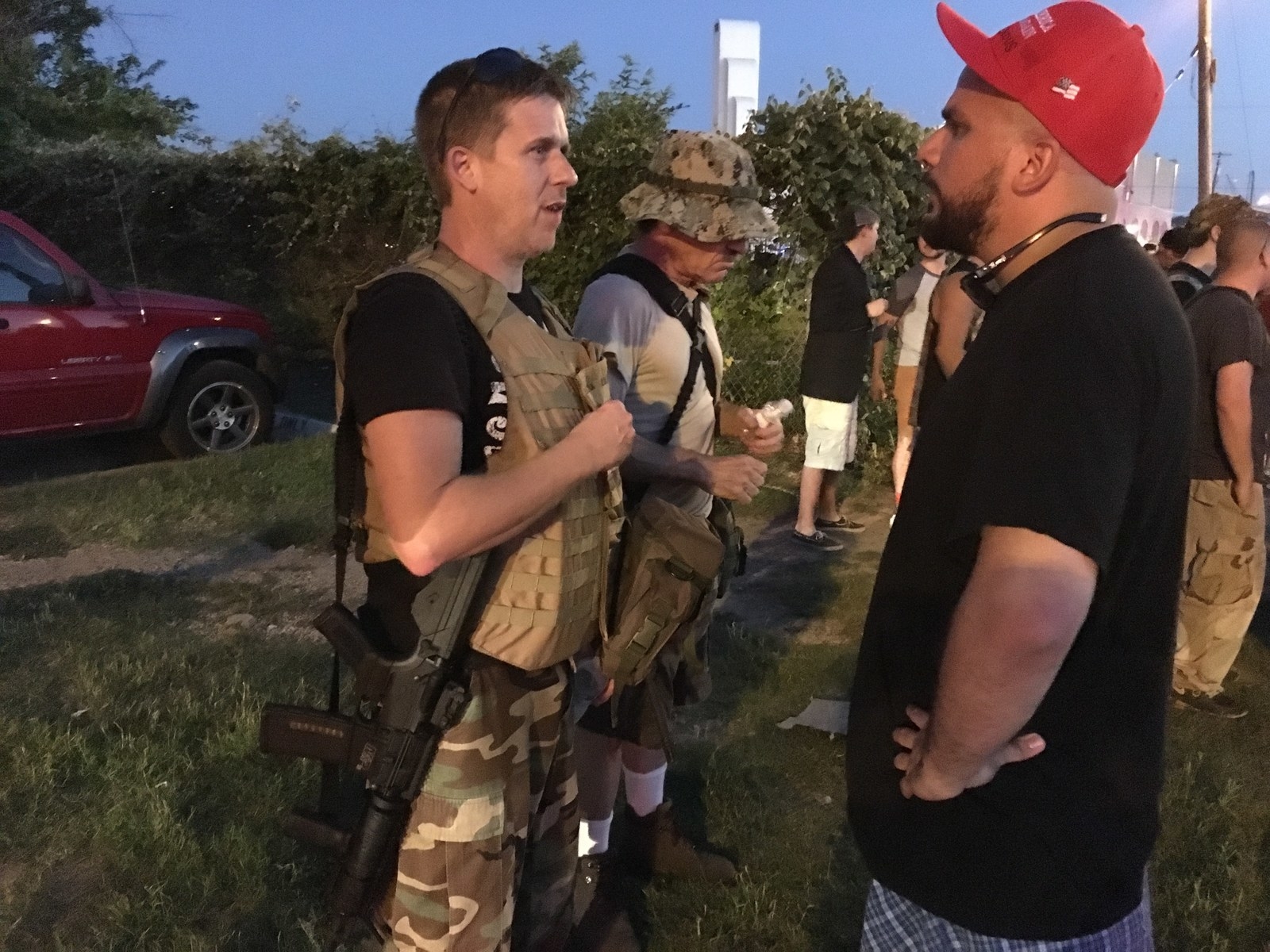 All of those who carried guns were vague about how they might intervene if violence occurred (it ultimately didn't), but said that they were obeying the law and had as much right to be there as anyone.
While the gun toting groups at the rally drew considerable attention, immigration protesters had far greater numbers. Nohelli Estrada was among them, and told BuzzFeed News she was undocumented and a beneficiary of President Obama's Deferred Action for Childhood Arrivals. She slammed Trump's comments on immigration as racist.
"There's a lot of hatred," Estrada said, adding that if Trump were elected "a lot of racism would come out of the shadows."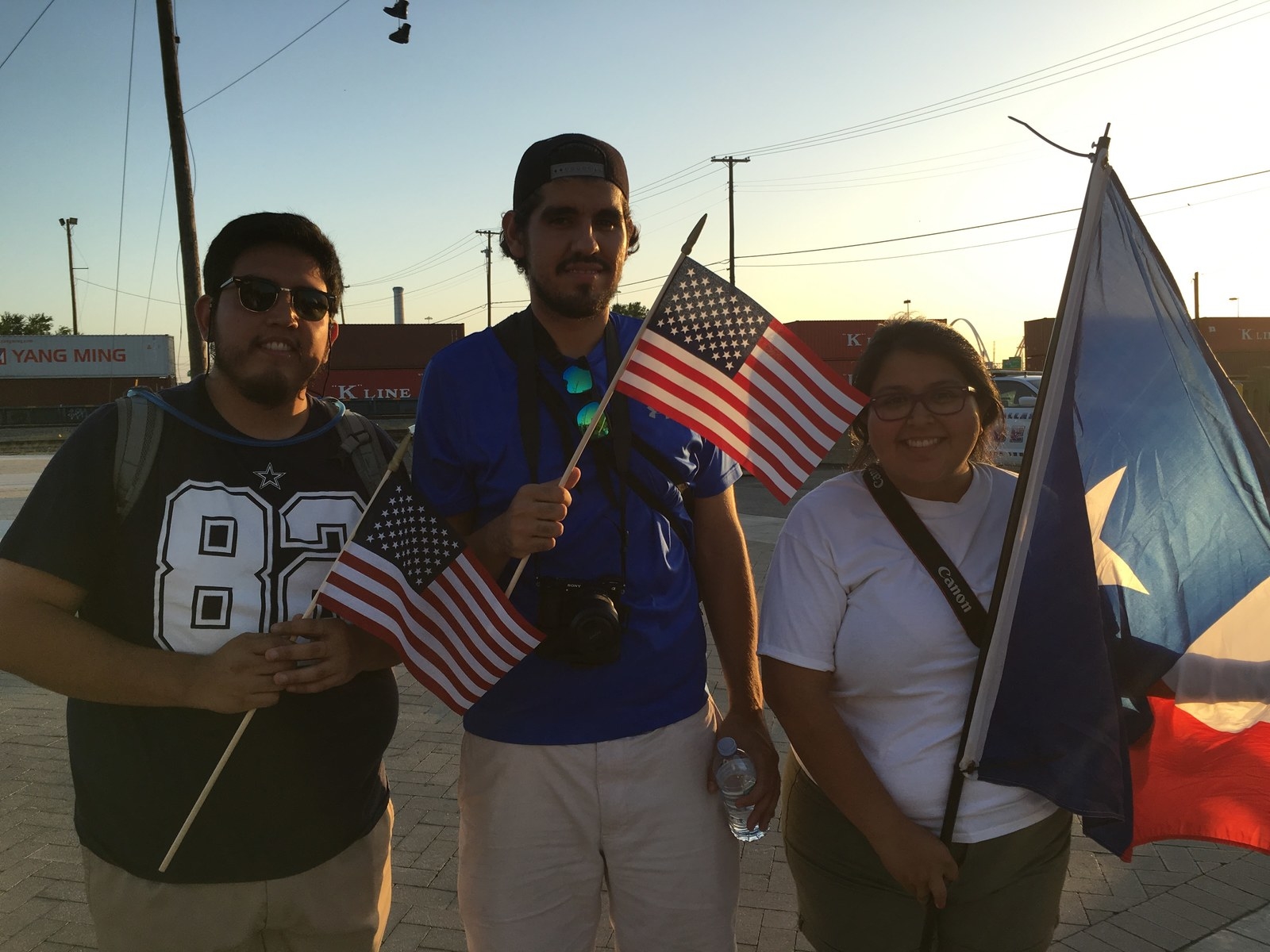 Not everyone protesting Trump's immigration policies was a first or second generation immigrant. Several people who spoke with BuzzFeed News pointed out that Texas was itself once part of Mexico.
"We didn't cross the border," Susana Edith said, "the border crossed us."
Edith, who attended the event as a member of the group Brown Beret Carnalism, said Trump's comments on immigration, Muslims, and Mexico were "not welcome in Dallas" and "we'll run him out of town if necessary."
The protest also included a large contingent from Dallas' LGBT community, many of who carried signs that read "ask the gays." The signs were a reference to Trump's recent comments about having support from the LGBT community.
River Martone said the U.S. should be a "haven for people who wanted to get away from oppression," but Trump's rhetoric was filled with hate.
"I can't imagine being a part of the LGBT community and supporting Trump," Martone said. "I can't imagine having a vagina and supporting Trump."
Daniel Cates said he did not know anyone in the Dallas LGBT community — which he described as one of the largest and most fabulous in the country — who supports Trump.
"We believe the people who propagate that kind hate speech, people that propagate that kind of intolerance, that type of division, have blood on their hands," Cates said.