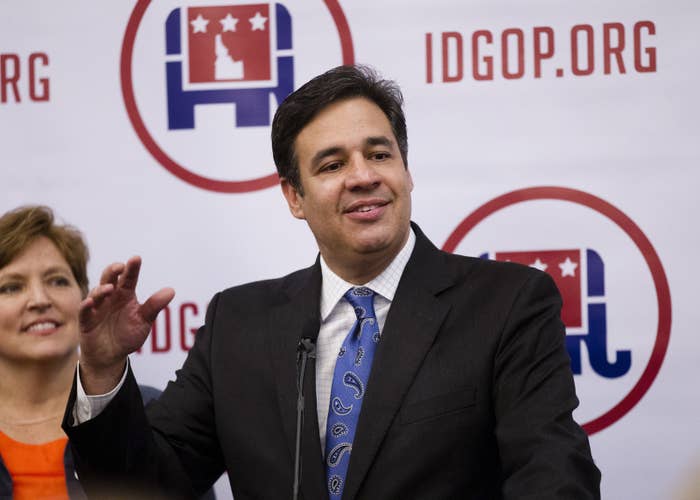 An Idaho congressman became the target of intense criticism Saturday after telling his constituents that no one dies due to a lack of access to healthcare.
Rep. Raúl Labrador — a Republican who voted for the GOP's repeal and replacement of Obamacare — made the comments at a town hall Friday in Lewiston, Idaho. During a question and answer session, a woman told Labrador that by voting for the bill, "you are mandating [that] people on Medicaid accept dying."
"No one wants anybody to die," Labrador responded, adding a moment later: "Nobody dies because they don't have access to healthcare."
The crowd briefly erupted into jeering and booing after the comment.
In a statement to BuzzFeed News Saturday night, Labrador conceded that "one of my answers about health care wasn't very elegant."
"I was responding to a false notion that the Republican health care plan will cause people to die in the streets, which I completely reject," he said.
Labrador added that he was "trying to explain that all hospitals are required by law to treat patients in need of emergency care regardless of their ability to pay and that the Republican plan does not change that." He also repeatedly criticized the media for focusing on a "five-second clip" of the exchange.
Although the Congressional Budget Office has not yet analyzed the impact of the healthcare bill passed by the House Thursday, an assessment of an earlier version of the bill found that by 2026, 24 million fewer people would have health insurance coverage under the new law.
The bill also would also roll back the expansion of Medicaid funding provided by the Affordable Care Act, resulting in a $800 billion cut to the program over the next decade, according to the CBO analysis.
Labrador's comments drew an immediate backlash online.

Hundreds of comments also poured in on Labrador's Facebook page Saturday, where the congressman had described the town hall as "another excellent exchange with the good people of Idaho's First Congressional District."
"It was my privilege to spend two hours today in Lewiston fielding questions from my constituents, many of them about our efforts to provide quality health care to all Americans at an affordable and sustainable cost," he wrote in another post.

But comments mostly focused on his statement about healthcare access:
"Congressman Labrador, my mother died of melanoma that spread due to a lack of health insurance and consequently healthcare," wrote Amy Durr. "I will continue to fight you and all legislators who support this abominable legislation."

"I have allergic asthma if my condition isn't properly monitored by a physician and I don't get the correct cocktail of medication walking past the wrong flower can kill me. So that means if I don't have Healthcare and prescription coverage I can die," wrote Heather Burton Powers.
"Representative Labrador, I truly do not mean to be disrespectful, but how can you be in charge of the country yet be so ignorant of the facts?" asked Joy Holtz.
Labrador has been vocal about the issue in the past, including during a town hall in April when he was asked if healthcare is a basic right. "No, I do not believe that health care is a basic right," he responded as the crowd booed.