Passenger Plane Crashes In Russia, Killing All 62 Aboard
A Boeing 737 operated by FlyDubai crashed in Russia at 3:42 a.m. Saturday, killing 55 passengers and 7 crew members.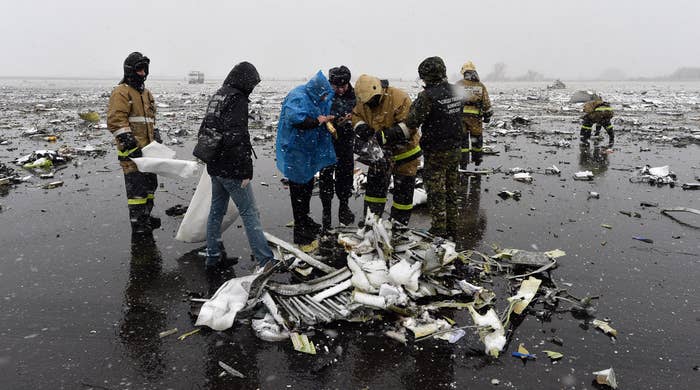 All 62 people aboard a Boeing 737 passenger jet were killed Saturday as it crashed and exploded while attempting to land in Russia.
Russia's Southern Regional Emergency Center said the crash was reported at 3:42 a.m. in the Rostov-on-Don region, an area about 670 miles south of Moscow near the Sea of Azoz.
The flight was operated by FlyDubai. In a statement to BuzzFeed News, the company said the plane "crashed on landing," adding later that "it is with great sadness that we report we believe there are no survivors."
Russian president Vladimir Putin on Saturday "expressed his deep condolences to those who lost their loved ones" in the crash, according to a statement on the Kremlin's website.
Investigators say the plane nosedived and exploded in a giant fireball after trying to land for a second time in strong winds.
Several other planes had trouble landing at the airport at the time of the crash, with one trying to land three times before giving up and diverting to another airport, AP reported.
In a statement posted to Facebook on Saturday afternoon local time, FlyDubai CEO Ghaith Al Ghaith confirmed the casualties and reiterated that he was personally leading the emergency response along with other top management teams.
"We are making every effort to care for those affected and will provide assistance to the families and friends of those who were on board," he said.
The Boeing 737 was carrying 62 people, comprised of 55 passengers and 7 crew members, according to the Russian Emergency Situations Ministry. The ministry posted the passenger and crew manifest online Saturday.
The manifest includes Igor Pakus, who according to Russian news agency RIA was the deputy of the Legislative Assembly of the Rostov region. Among the passengers 44 were Russian, eight were Ukrainian, two were Indian, and one was from Uzbekistan.
The Russian Investigative Committee said in a statement on Saturday that potential causes of the crash ranged from an error made by the crew, technical malfunctions, and bad weather.
Russian news agency RIA reported that there was poor visibility at the time of the crash, and that there had been an "explosion."
The emergency situations ministry posted a photo from the scene showing what appeared to be fire engines and debris.
Live flight tracker Flightradar24 tweeted Satuday that the Rostov-on-Don airport would remain closed until midnight, and had cancelled flights on Sunday, too.
Radar showed FlyDubai flight 981 approaching Rostov-on-Don from the south and circling Saturday morning.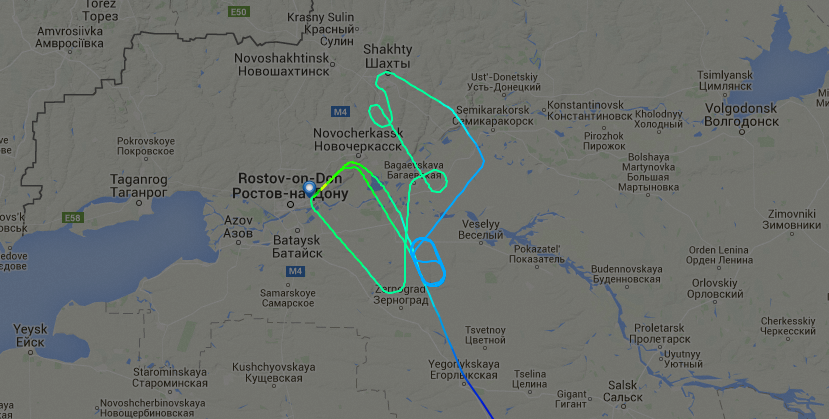 Russian Transport Minister Maxim Sokolov called the crash a "great tragedy" and vowed that it would be investigated, RIA reported. He also reportedly said the victims' families would receive assistance.
Boeing also expressed condolences. In a statement, the company said that its "thoughts and prayers are with those on board FlyDubai flight FZ981 and their families and friends."
The company added that it "stands ready to provide technical assistance upon the request of government agencies conducting the investigation."