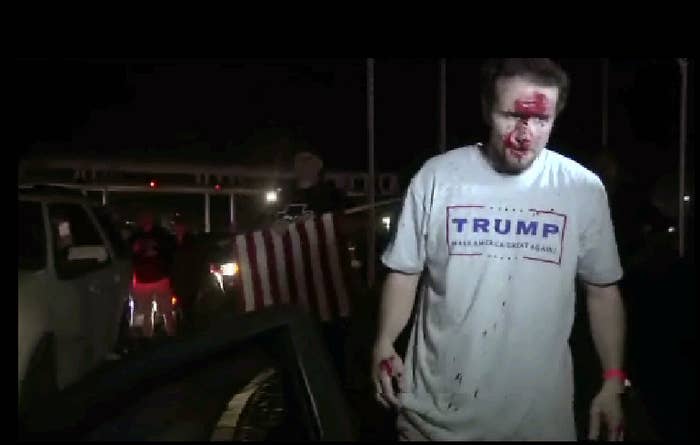 COSTA MESA, California — Hundreds of protesters marched through the streets outside a Donald Trump rally in Southern California Thursday, smashing a police car, spray-painting "fuck Trump" on signs, and chanting angrily about the Republican presidential frontrunner.
The protest happened outside Trump's rally in Costa Mesa, a suburban community about 45 miles south of Los Angeles. Lines at the rally snaked through a jammed parking lot, and the Orange County sheriff reported that about 3,000 people — most of whom appeared to be Trump supporters — were ultimately turned away.
Several Trump supporters responded to getting locked out of the rally by trying to climb the venue's fences, and large crowds chanted "let us in."
The crowds of protesters grew steadily through the afternoon and into the evening. Several minor scuffles broke out between protesters and Trump supporters, but the gathering remained generally peaceful until mounted officers and police in riot gear began clearing the grounds outside the rally.
As police formed lines in the parking lot, anti-Trump protesters ran into the streets. Soon, a crowd of hundreds had congregated in the middle of a nearby intersection, bringing traffic to a standstill. Many of the protesters waved American and Mexican flags and chanted "fuck Trump." Several small dance parties broke out as people with speakers moved through the crowd, and the smell of burnt rubber hung in the air from drivers intentionally peeling out their tires.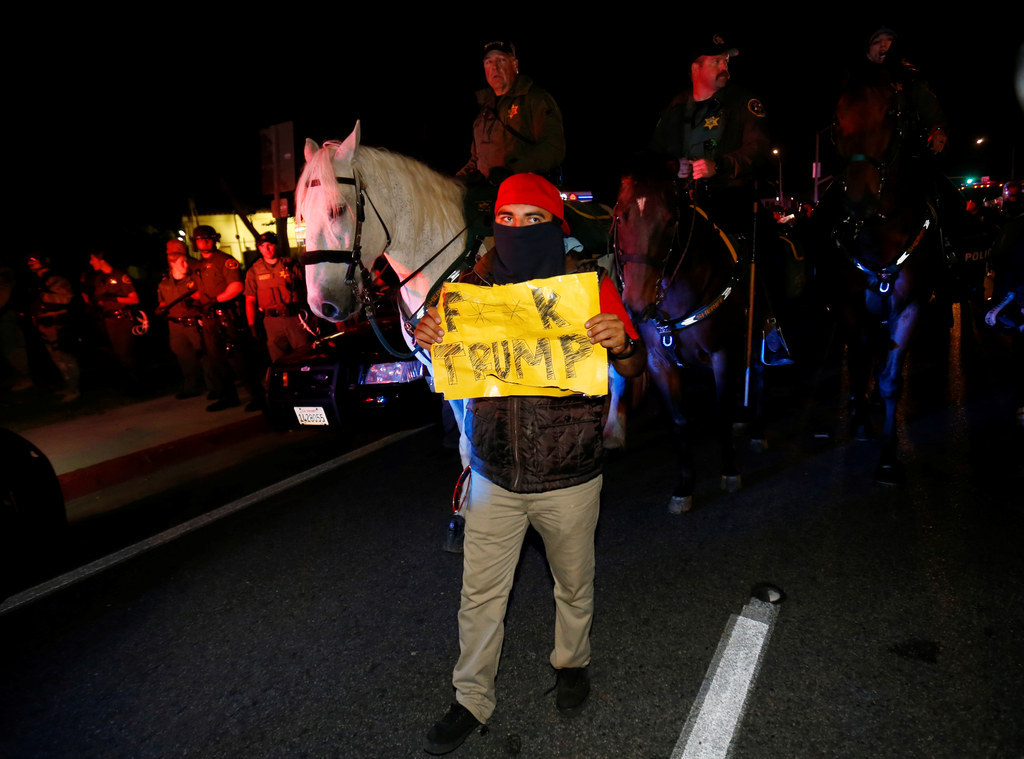 After about 30 minutes, police slowly began pushing the crowds out of the street. As that happened, several people smashed the windows of a police cruiser, after which a man climbed on top and jumped on its roof.
Other protesters wrote "fuck Trump" on the side of the vehicle. Several people then tried to flip the police car over, but were unsuccessful.
Protesters also spray painted "fuck Trump" on signs and traffic lights.
As the chaos went on, police formed lines and gradually pushed the protesters east. Trump supporters — many of whom were in cars and trying to leave the event — and protesters shouted at each other. One man in a Trump shirt mooned several teenage protesters, and at least one fight broke out.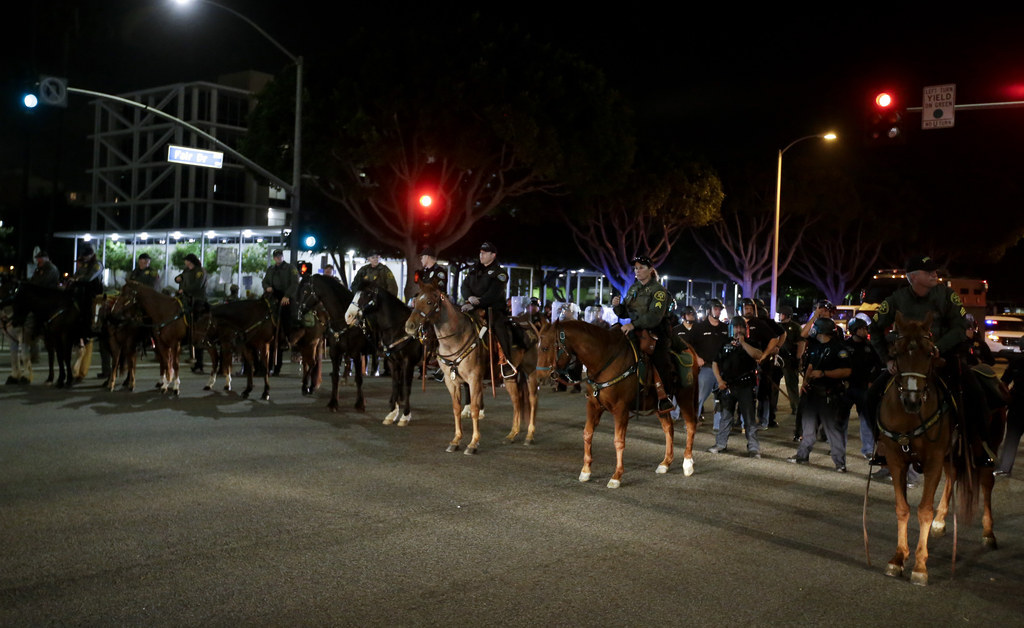 Throughout the protest, hundreds of people remained on the sidewalks watching. Many told BuzzFeed News they showed up at the event because they were alarmed by Trump's policy and style. Among them, Kaitlyn Hodge criticized Trump's position on reproductive rights and human rights.
"I feel as though if you say that you're a Christian, you should value human rights," she said while holding a sign that read "hate is not a Christian value."
Lilibeth Iglesias and Fernando Moreno, of nearby Santa Ana, California, attended the rally together. The pair both criticized Trump's comments on immigration and Latinos, but said they were excited to see such a large gathering of people who came to oppose the candidate.
"It really hits home," Iglesias said. "We have family members who are illegal and they are not bad people."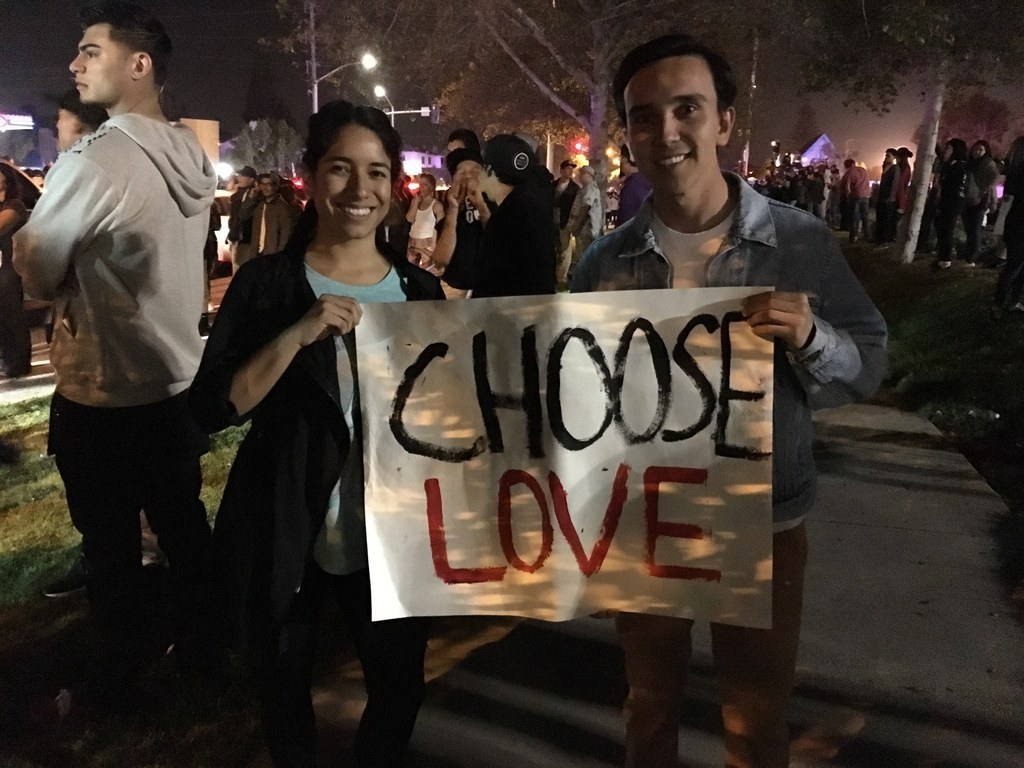 Later in the evening, a crowd of protesters rushed toward a nearby freeway, but were blocked from marching onto an on-ramp by police. The protest then began dispersing and was effectively over by 11 p.m.
The Orange County Sheriff's Department reported that about 20 people were arrested during the protest.