Spurred by a white supremacist rally in Charlottesville, Virginia, that left one person dead and dozens more injured, thousands of people took to the streets Sunday for massive demonstrations in cities across the United States.

The violence in Charlottesville Saturday culminated in James Alex Fields Jr., 20, allegedly driving a Dodge Challenger into a crowd of people who had gathered to protest against a white supremacist rally held earlier in the city. Heather Heyer, a 32-year-old Charlottesville native, died in the crash, and 19 others were injured.
During Sunday's protests, many people cited the carnage in Charlottesville the previous day, stating that they were demonstrating to take a stand against racism and bigotry.
Here are some of the cities where the largest protests erupted Sunday:
Seattle
Demonstrators gathered in at least two different locations in Seattle. During a rally at Westlake Park, opposing groups could be seen chanting "black lives matter" and "all lives matter." Journalists at the scene reported that there were factions opposing and supporting President Donald Trump at the demonstrations.
Three people were arrested during the demonstrations, according to the Seattle Police Department. In a statement, police described the demonstrations as generally "peaceful" at the beginning, but said officers saw "some individuals infiltrating the crowd carrying axe handles, two-by-fours, and balloons containing an unknown liquid substance."
Police eventually deployed pepper spray when demonstrators tried to push through their lines, and used "blast balls" — a type of non-lethal grenade meant to disperse crowds.
"Some individuals got close to the police line and covered officers with silly string," the police statement said.

According to police, some protesters threw rocks and fireworks at officers. Video from the scene shows small explosives going off in crowds that had gathered in the middle of the street.

In New York City, a large crowd marched through the streets chanting "no more Nazis." CBS New York reported that the gathering included hundreds of people.
Police worked to corral the group, which at times shut down streets and took detours to avoid the officers.
"People need to recognize that if we don't come out and stop this, people are gonna be picked off one by one," Mojiqe Tyler, one of the participants in the march, told BuzzFeed News.
"We're gonna have way too many moments of silence," Tyler said.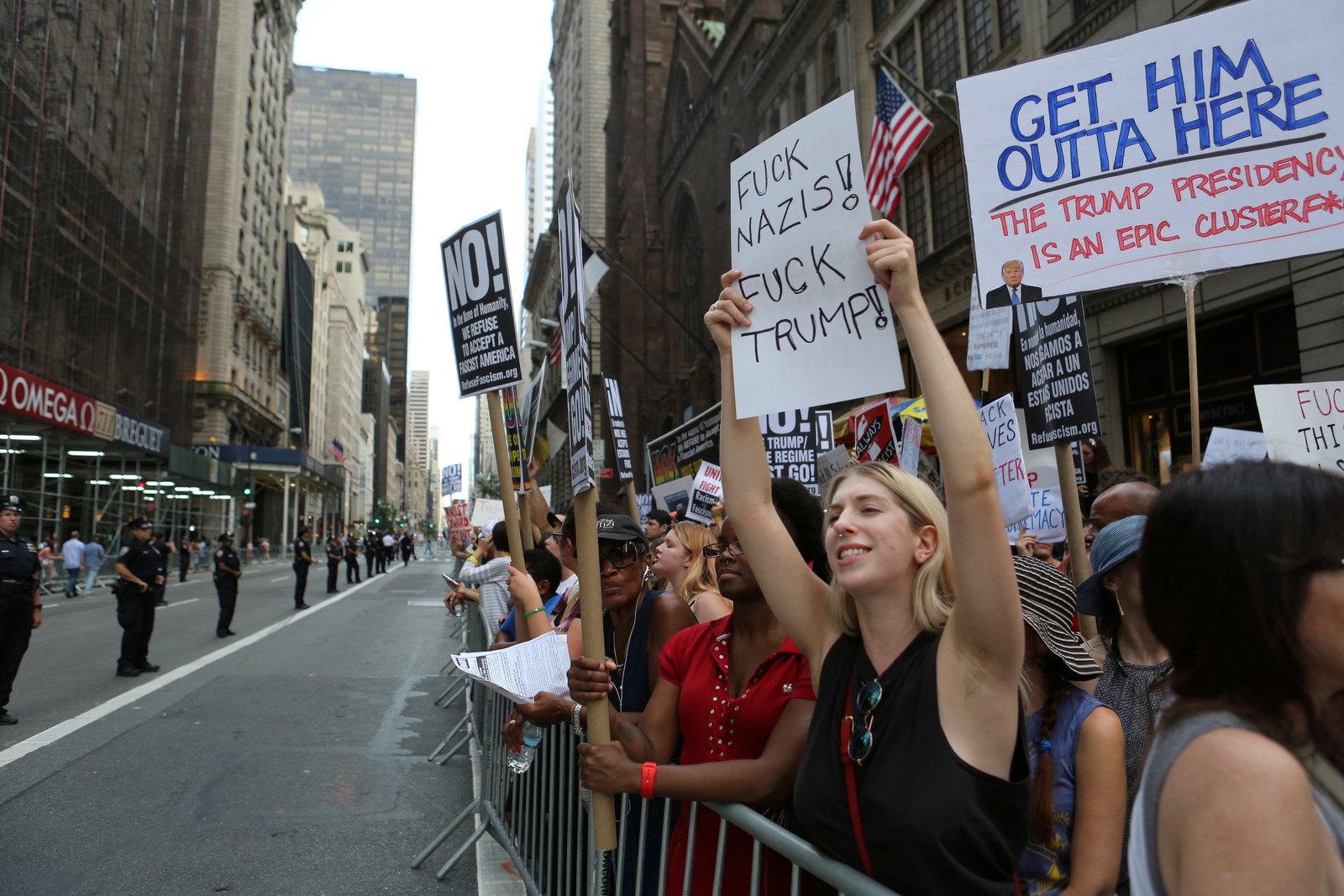 Oakland
Hundreds of demonstrators began congregating in Oakland, California, Sunday evening. The gathering was one of more than half a dozen different vigils and protests planned for Sunday across the Bay Area.
By around 8 p.m., between 800 and 1,000 people had amassed in the area for the rally.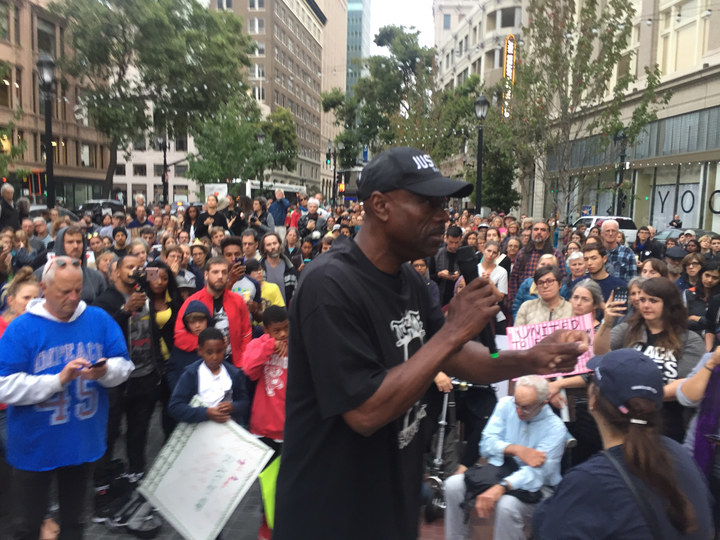 Bobby Johnson — the uncle of Oscar Grant, who was killed by a BART police officer in Oakland in 2009 — appeared at the gathering. "I will put my life on the line for freedom, justice, and equality for my babies," Johnson said.
Pat McHenry Sullivan, who described herself as a descendant of Confederate general Robert E. Lee, said that she felt "sickened that certain people think I'm superior and they're superior, and it's bullshit."

"I feel safer in Oakland than I do at a Lee reunion," Sullivan said.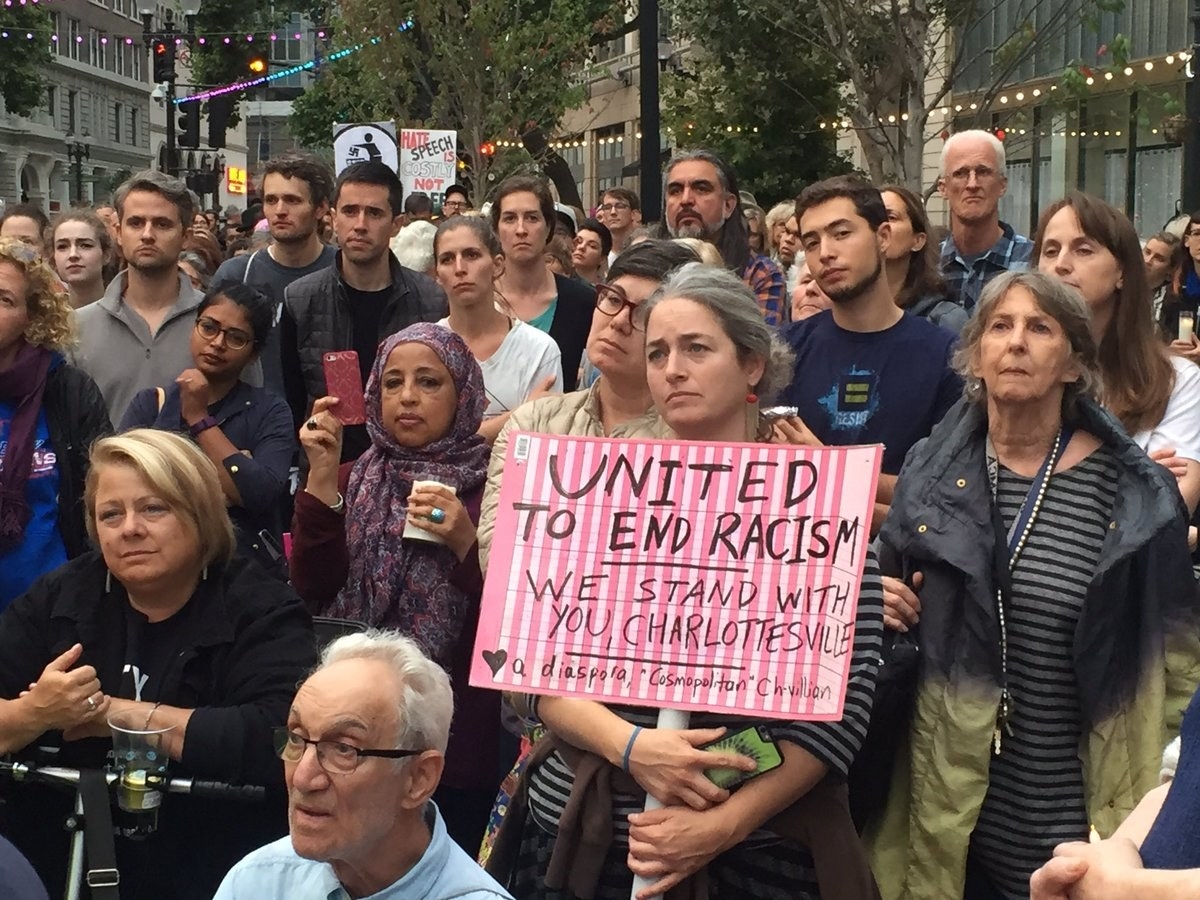 Atlanta
In Atlanta, Georgia, a large group of demonstrators blocked traffic while marching from Woodruff Park to Piedmont Park Sunday night, the Atlanta Journal-Constitution reported. The protesters also reportedly spray-painted a statue of a Confederate soldier.
Images from the scene showed red paint on the statue after the protest.
According to the Journal-Constitution, there was minimal police presence during the demonstration. At one point, the paper reported, anti-fascist demonstrators surrounded the lone officer at the scene and began yelling "pig." Black Lives Matter protesters reportedly then stepped between the anti-fascists and the officer, and the gathering dispersed.
Washington, DC
In Washington, DC, large crowds of people gathered outside the White House Sunday afternoon.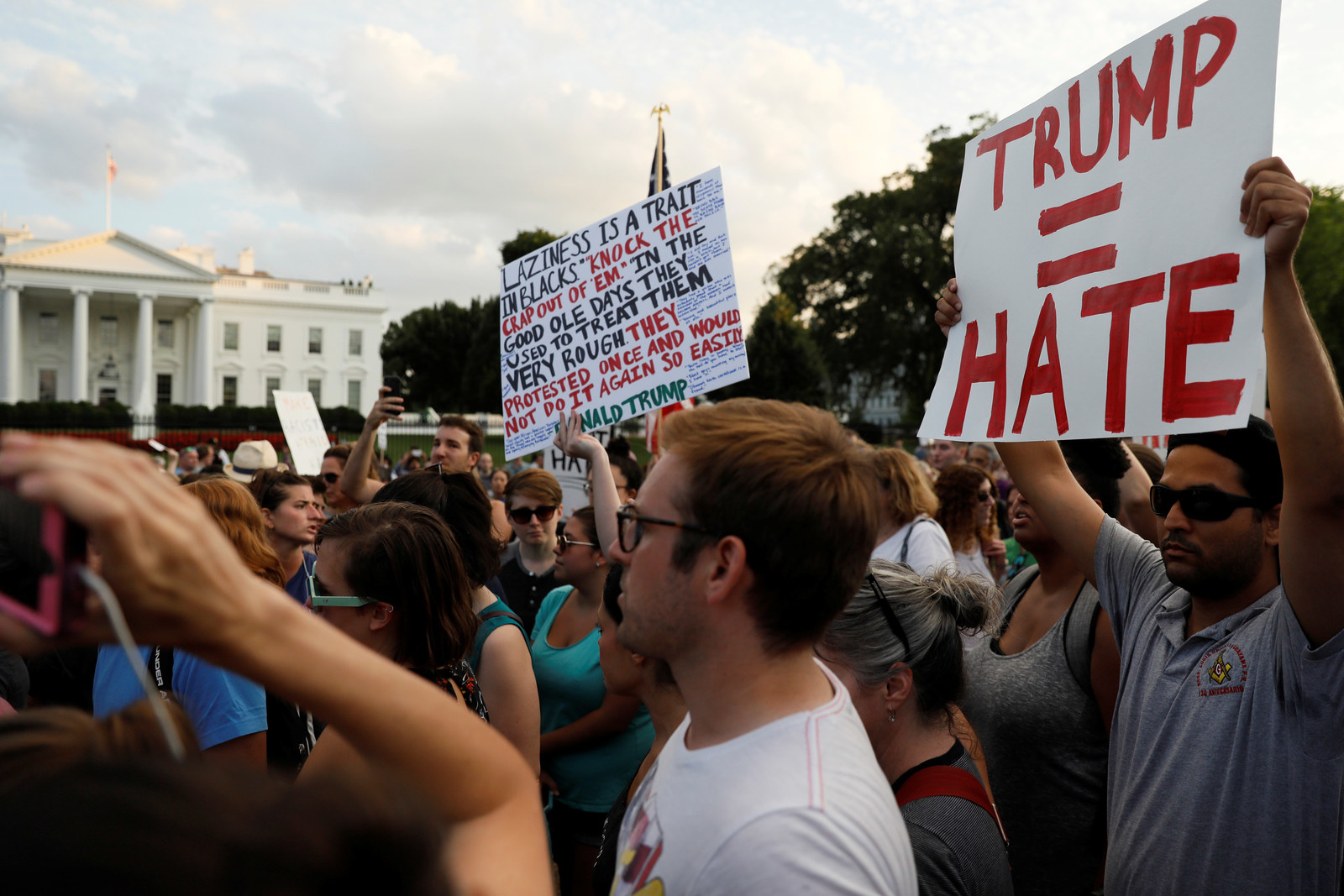 Demonstrators could be seen holding signs honoring Heather Heyer, and condemning hate.

Protesters eventually began marching through the streets near the White House.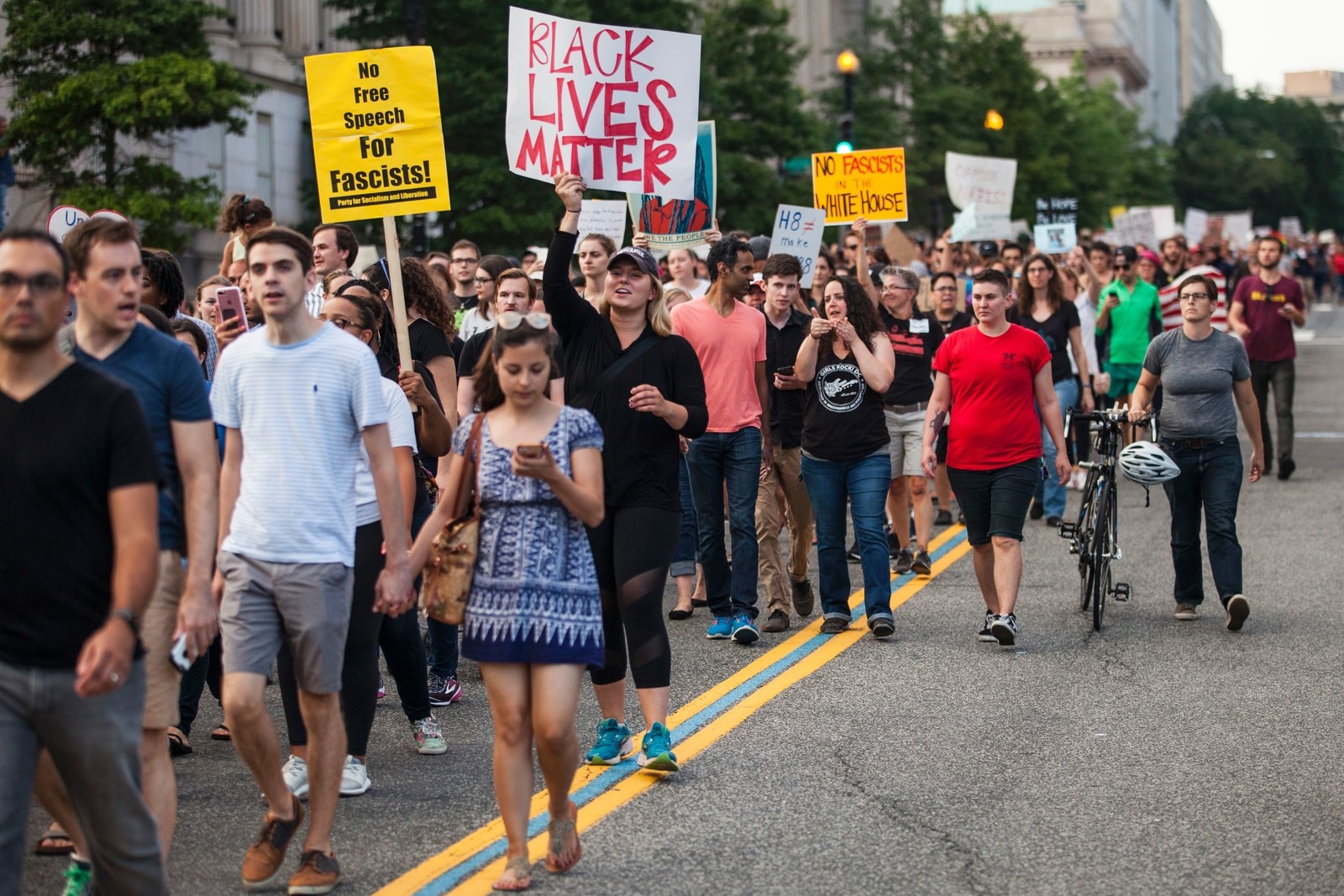 Chicago
In Chicago, hundreds of people marched through downtown Sunday, many with signs condemning racism and Nazis. According to the Chicago Tribune, demonstrators gathered at Millennium Park then marched to Chicago's Trump International Hotel and Tower.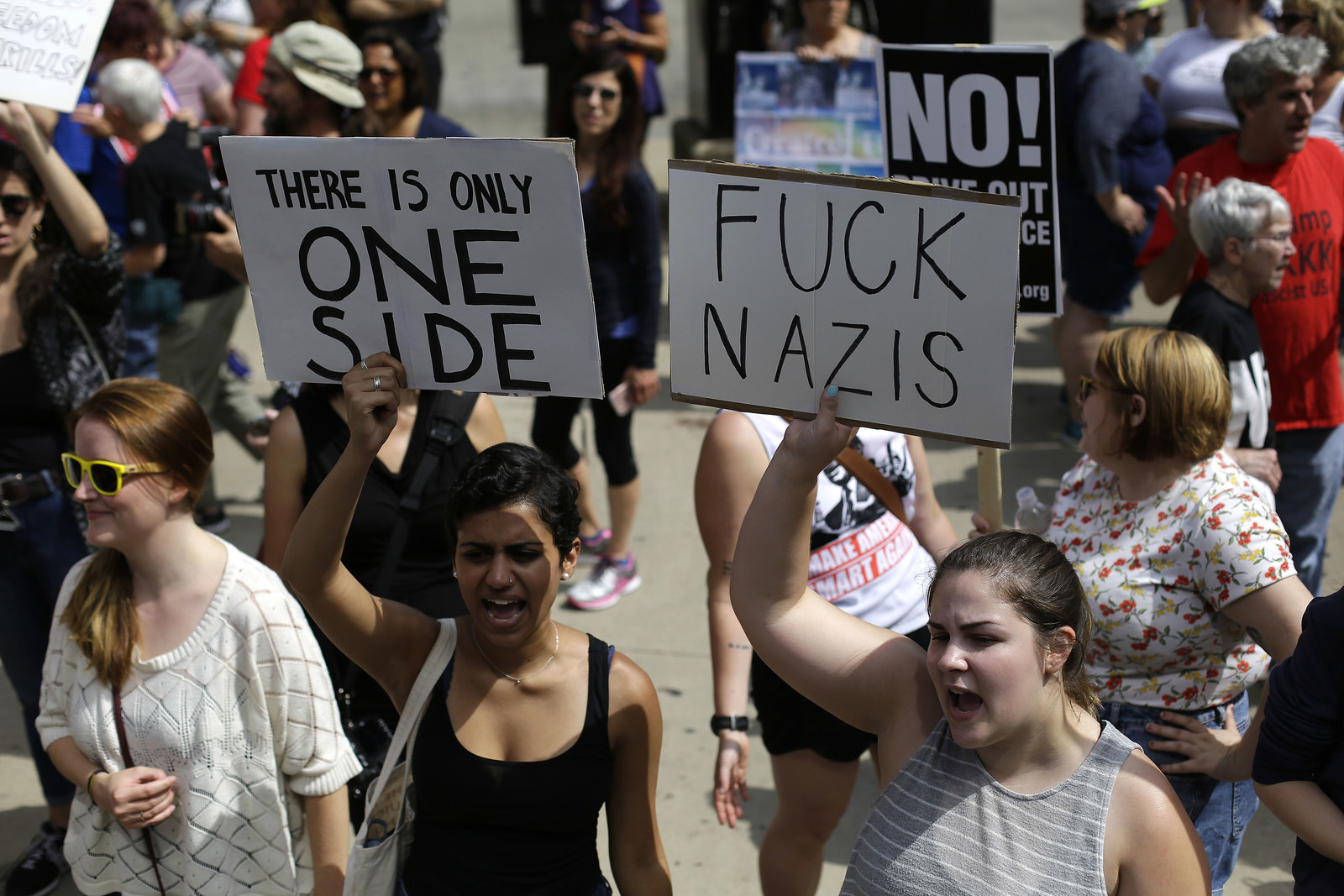 Protesters told the Tribune that they joined the gathering to show love, and because of what happened to Heyer.
"As a mom, I thought about the mom this morning who is waking up to the news that her 32-year-old daughter was run over at a rally trying to be against hate," Edly-Mary Allen said.

One demonstrator who spoke with the Tribune also condemned President Trump's remarks about Charlottesville, in which he condemned hatred and violence "on many sides."

"What Trump said about all sides is crazy," Carol McKinny said. "There are just two sides — there's evil and there's good."

A large crowd of demonstrators shut down streets in the city's downtown Sunday afternoon.
Demonstrators could be heard chanting against Trump, the Ku Klux Klan, and racism. Police did not immediately respond to BuzzFeed News' questions about arrests, but the Los Angeles Times characterized the demonstration as a peaceful march.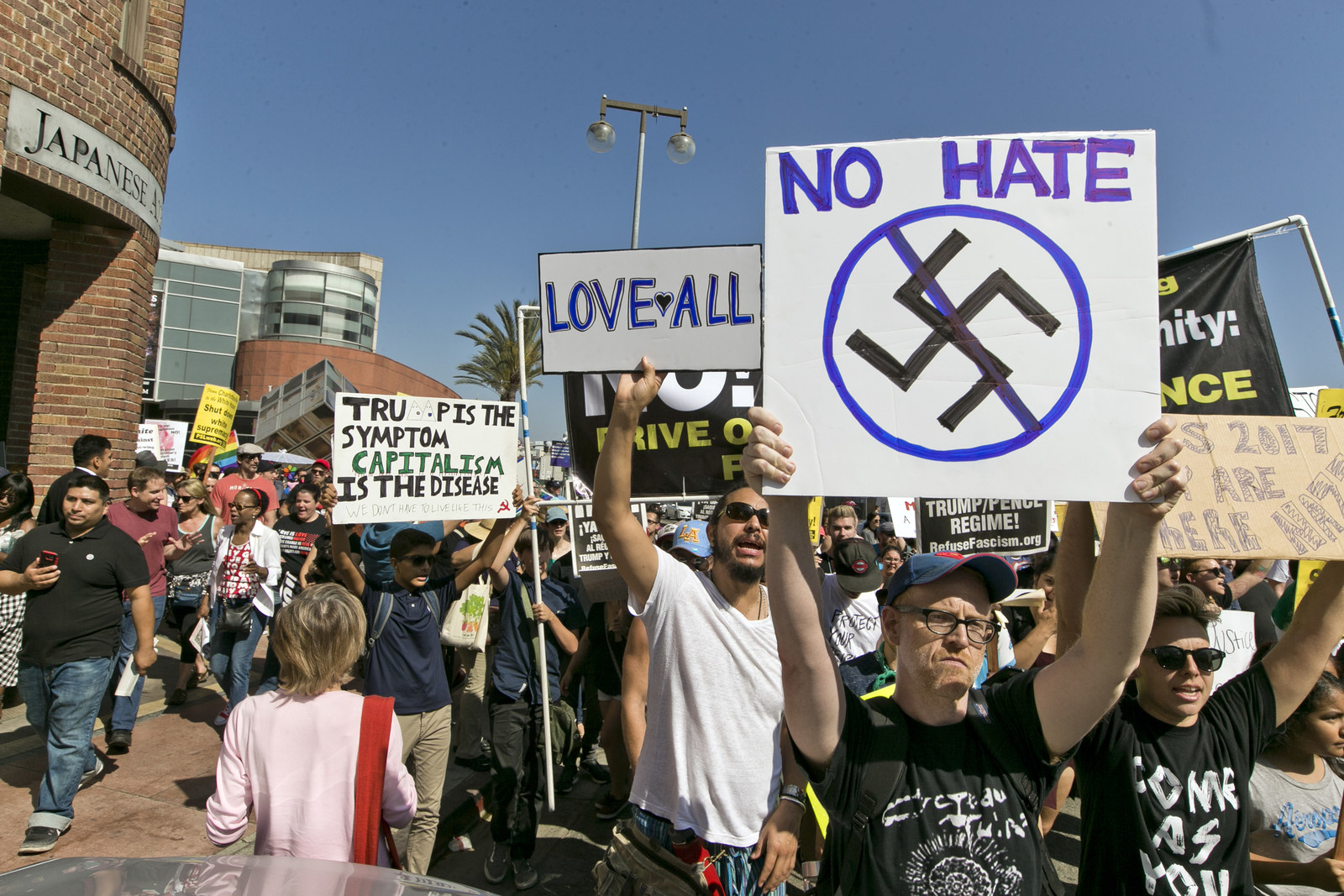 "Trump has given them the courage to come out," Lydia Avila told the Times. "We need to show that we're not going to put up with this, that as a country we're going to fight against racism and white supremacy."

The demonstration in LA dispersed after about two hours.

Phoenix
Hundreds of people gathered in Phoenix Sunday, braving sweltering heat to attend a vigil held at a local church.
According to the Arizona Republic, the Phoenix gathering was organized by local civil rights activists and included as many as 500 participants.
Both civic and religious leaders spoke at the Phoenix event. Among them, Rev. Reginald Walton said that he wanted to give people a space to "lament" and understand what happened in Charlottesville, the Republic reported.
"This rebranding of the alt-right movement – let's just call it what it is. It's hatred, and it's racism," Walton said. "And we're coming together to stand against such things."