Large protests turned violent Friday in St. Louis and continued throughout the weekend after a former police officer was cleared in the fatal shooting of a black man, causing injuries to multiple law enforcement officers, property damage, and more than 30 arrests.
The protests came in response to a judge finding Jason Stockley, who is white, not guilty of murder for fatally shooting Anthony Lamar Smith, a drug suspect, in 2011. Stockley was an officer with the St. Louis Police Department at the time, and was heard saying, "We're killing this motherfucker, don't you know it," while involved in a high-speed chase with Smith.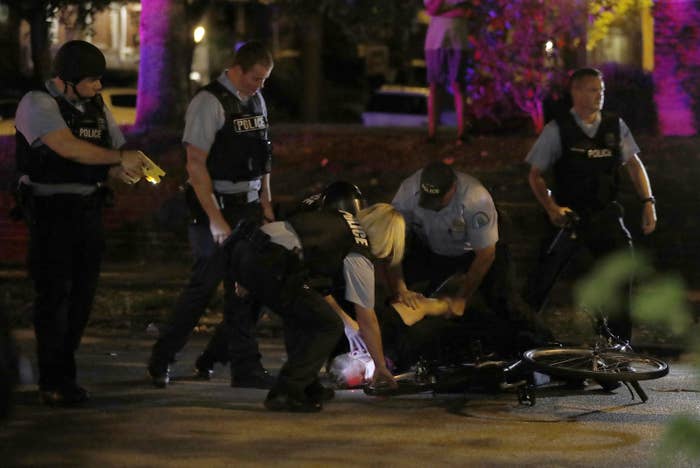 In the hours after the verdict, large groups of protesters gathered in locations around the city.

"Tonight, the St. Louis Metropolitan Police Department responded to numerous incidents as demonstrators marched through the streets of the city," Chief Lawrence O'Toole said in the early hours of Saturday morning. "Many of the demonstrators were peaceful, however after dark many agitators began to destroy property and assault police officers."
A total of 11 police officers were injured during the protests, authorities said, including five St. Louis officers who were taken to nearby hospitals to be treated.

Nine St. Louis Metropolitan police officers were injured, O'Toole said, with one suffering a possible broken jaw and another a dislocated shoulder. A Missouri state highway patrol trooper was also treated on scene for a hand injury.

A St. Louis County Police officer was also treated on scene when he was hit by a rock, St. Louis Metropolitan Police officials said in a statement released Saturday.
"Orders to disperse were given numerous times," the chief said. "Tear gas was deployed after officers were assaulted with bricks and bottles."

At least 23 people were arrested before 6 p.m. local time Friday. By Saturday night, police said 35 people had been arrested.
Several hundred protesters gathered for again on Sunday, marching downtown near police headquarters and through the St. Louis University campus. As the night fell, St. Louis police tweeted that the gathering was turning violent and "a group of criminals continue to work their way through Downtown creating chaos."
Police reportedly gave multiple orders to disperse, tweeting that the crowd was unruly and several arrests had been made. An officer on a bike sustained a non–life-threatening injury and was transported to the hospital.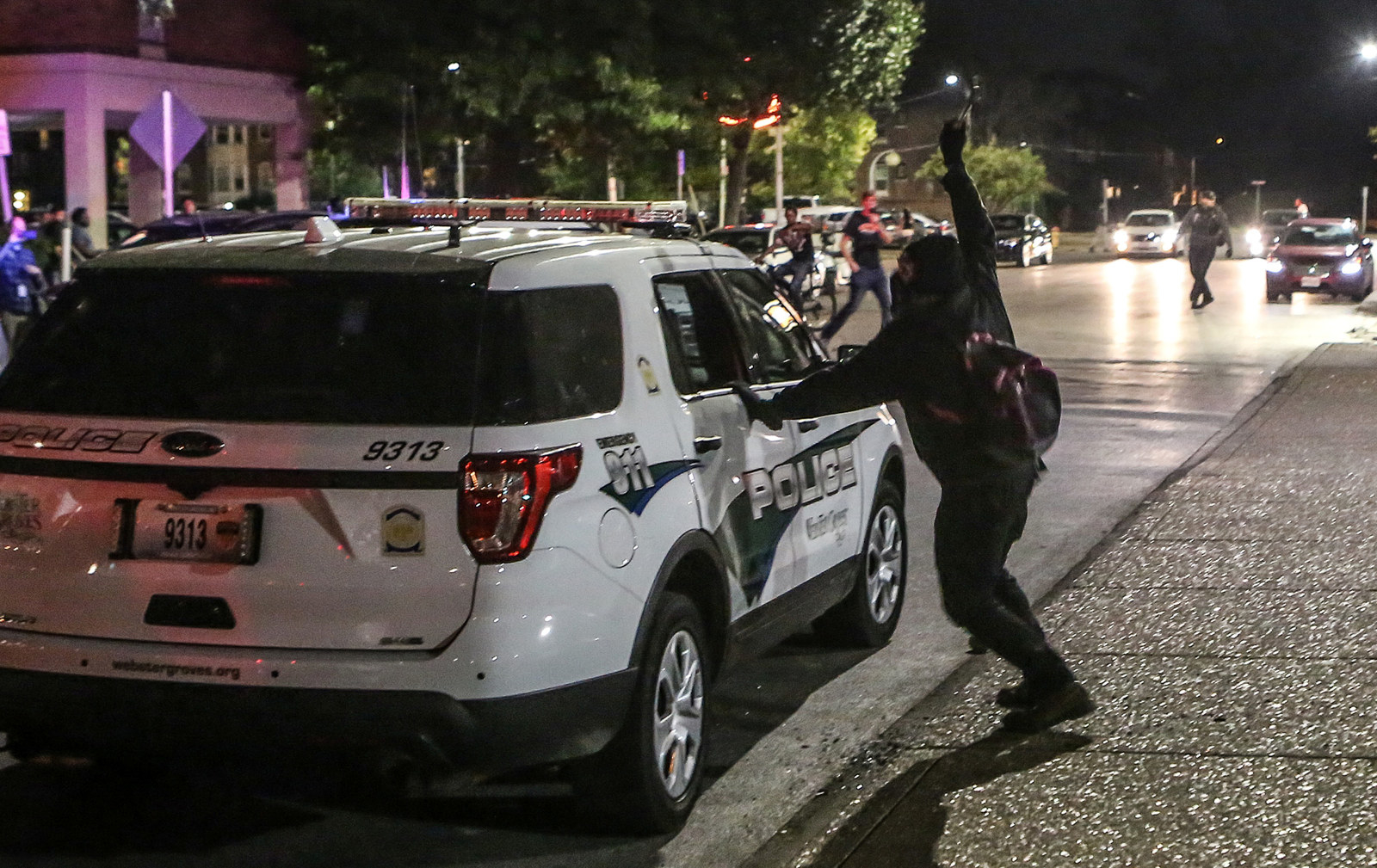 On Saturday, tensions rose after nightfall when a crowd gathered outside the home of St. Louis Mayor Lyda Krewson, who earlier said she was "appalled at what happened to Anthony Lamar Smith."

Police tweeted that "agitators" were at her home and were "throwing rocks and breaking windows, despite being instructed not to."

Images appeared to show exterior damage to the home.
Soon after, police formed lines in the area and tweeted that "officers have given two commands that this is an unlawful assembly." They then fired tear gas at the crowds.
Images also showed damage to a public library in the area, and police said that "agitators have destroyed property of at least one business," which the chief later said was a restaurant.

Amid the confrontation, Krewson tweeted that "the violence is unacceptable."
Prior to the confrontation near the mayor's home, images from the protests showed a number of clashes between demonstrators and police.
In one video, shared by the local Fox TV affiliate, a line of police officers appears to knock over an elderly woman, then step over her as she lies on the ground.

When asked about the video, police spokesperson Schron Jackson told BuzzFeed News the "demonstrators were ordered to leave the area."
"The woman shown in the video refused to leave the street and area as officers were attempting to move them back," Schron said in an email.
Police said on Saturday afternoon that the woman was charged with "interfering."
Other images posted by protesters Friday showed police using pepper spray and batons while taking demonstrators into custody.

Another aerial video showed riot police charging into a crowd.
The St. Louis Police Department also posted a video showing "agitators damaging a police car."
Early Sunday morning the governor of Missouri called protesters "criminals" in a post on Facebook.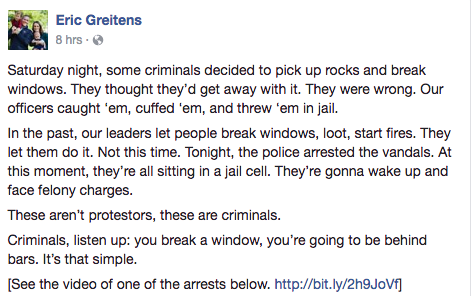 "Saturday night, some criminals decided to pick up rocks and break windows. They thought they'd get away with it. They were wrong. Our officers caught 'em, cuffed 'em, and threw 'em in jail," his post reads. "...Criminals, listen up: you break a window, you're going to be behind bars. It's that simple."

Because of security concerns, Ed Sheeran and the band U2 both canceled weekend concerts that were taking place in the city.
"With the safety of the fans being of upmost concern, and after consulting with local officials, who could not fully commit to providing a sufficient amount of police and other city services support, we felt it was in everyone's best interest to cancel Sunday night's show," Sheeran's concert promotion company said in a statement Saturday.
Refunds would be issued, the company said.
U2 also canceled a concert scheduled for Saturday night after being informed by police they were not able to provide "standard protection."

"In light of this information, we cannot in good conscience risk our fans' safety by proceeding with tonight's concert," the Irish rock band said in a statement. "As much as we regret having to cancel, we feel it is the only acceptable course of action in the current environment."