Ferguson Protesters Turn On Their Own, Leaving Student Hospitalized
Chris Schaefer said that he was attending a meeting at a local church in support of Michael Brown when five people attacked him.
Chris Schaefer was sitting in a church pew at a meeting Thursday night when those around him gradually eased away. Seconds later, he was lying on the ground outside as five men attacked him.
The meeting was a gathering of Ferguson-based protesters and the agenda was how to conduct future demonstrations. When Schaefer — a senior at the University of Missouri, St. Louis — arrived, he was told he couldn't live video stream the meeting. The rule struck him as "suspicious," but in a conversation with BuzzFeed News Friday he said he sat down and obeyed it anyway. And for the next 40 minutes, nothing happened.
At some point, however, Schaefer noticed the people around him moving away "very discreetly." Then a man he didn't know sprang into action.
"All of the sudden one guy ran up to me and pointed and said he's live streaming. Four others joined him," Schaefer said. "They slammed me against the exit door of the church, so I stumbled out. The guy who was in the front hit me a couple times in the face. I fell to the ground and I was stunned."
The beating didn't stop there. Schaefer said the men continued kicking and hitting him as he tried to shield himself with his arms. The barrage only stopped when "five to 10" other people at the gathering stepped in.
"They actually pointed at the road and said run. So I ran."
Schaefer said he sprinted down the road trying to flag down a car, but no one stopped. After hiding in bushes and a convenience store, only to find the attacking men again, he went inside a Walgreens, where a store clerk called 911.
Police and an ambulance eventually arrived. Schaefer was taken to a local hospital, where tests and a CT scan revealed that he had escaped with bruises. He checked out on Friday and has launched a Go Fund Me page to pay for his hospital bills. He also recorded a video in which he talks about what happened:
St. Louis County Police spokesman Shawn McGuire confirmed to BuzzFeed News Friday that there was an assault at the meeting Friday and that the victim was taken to a hospital.
Patricia Bynes, who was at the meeting and has been a longtime Ferguson protester, corroborated much of Schaefer's story to the St. Louis Post-Dispatch Friday. She condemned the attack and said the assailants appeared to be members of Lost Voices, a group of protesters that formed in the weeks after Michael Brown's death.
However, Lost Voices member Bud Cuzz denied that his group was invovled. He told the Post-Dispatch he "didn't see anyone get beat" and that Schaefer should have "followed directions."
"I can tell you that (Schaefer) was told specifically at the start of the meeting: no cameras, no pictures and no recording," Cuzz said.
The beating highlights the volatile atmosphere in Ferguson as the community awaits some resolution in the Michael Brown case.
Schaefer said he initially began live streaming in Ferguson in October because he wanted to "cover this event from that middle ground perspective and just show exactly what was happening." During his time there, he said he made friends with some of the protesters.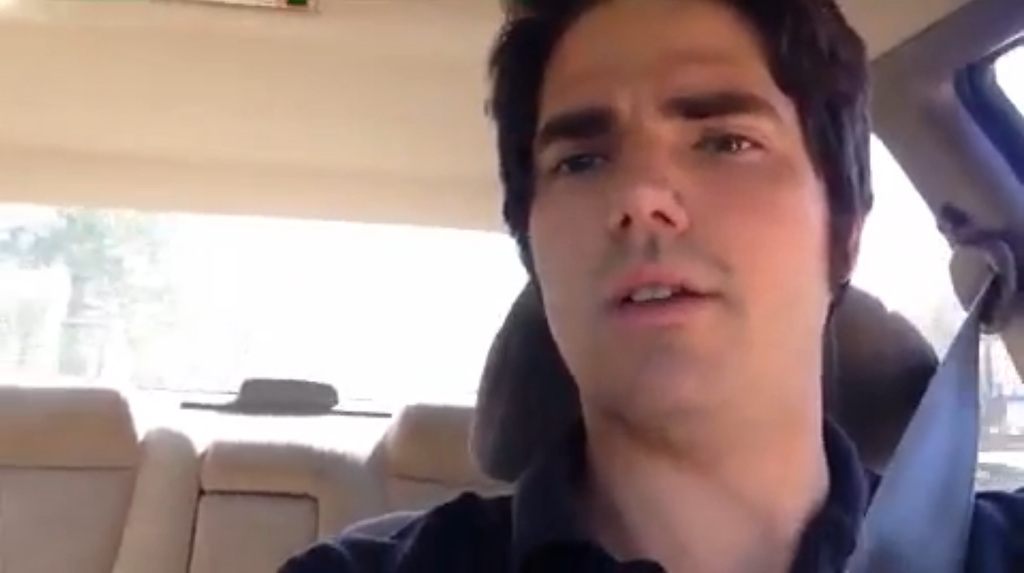 But he also saw fissures in what might otherwise seem like a unified movement. Schaefer said there are groups of people who want the protests to remain peaceful, and there are others who appear to be "agitators" that "make it more of a black and white issue." Schaefer said his attackers were apparently part of the latter group.
Tensions also remain high in Ferguson and the surrounding areas as the community waits to see if Officer Darren Wilson will face criminal charges, but few there believe he actually will. Bynes mentioned the tension in her conversation with the Post-Dispatch, and Schaefer said it may have been a factor in his assault.
"Definitely the feeling probably among 95% of the people," Schaefer said, "is that Darren Wilson will be released."