Strongest Hurricane Ever Recorded Slams Mexico's Pacific Coast
Patricia became the most powerful hurricane on record Friday before making landfall on Mexico's southwestern coast. BuzzFeed News reporter Karla Zabludovsky is reporting from Mexico City.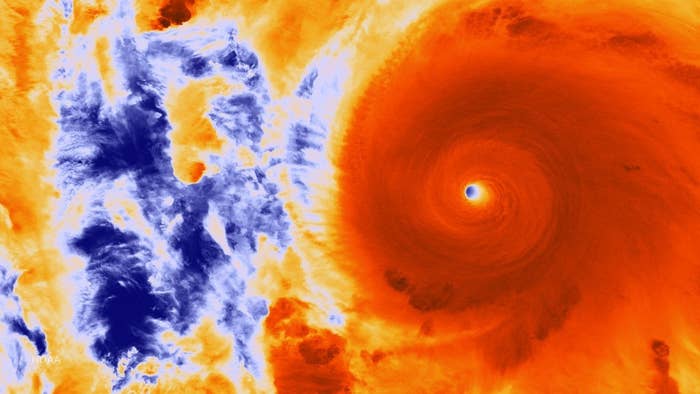 Hurricane Patricia, at one point the most powerful hurricane ever recorded, made landfall on Mexico's southwestern coast Friday evening.
The monster Category 5 storm came ashore on the coast at 6:15 p.m. CT about 55 miles north of the city of Manzanillo, according to the National Hurricane Center. The storm was generating winds of 165 miles per hour when it made landfall, making it one of the most powerful storms to ever strike Mexico.
Several hours later, the storm had weakened to a Category 4 hurricane, with maximum sustained winds of 135 miles per hour. By 10 p.m., Patricia was located about 85 miles northwest of Manzanillo and 50 miles south of Puerto Vallarta. As the storm continued to weaken during the early hours of Saturday, the Mexican Meteorological Service further downgraded it to a Category 1.
"According to the information we have at this point, and taking into consideration that the storm is still on its course, the first reports confirm that the damage was not as severe as it could have been for a hurricane of this magnitude," Mexican President Enrique Peña Nieto said in a statement late Friday, warning the population to remain in their homes or shelters.
The National Hurricane Center warned, however, that treacherous conditions are set to continue. As Patricia heads inland, particularly as the storm reaches higher elevations, it is expected that it will produce 8-20 inches of rainfall. "These rains are likely to produce life-threatening flash floods and mudslides," the official advisory read.
Earlier Friday, the storm had peak maximum sustained winds of 200 mph, becoming the most powerful hurricane ever recorded. As it neared the coast, the hurricane center said it was heading for a "potentially catastrophic landfall."
Roberto Ramirez de la Parra, Mexico's Director of National Water Commission, said Friday that "we find ourselves before the most intense hurricane that has ever existed since we have a record, in the whole of the planet and the whole of history."
The Ministry of Finance and Public Credit suspended activities Friday in all banking-related sites in 51 towns or cities in Jalisco, Colima and Nayarit states, which are coastal and are expected to take the brunt of the storm. Depending on the hurricane's path, it will consider shutting down financial institutions in other places, according to a press release.
Initial reports late Friday indicated that there had some damage, thought it wasn't immediately clear how much. According to the Associated Press, the storm had produced some flooding and landslides, and local TV carried footage of vehicles being swept away in rushing water.
Patricia's minimum central pressure plunged 100 mb in just 24 hours, making it the most rapidly intensifying tropical cyclone ever recorded, a growth forecasters called "a remarkable feat."
Patricia's combination of 200 mph winds and an extremely low barometric pressure of 879 mb made it the strongest hurricane ever recorded, and Earth's most powerful tropical cyclone of 2015.
"It seems incredible that even more strengthening could occur before landfall later today," forecasters had said in a statement early Friday.
"Given the very mountainous terrain that Patricia should encounter after landfall, the cyclone should weaken even faster over land than predicted by the normal inland decay rate," the hurricane center said.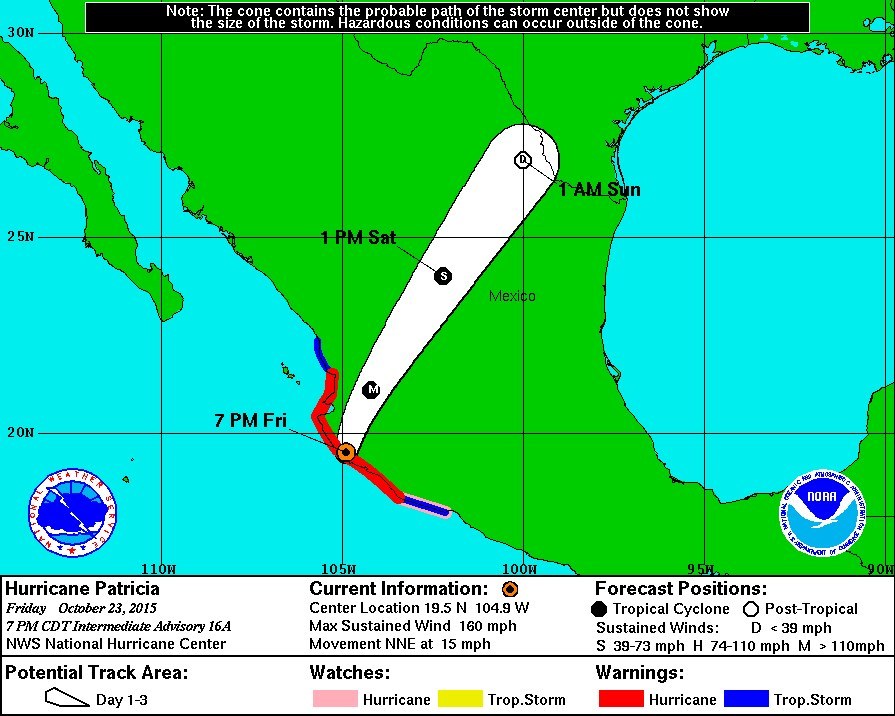 The storm prompted a hurricane warning for parts of the Mexican coast, including the area around the town of San Blas, about 170 miles south of the tourist mecca of Mazatlán. A hurricane watch and a tropical storm watch were also in effect in the region.
The Mexican government issued a series of emergency declarations and preparedness recommendations late Thursday at the storm approached.
President Obama said Friday his thoughts were with the Mexican people as the ferocious storm closed in and offered U.S. disaster assistance.
Mexican President Peña Nieto thanked Obama "for his solidarity with Mexico in these moments while we prepare for the impact of #huracanpatricia"
Images from Mexico's west coast showed high surf and people preparing for the storm's arrival.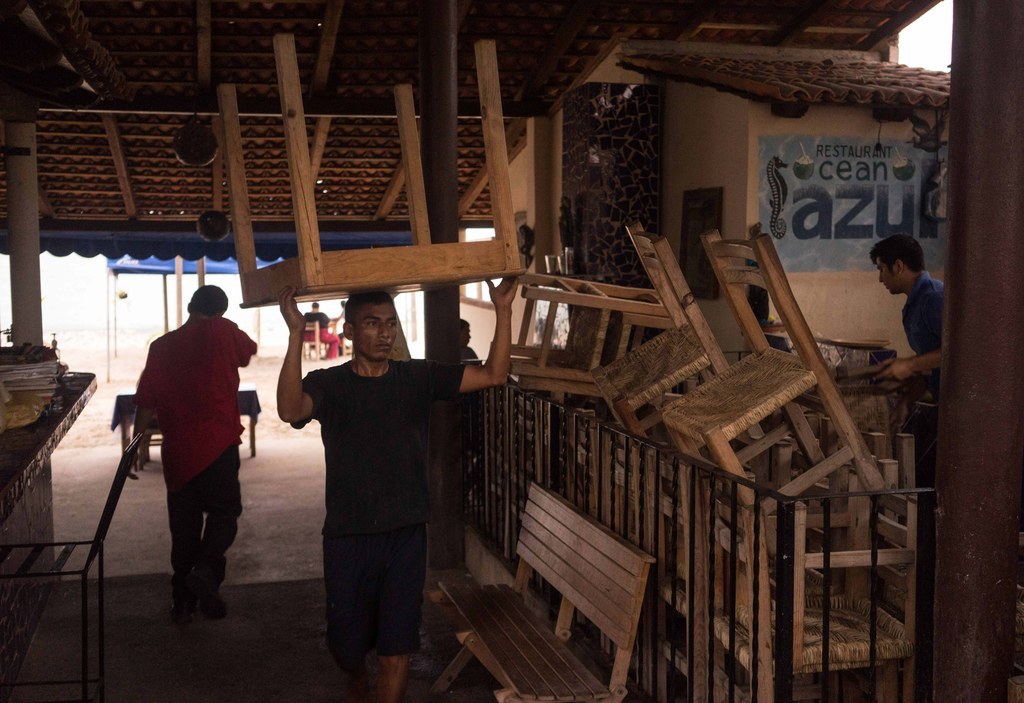 The port city of Manzanillo saw steady rainfall Thursday night, the Associated Press reported, and authorities announced schools would be closed in Colima state.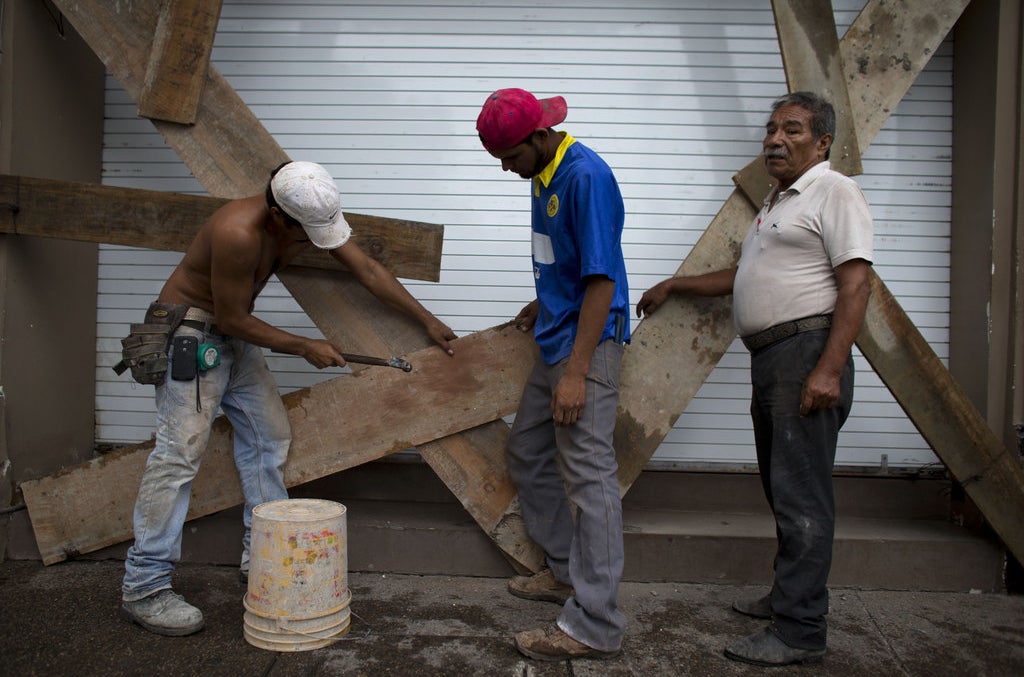 The Mexican federal government declared a state of emergency for 56 municipalities that could be hit by the storm, according to the AP. Local leaders also reportedly were preparing by filling sandbags.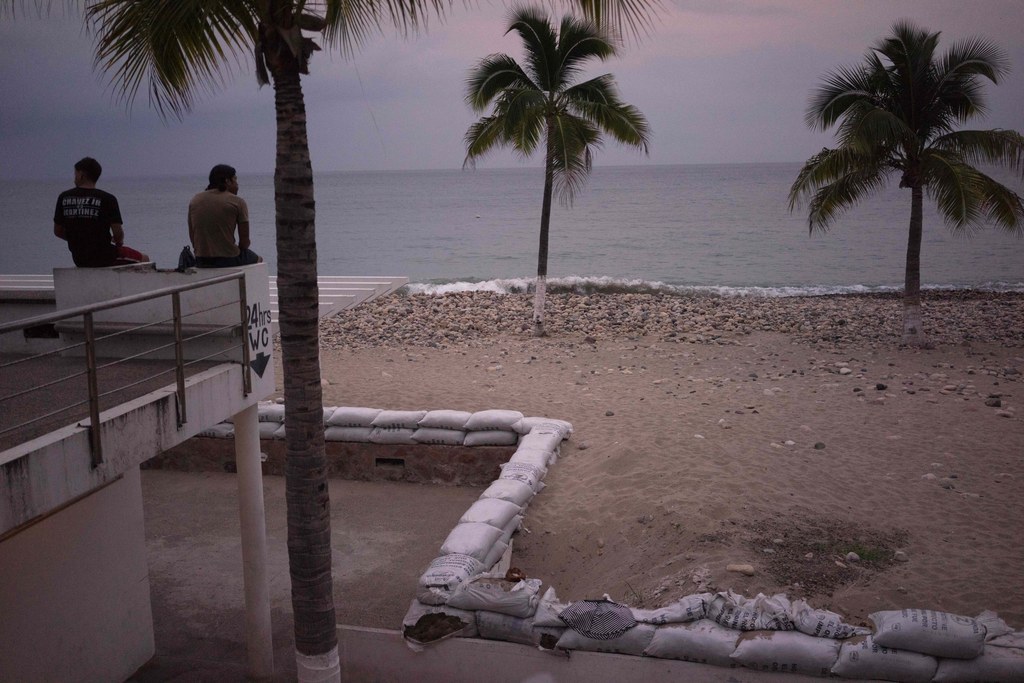 Tourists staying at resorts in the area are being evacuated.