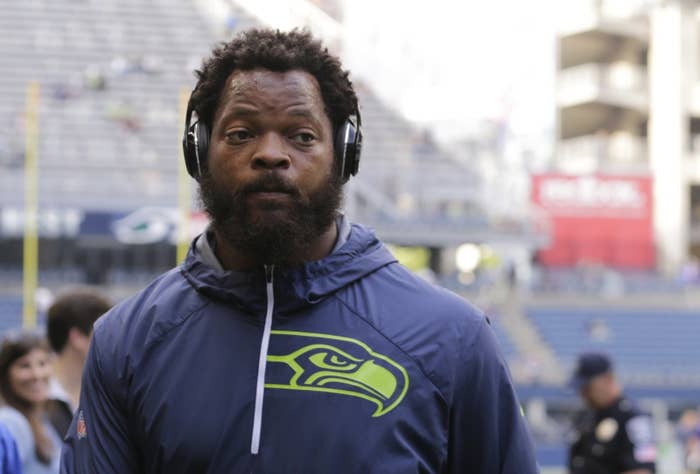 Police officers acted "appropriately and professionally" when they detained an NFL player on the Las Vegas Strip last month, law enforcement officials said Friday, contradicting the player's claims that he was targeted because of his race.

Clark County Sheriff Joe Lombardo said at a news conference that several officers detained Michael Bennett, a defensive end for the Seattle Seahawks, on Aug. 26 after receiving calls about a report of gunshots fired. The officers saw Bennett running at the scene and eventually held him for about 10 minutes, seven of which he spent handcuffed in the back of a patrol car, Lombardo said.
Officers then released Bennett without ever officially arresting him.
Following the incident, Bennett alleged the officers "singled me out and pointed their guns at me for doing nothing more than simply being a black man in the wrong place at the wrong time." Bennett also said an officer placed a gun near his head and threatened to "blow my fucking head off."
Bennett — who has since been among the NFL players drawing attention for silently protesting during the national anthem, and who was the target of a flag burning hoax this week — is black. According to Lombardo, two of the officers involved in the incident were Latino men, and one was a black man.
Bennett's allegations, first made on social media and then in a formal complaint, prompted police to open an investigation. As part of that investigation, police reviewed hundreds of videos, including 193 that "were pertinent," he added.

During Friday's news conference, Lombardo played some of those videos, including officer body camera footage — though another forgot to turn his camera on — and security tape that shows a figure running out of a hotel on the Strip. Lombardo identified the figure as Bennett.
In the body camera video, an officer can be heard telling Bennett that police didn't initially know what was happening, but saw him running while other people were getting down on the floor. Bennett responded that he ran because he was frightened by the prospect of a potential shooter.
Lombardo also said that video footage provided "no evidence that would show" an officer threatened to shoot Bennett in the head, and that the footage ultimately justified the officer's actions.
"As you can see, the detention wasn't excessive," Lombardo said after showing footage to reporters for about 20 minutes. He added that "as soon as the officers started to realize there was not a shooter, Mr. Bennett was released," at which time he was given the reason for his detention as well as an apology.
Police also detained a Latino man and another black man during the incident, Lombardo said.
Bennett could not immediately be reached for comment Friday afternoon.
When asked about the allegations, Lombardo pointed to "the success of body cameras," adding that he used to be skeptical of the devices but has been won over because they "give us the opportunity to dispel" complaints.
"As a result of what's going on across the world, I think it's appropriate," he said. "I think the positives far outweighs the negative."