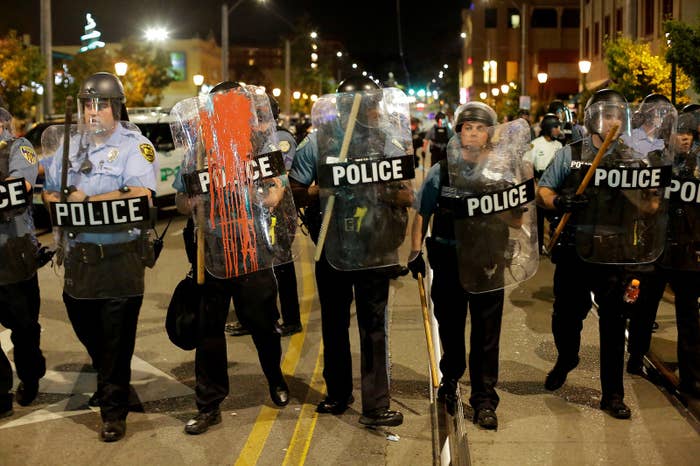 ST. LOUIS — Landry Fort was riding his bike through a protest in downtown St. Louis Sunday night when a group of police officers knocked him down and arrested him.

"They tackled me off of my bike," the 22-year-old St. Louis native said. "They said I was resisting arrest and I was like, 'Dude I weigh 100 pounds. You really think I can do something to you guys?'"
Fort spent the next day in jail with more than 100 other protesters, before posting $50 bail. On Tuesday, he still had scrapes and bruises on his face, knuckles, and legs — injuries he said he suffered when the officers tackled him to the ground.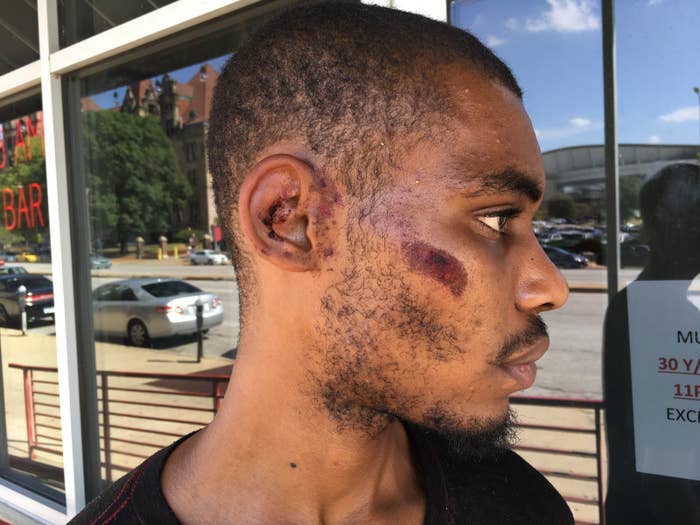 "They tore me up," he said, "and they caused a lot of tension between them and the people."

Though BuzzFeed News could not independently verify the details of Fort's arrest—he did provide a court document that showed he was charged with failure to disperse—it came amid a growing list of incidents that have prompted mounting criticism against the St. Louis Metropolitan Police Department's response to recent protests. The demonstrations erupted last week, after a judge acquitted Jason Stockley, a white former police officer, of killing Anthony Lamar Smith, who is black, in 2011.
The criticism has become so widespread that by Tuesday, St. Louis Mayor Lyda Krewson was distancing herself from police. In a statement that appeared to respond to the controversy, she said "intimidation is not conduct that lives up to the standard of behavior expected by City police officers or any City employee." She also promised an to look into complaints.
"I want to assure all citizens that complaints of misconduct that have been made are being reviewed by the Police Department's Internal Affairs Division," Krewson said.

One of the more controversial incidents occurred Sunday night when a line of police officers attempting to control a crowd began chanting "whose streets, our streets"—a popular chant among protesters that was a hallmark of the demonstrations that broke out in nearby Ferguson, Missouri, three years ago. The moment was captured on video and documented by journalists at the scene.
The ACLU's executive director in Missouri, Jeffrey Mittman, sharply criticized the police use of the chant, writing in a letter Tuesday that it could be seen as "an attempt to intimidate protestors and raise tensions at the demonstration."
"At the very least it's not helpful, and at the worst it raises questions about what message they're trying to send," Mittman told BuzzFeed News. He added that use of the chant could amount to a political statement, which police are not supposed to make, and may have been intended to incite or provoke demonstrators.
"It's not only provocative," Mittman said, "it's improper."
At a news conference Tuesday, Krewson called the chant "not an acceptable statement" for police to make, adding that she wished it "wouldn't have been said." She later responded to Mittman's later, agreeing that use of the chant was not appropriate and did "not serve to de-escalate the situation and encourage peaceful behavior which is our goal."
The incident was not the only one that has drawn criticism of police. Mittman criticized another tactic, known as "kettling," that involves boxing protesters into a confined area. St. Louis police used the tactic during demonstrations Sunday night, leading to more than 100 arrests.

"There certainly seems to be a strong case that improper conduct has occurred," Mittman said. "That deescalation has not being practiced as widely as it should be."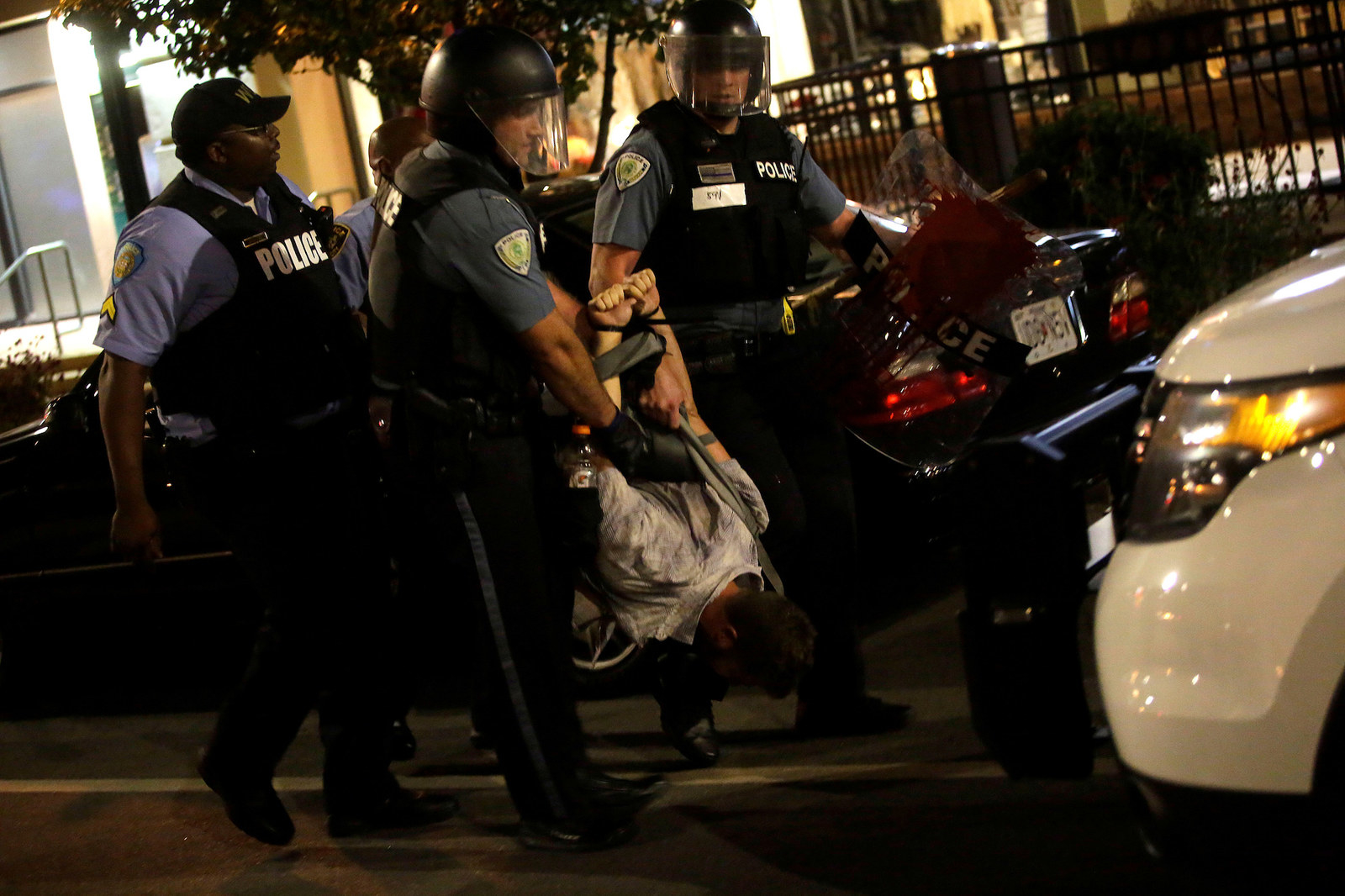 Rev. David Gerth, executive director of the St. Louis-based Metropolitan Churches United, said that police tactics have been needlessly antagonistic, with officers "baiting" protesters.

"The way that they escalate is by bringing in riot police when riot police are not needed, by putting the helicopter in the air," said Gerth, who has attended the recent protests. "And then they've used chemical weapons at least twice now. They did a mass arrest, swept up people they had no charges for."
Gerth called the officers' use of the "whose streets, our streets" chant a form of "intimidation" that "reenforces this fear that people have that we are in some kind of a police state."
Adding fuel to the fire Tuesday was news that a St. Louis police officer was under investigation for allegedly posting a meme to Facebook that called Black Lives Matter protesters "domestic terrorists." The police department confirmed to BuzzFeed News that it was reviewing the matter, but did not provide additional details.
At the news conference, Krewson said that "I certainly disagree with that comment."

When asked about criticism of the tactics used to control the crowds, police spokesperson Leah Freeman told BuzzFeed News that "our approach has been allowing citizens to exercise their First Amendment rights."
"We deploy tactics when criminal activity arises and escalation depends on the level of aggression," Freeman said in an email.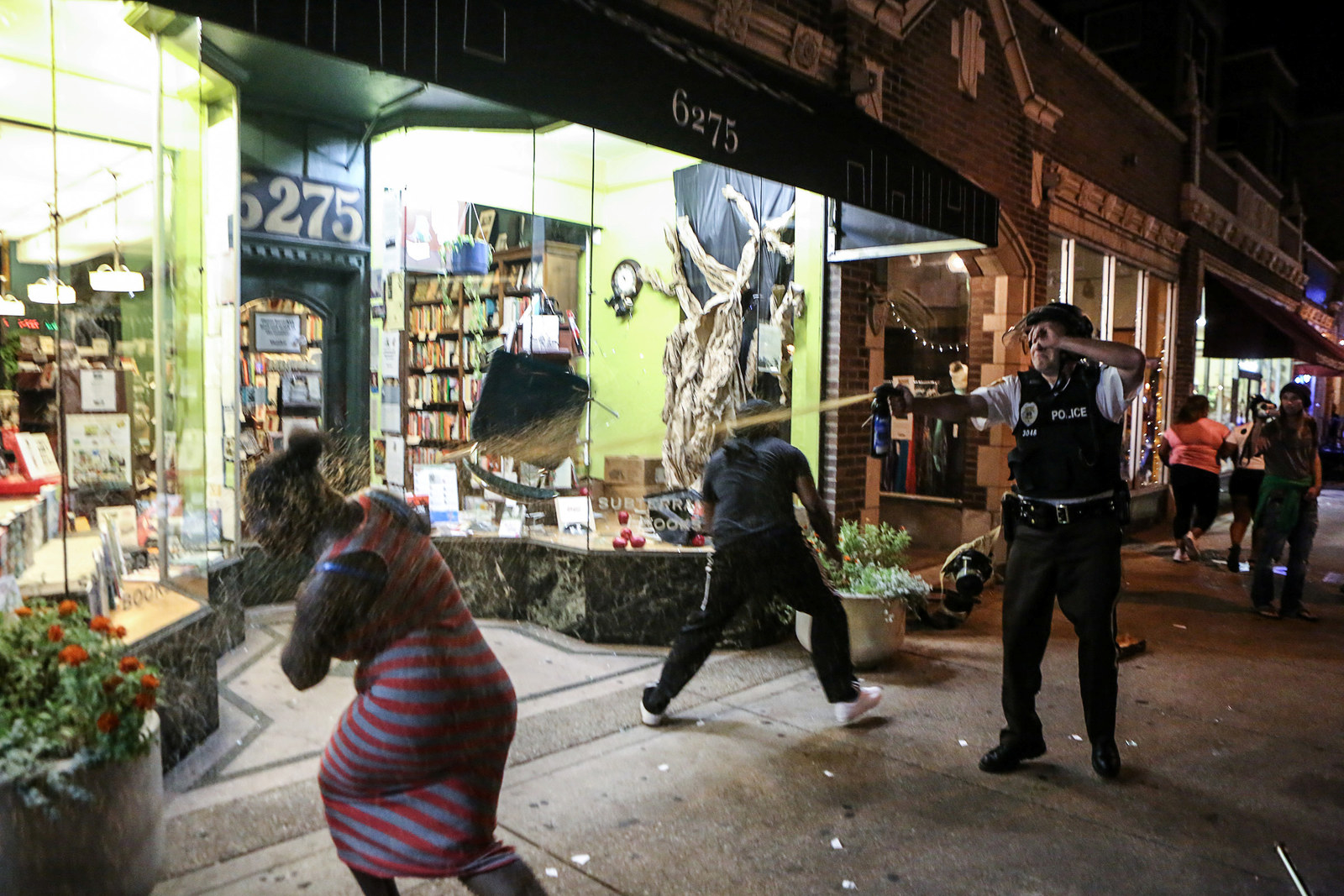 That response is unlikely to satisfy critics who say the department's tactics were significantly more aggressive than those used at similar demonstrations.
Among them is Tony Rice — better known by his Twitter handle @search4swag — who was arrested Sunday night when police "kettled" protesters into a confined space. Rice, a veteran of numerous protests dating back to those that erupted in Ferguson in 2014, told BuzzFeed News that he has not previously seen officers box protesters in that way.
"It felt gestapo-like, with the boots and the hitting of the shields," Rice said. "With their sticks, hitting them on the ground. When they do it with the shields it sounds like thunder."
As the officers closed in, they ordered everyone onto the ground. Rice, as well as other protesters who spoke with BuzzFeed News Tuesday, said the crowd complied, but officers began deploying pepper spray anyway.
"Then someone's macing me and it's pouring down the back of my head," Rice said, adding that he was so thoroughly soaked in the fiery liquid that officers then struggled to zip tie his hands behind his back.
A moment later, an officer pressed Rice's upper body into the bicycle that the activist had been lying on, making it difficult to breath, Rice said, adding that his back was still sore from the incident two days later.
Rice's friend and fellow activist, Alicia Street, was lying on the ground nearby. She told BuzzFeed News she had just been pepper sprayed in the back when she say police near Rice, and yelled for the officers to lay off him.
"I looked over and I had my mask on and all I could say was get off of him but no one could hear me," she said. Street's upper arms were still bruised Tuesday from where police picked her up.
Both Rice and Street said there were cops who did not escalate tensions over the weekend. They mentioned some by name, and described a kind of rapport that has developed over three years of local activism following the nearby Ferguson protests.
But like others who participated in or watched the protests in St. Louis over the weekend, they believed police escalated the situation. And they argued that the aggressive tactics may have the opposite effect that police intended, alienating peaceful demonstrators from law enforcement and driving more people out to protest.
"I'm not going to say it'll radicalize people," Rice said, "but they're going to have a more radical view than they did previously.