Tear Gas, Looting, And Violence Plague Protest In Berkeley, California
For a second day, demonstrations over recent police killings of unarmed black men turned violent in Berkeley, California.
Updated — December 8, 2014 7:26 a.m. ET
Hundreds of protesters returned to the streets of Berkley, California Sunday for demonstrations against the deaths of Michael Brown and Eric Garner.
The protest began around 5 p.m. local time and were initially peaceful with the crowds chanting, "Turn it up, don't turn it down. Shut it down for Michael Brown," according to NBC News. By 9 p.m., the demonstration grew more violent as protesters threw "concrete objects" and vandalized police cars, resulting in officers using tear gas and arresting eight people.
A group of protesters jumped on top of police cars and kicked at the sirens while others set small fires.
There were no serious injuries reported following Sunday night's protests.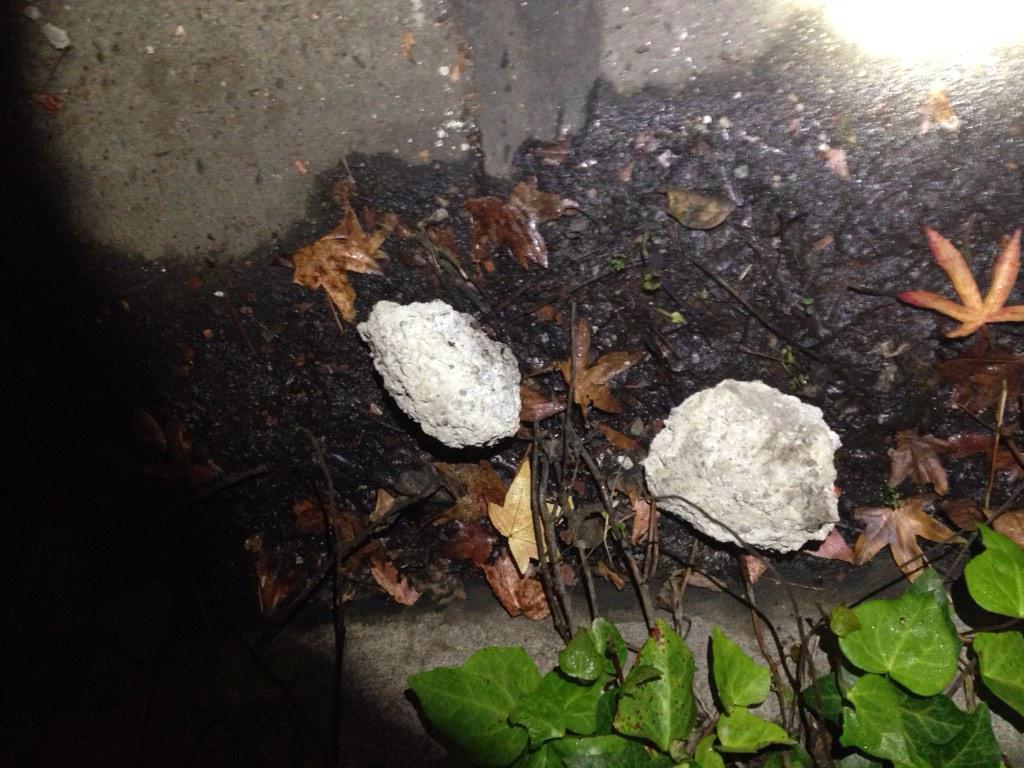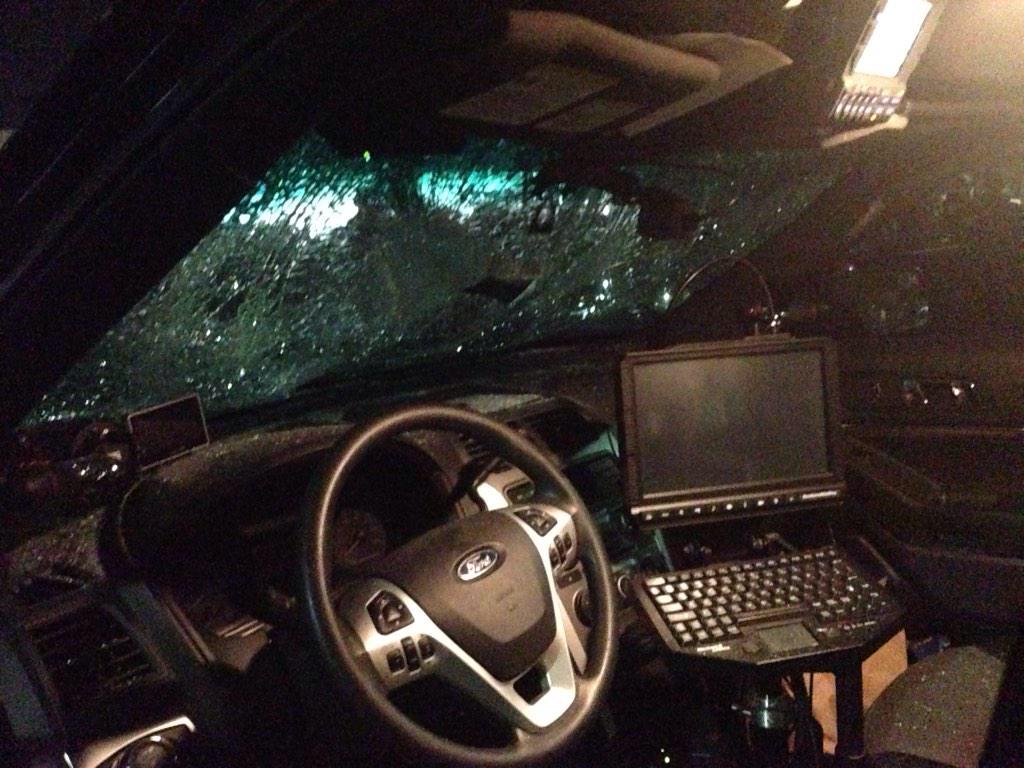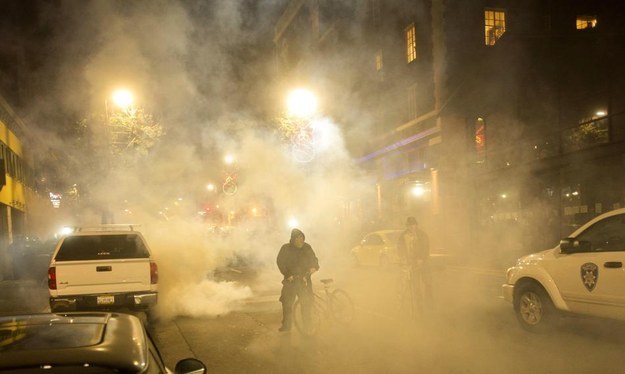 A protest over recent police killings of unarmed black men turned violent late Saturday in Berkeley, California.
The protests began in the Bay Area city's downtown, like those in many other places, with peaceful marches. Later, the first signs of violence came when a small group broke off from the main protest and "started throwing rocks, pipes and bottles at officers," Berkeley police spokeswoman Jennifer Coats told BuzzFeed News.
In a statement, Coats said the "splinter groups" vandalized cars and looted businesses.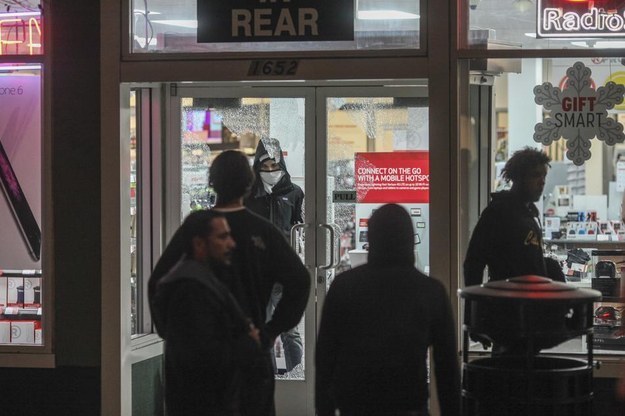 A police officer suffered a dislocated shoulder during the mayhem after being hit with a sandbag, Coats also said. Businesses that were hit included a Trader Joe's, a Radio Shack, and a Wells Fargo.
According to Coats, "numerous police vehicles" were damaged as well.
Officers at the scene eventually responded by firing smoke and tear gas, police confirmed to BuzzFeed News. As of 1:30 a.m. PT the protest was still happening. Coats said that arrests had been made, though she did not have an exact number.
According to the San Francisco Chronicle, the tear gas hit concert goers who happened to be nearby. Elaine Dunlap, 74, spoke with the Chronicle with tears streaming down her face.
"I've never experienced that and I'm an old hippie," she told the paper.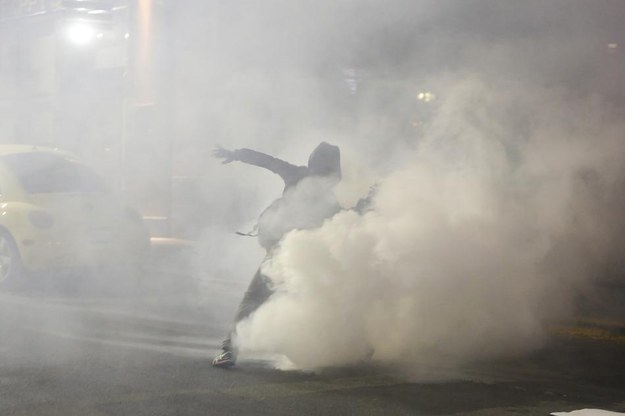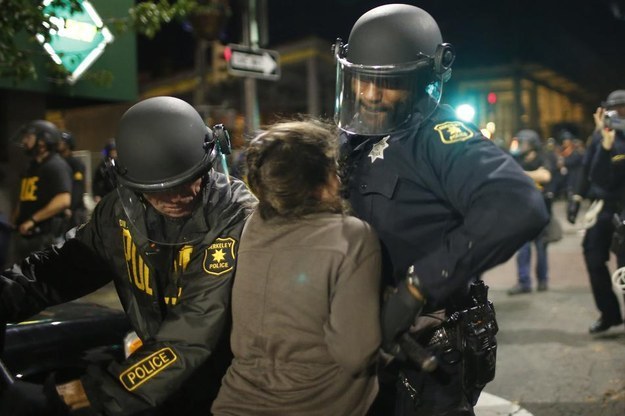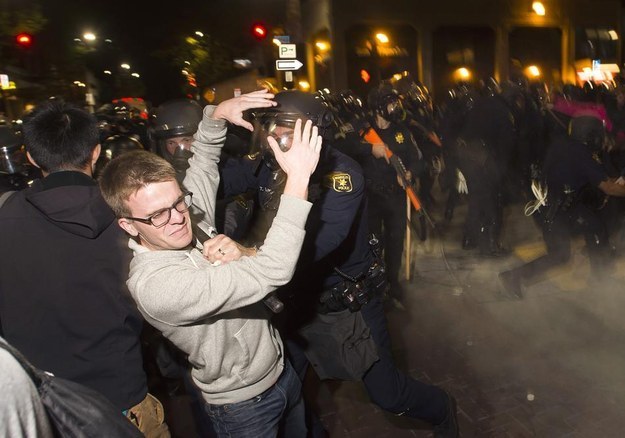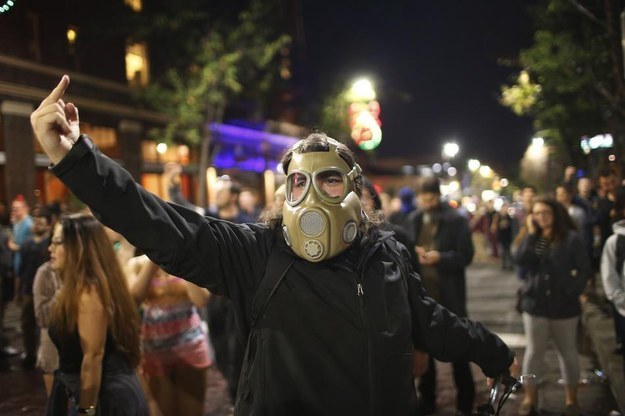 A photo tweeted from the scene appeared to show protesters with injuries as well.
Witness and participants also captured the deployment of tear gas and smoke, among other things.
The images show numerous police officers in riot gear, clouds rising over the crowds, and the chaos that ensued.