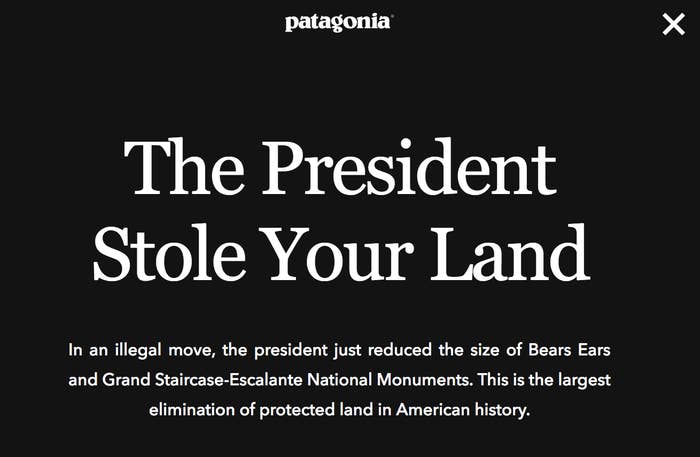 Outdoor retailers slammed President Trump's order to shrink a pair of national monuments in Utah on Monday, including Patagonia, which posted a full-page message on its website bluntly declaring that "The President Stole Your Land."
Patagonia's message, which called Trump's order "an illegal move," took over the company's entire homepage Monday afternoon. It included a link with background information on the two national monuments, and invited visitors to "tell the Administration that they don't have the authority to take these lands away from you."
The stark message followed Trump's announcement that the government would shrink and split up the Bears Ears and Grand Staircase-Escalante national monuments in southern Utah. The monuments — preserves similar to national parks — had together spanned more than 3 million acres. Under the orders Trump signed Monday, the monuments will be broken into five different entities that collectively include roughly 1.2 million acres.
On Wednesday, the company — as part of a coalition of conservationists, Native Americans, and other groups — filed a lawsuit to block Trump's cuts to the Bears Ears monument.

"The President made the decision without visiting Bears Ears or meeting with tribal leaders," the coalition said in a press release. "Despite his claim that his decision represents the will of the people, the decision only advances the interests of a few, at the expense of many. The Administration received over 3 million public comments this summer, and over 98% of those comments favored keeping the Bears Ears National Monument intact."
Trump's orders are the latest development in a long-running conflict over how to use the vast swaths of publicly owned land in the West. Outdoor retailers like Patagonia have previously sided with conservationists and some Native American organizations in favoring monuments, which they argue protect fragile ecosystems and historical sites. Western conservatives, on the other hand, have argued that national monuments create a slew of regulations that hurt local economies.

In a statement Monday, Patagonia CEO Rose Marcario described Trump's orders as "unlawful actions" that "betray our shared responsibility to protect iconic places for future generations and represent the largest elimination of protected land in American history."
"We've fought to protect these places since we were founded and now we'll continue that fight in the courts," Marcario said.
The suit was filed Wednesday in federal court by Patagonia Works, Utah Diné Bikéyah, Friends of Cedar Mesa, Archaeology Southwest, Conservation Lands Foundation, Access Fund, the Society for Vertebrate Paleontology, and the National Trust for Historic Preservation.
Patagonia wasn't the only retailer who opposed the reduction of Bears Ears and Grand Staircase-Escalante. On Monday afternoon, REI had also devoted much of its homepage to a banner displaying a rock formation in Bears Ears, as well as message stating "we love our public lands."
In a statement, REI described itself as "unwavering in our nonpartisan commitment to public lands," and declared that "today's decision hurts the people" who love the outdoors. The company also encouraged customers to put messages of support for public lands in their social media profiles.
"REI will not retreat from our strong belief that there is common ground in the outdoors," the company said. "We will continue to pursue bipartisan support to protect public lands and prevent death by a thousand cuts."

Keen Footwear said in a statement the company is "strongly opposing this attack on America's natural and cultural heritage."
"This announcement is frustrating and unprecedented but is not the end of the road," said company Vice President Tyler LaMotte. "KEEN is committed to working with Congress and our industry partners to permanently protect public lands for future generations to visit and enjoy."
Outdoor clothier Kühl also weighed in, with spokesperson Melanie Webb telling BuzzFeed News the company "has been a supporter of our public lands and national monuments, and specifically Bears Ears, from the get go." Leaders from the company plan to meet early Tuesday to discuss their response to Trump shrinking the monuments.
Outdoor retailers have taken an increasingly active role in lobbying for protection of public lands, and opted to move a major industry convention out of Utah earlier this year in response to ongoing efforts by state lawmakers to pare down monuments.
The retailers have also used their clout to funnel support toward environmental groups that support further conservation of public lands. Alongside its message about Trump's orders Monday, Patagonia's homepage included a list of conservation groups that support the Utah monuments, many of which have already pledged to support lawsuits against the Trump administration over Monday's orders.