Oregon Refuge Occupiers Plead Not Guilty To Conspiracy
The 16 defendants, including militia leader Ammon Bundy, face up to six years in prison if convicted.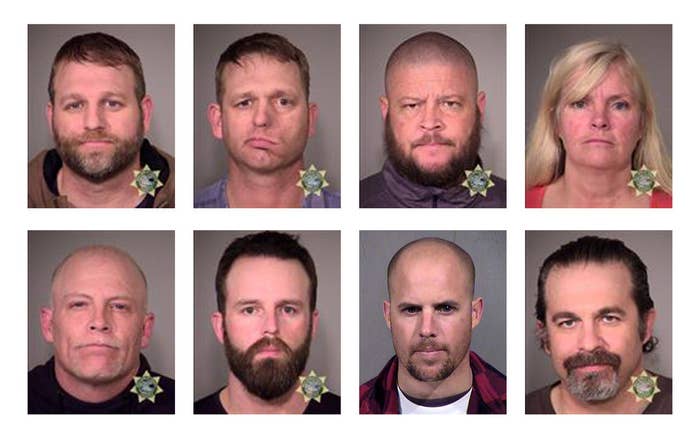 Ammon Bundy and more than a dozen other participants in the Oregon standoff pleaded not guilty Wednesday to conspiracy.
A total of 16 defendants entered not guilty pleas in Portland, the Associated Press reported. The group includes the militia's leader, Bundy, as well as well-known right-wing activists Jon Ritzheimer, Ryan Bundy, and Shawna Cox.
All of the defendants face a single charge for conspiring to impede federal officers for their role in taking over the Malheur National Wildlife Refuge in January.
The group could spend up to six years in prison if convicted. They may also face additional charges since prosecutors are considering filing an additional indictment, The Oregonian reported. More defendants could be named as well.
The U.S. Attorney's Office in Portland did not immediately respond to BuzzFeed News' request for comment.
Attorneys for the defendants and representatives for the Bundy family also did not immediately respond to BuzzFeed News. However, a post added Wednesday to the Bundy family blog announced that the "political prisoners are doing well."
"They are being treated okay, are in positive spirits, and want to thank everyone for your prayers," the post added. "They long to be home with their families and friends. Their battle for freedom is far from over."
The occupation began after a protest over the pending imprisonment of two Oregon ranchers. Participants at the refuge then used the resulting standoff with federal authorities to voice complaints about the U.S. government, particularly its federal land management policies.
Ammon Bundy and several other members of the occupation were arrested on Jan. 26. The final holdouts at the refuge finally surrendered on Feb. 11.
In court Wednesday, one occupier reiterated the group's criticism of the government when U.S. District Judge Anna Brown pointed out that the defendants are innocent until proven guilty.
"You're the federal government; you're going to do whatever you want," Jason Patrick said, according to the AP.
The judge set a trial date for April 29, though that will likely be postponed.