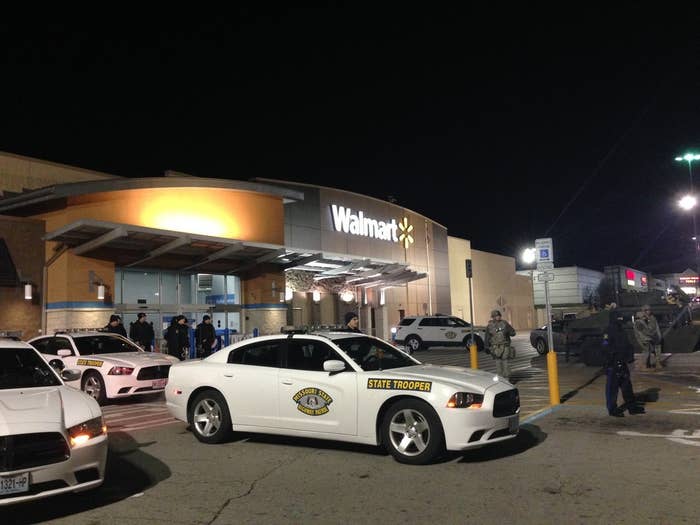 The only obvious difference between Ferguson, Missouri, and any other American town on Thanksgiving was the presence of heavily armed troops fanned out across the city.
In Ferguson's historic core near the police department — where protests were held earlier this week — National Guard troops in beige fatigues huddled in a darkened parking lot Thursday evening. Down the street, at the city hall, a group of soldiers holding assault rifles stood just feet from where protesters burned a police car Tuesday night.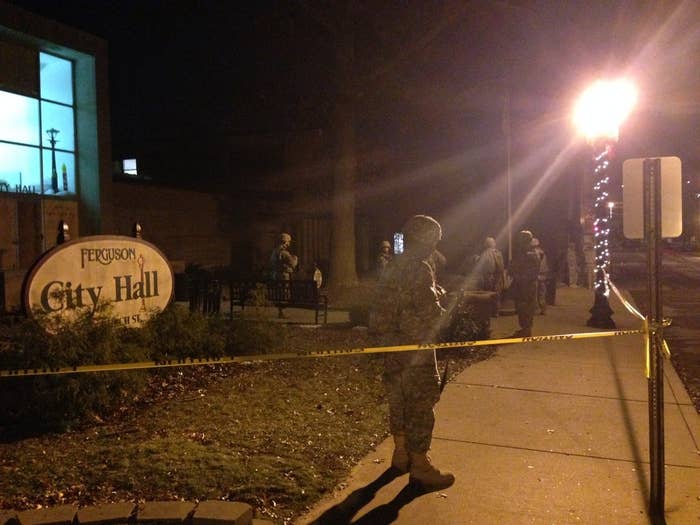 Across town, on W. Florissant — another protesting epicenter that saw several buildings burn Monday night — a large group of troops and police officers stood guard around a Walmart and Sam's Club. Several green Humvees were parked nearby, and a helicopter buzzed overheard. On corners up and down the street, smaller groups of soldiers stood in dark parking lots, bundled up against the sub-freezing temperatures.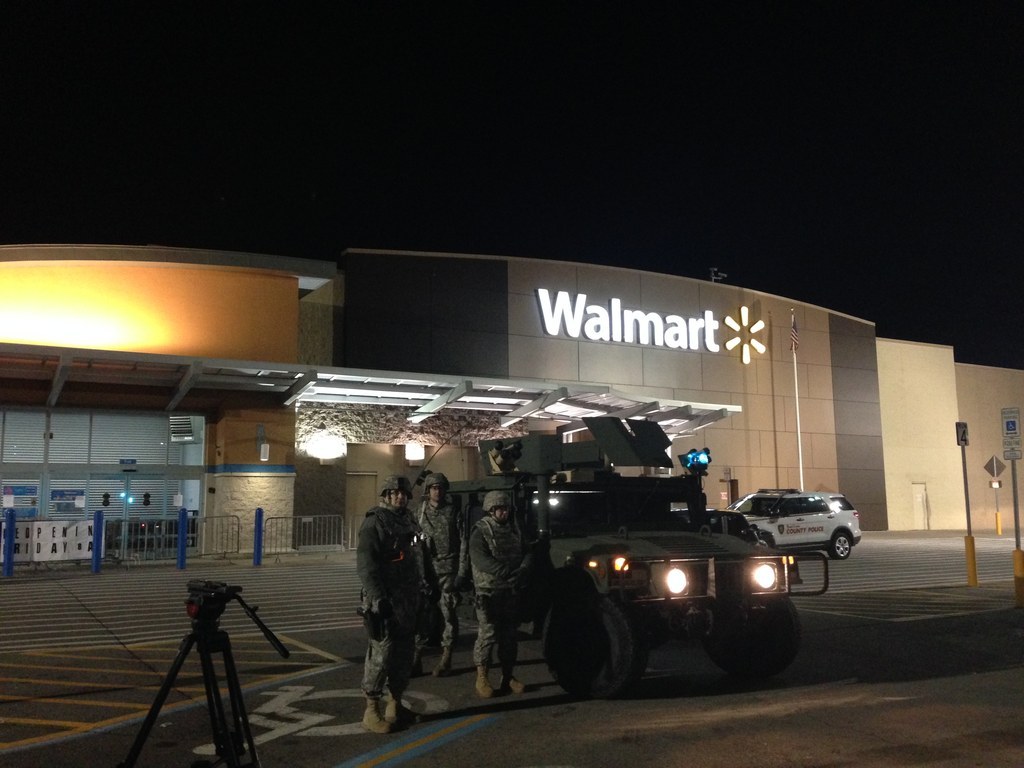 A small army is no small thing in a suburb like Ferguson. Driving down an ordinary-seeming street and suddenly finding yourself in the midst of a convoy of Humvees and troop transport buses is incredibly surreal.
But Thanksgiving in Ferguson was even more significant for what was not on the streets: protests, riot gear, police lines, the sound of breaking glass, burning cars, smoke bombs, tear gas, and people pouring milk in each others eyes to soothe them from the gas. The media was still out, but even their numbers were significantly diminished from earlier in the week.
In other words, it was a quiet night in Ferguson — under the watchful eye of the military.
More protesting is planned, but the question now is if the calm will hold or chaos will return when the holiday ends.
Thanksgiving was the second day of peace in Ferguson, after a particularly destructive Monday and also-violent Tuesday.
Protesters have vowed to keep demonstrating in Ferguson indefinitely, but Wednesday and Thursday those actions were peaceful. Late Thursday, activists also began a series of Black Friday protests that involved rallying in stores around the St. Louis metro area.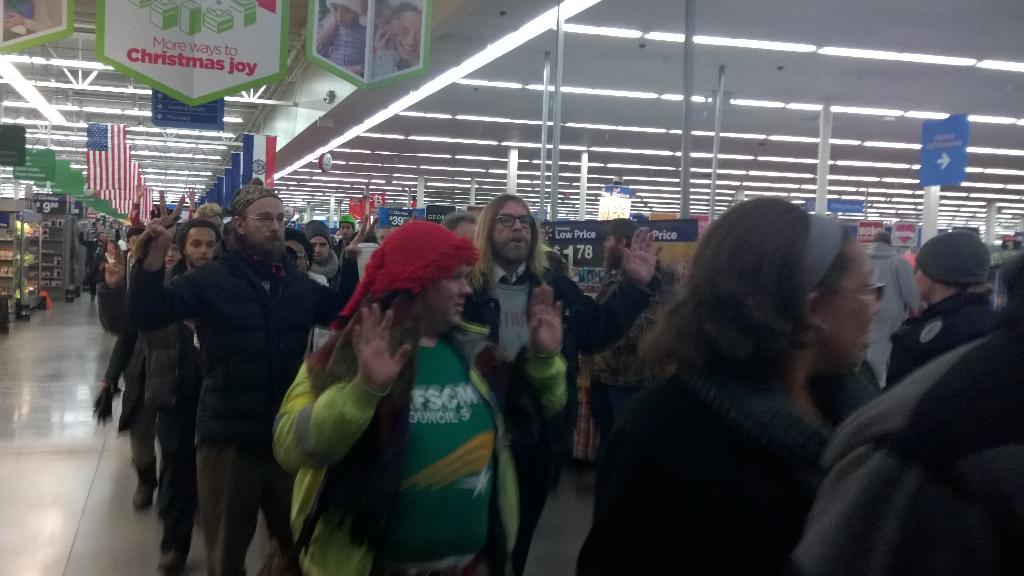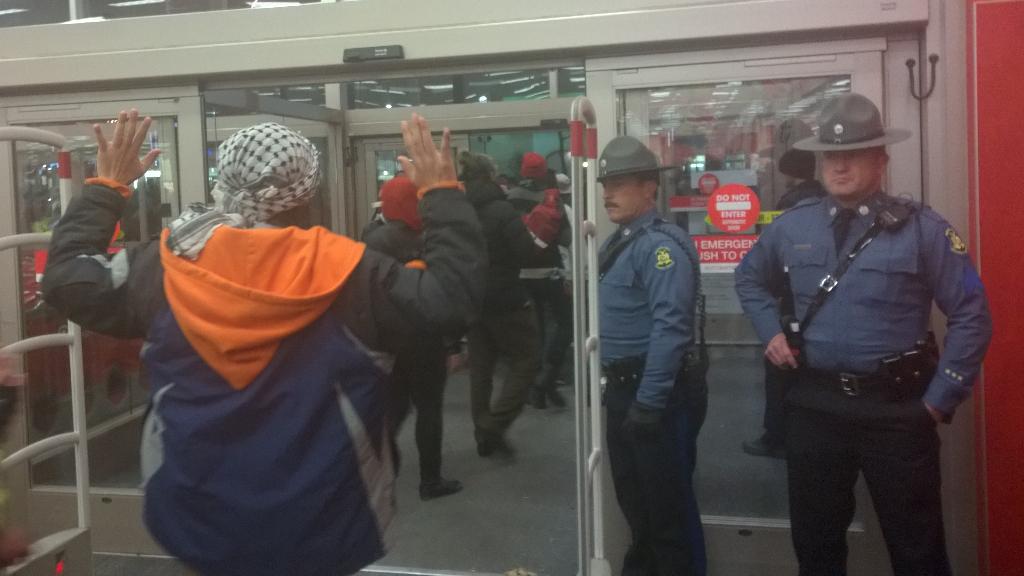 The protests that took place Wednesday and Thursday were smaller than the massive gatherings that happened immediately in the wake of the grand jury decision that cleared officer Darren Wilson. The protests over the holiday also apparently had a specific purpose — what the organizer of one rally described Wednesday as economic "peaceful disruption."
Whether more targeted, activist-organized protests are the new norm for Ferguson remains to be seen, however. Even as calm settled on the city, a stretch of W. Florissant remained closed, burned out buildings had only recently stopped smoldering, and the grievances raised by the protesters remained largely unaddressed.