Ohio Bartender Allegedly Planned To Kill John Boehner
Michael Robert Hoyt was indicted last week for allegedly plotting to shoot the speaker of the U.S. House of Representatives.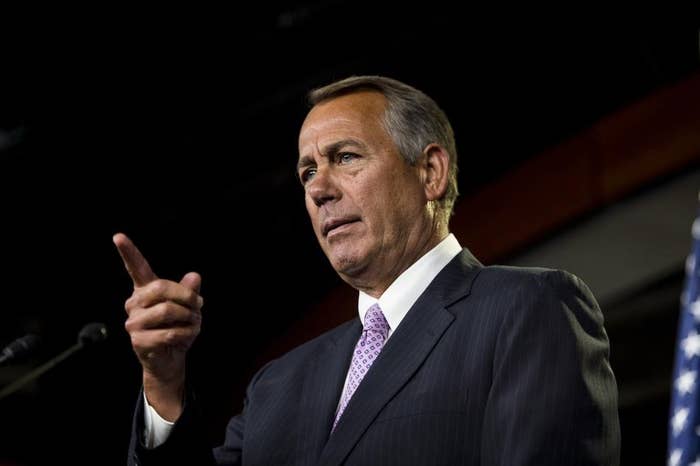 A former bartender at an Ohio country club is facing charges for allegedly threatening to kill House Speaker John Boehner.
The case against Michael Robert Hoyt, 44, began last year, when he was fired from his bartending job at the Wetherington Country Club in West Chester, Ohio, WCPO-TV first reported. Boehner is a member of the club, where Hoyt had worked for about five years.
About a week after the firing, on Oct. 29, Hoyt spoke with police and said he was "Jesus Christ and that he was going to kill Boehner because Boehner was mean to him at the country club and because Boehner is responsible for Ebola," according to U.S. district court records.
Hoyt also told the officer he had a loaded Beretta .380 and planned to shoot Boehner, according to prosecutors. He was subsequently taken to a psychiatric hospital for evaluation, where he remains.
Hoyt later told investigators that he could have poisoned Boehner's wine and regretted not having time to do so.
"Hoyt stated that no one checks the drinks he poured for Boehner and it would have been very easy to slip something into his drink," the documents explain.
He also allegedly said he had imagined shooting Boehner in front of a crowd of people.
When police searched Hoyt's home on Oct. 31, they found an assault rifle, ammo, lists of country club members, and writings mentioning Boehner and Ebola. Prosecutors allege Hoyt also told police he heard the devil's voice, and believed Boehner was the devil.
A day after his first call to police, Hoyt also emailed Boehner's wife, Debbie Boehner, about his plan, WCPO reported.
In the court documents, prosecutors contend Hoyt poses an ongoing credible threat to Boehner.