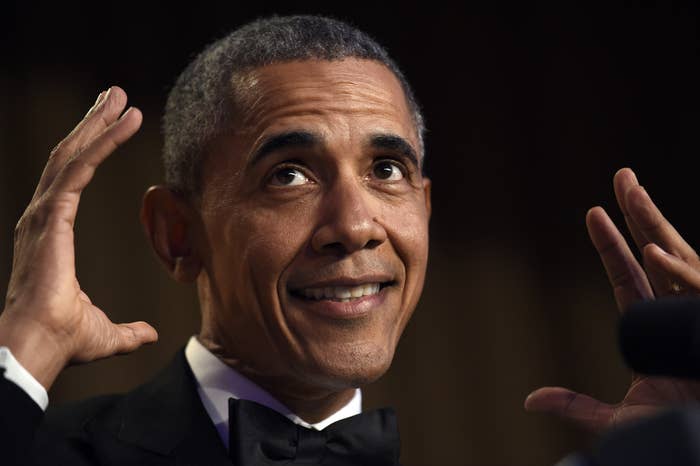 President Obama spoke Saturday night at his final White House Correspondents' Dinner, zinging the media and the field of presidential contenders before dropping the mic and walking off stage.
Hundreds of well-known journalists, politicians, and celebrities attended the dinner, which was held at the Washington Hilton Hotel in Washington, D.C.
Obama began his speech apologizing for being late, saying he was operating on "CPT" — an acronym for "colored people's time" that was controversially used by New York Mayor Bill DeBlasio during a skit with Hillary Clinton. Obama said CPT stood for "jokes that white people should not make."
Obama later continued joking about Clinton — whom he also strongly suggested would be the next president — saying her attempts to appeal to young voters "is a little bit like your relative who just signed up for Facebook. Dear America, did you get my poke?"
Obama also went after Republicans, sarcastically congratulating Republican National Committee Chairman Reince Priebus, saying the party and the presidential nominating process was "all going great."
Obama saved his comments on Donald Trump — the current Republican frontrunner — for the latter part of his speech, laying blame for Trump's rise on the media. "The guy wanted to give his hotel business a boost," Obama said of Trump. "And now we're praying that Cleveland makes it through July."
The president also joked about Ted Cruz, who recently called a basketball hoop a "basketball ring."
"What else is in his lexicon?" Obama asked. "Baseball sticks? Football hats? But sure, I'm the foreign one."
Remarking on the once-large field of would-be Republican presidential contenders, Obama also joked that "some candidates aren't polling high enough to qualify for their own joke tonight."
Obama also said that Trump should have no trouble closing Guantánamo Bay because he "knows a thing or two about running waterfront properties into the ground."
The president took broad digs at the media as well. He compared investigative journalism to a fantasy film, joked about the challenges of an evolving media landscape, and noted that many in the industry have moved on — including reporter Jake Tapper, whom Obama said "left journalism to join CNN."
The final minutes of Obama's speech were spent on a skit that imagined what he might do after leaving office. Finally, he concluded with "Obama out."
Following Obama's speech, comedian Larry Wilmore — host of The Nightly Show with Larry Wilmore — took the stage and continued ribbing the media, including a direct jab at CNN's Don Lemon.
Wilmore began his speech by welcoming attendees to "Negro Night," adding "or as Fox News would say, two thugs disrupt elegant dinner in Washington D.C."
Later, he roasted Obama, saying "your hair is so white it keeps saying, 'All lives matter.'"
He concluded by observing that "now I live in a country when a black man can lead the entire world. Words alone do me no justice."
"So Mr. President," Wilmore added, "if I'm going to keep it 100, 'Yo Barry. You did it my n***a.'"