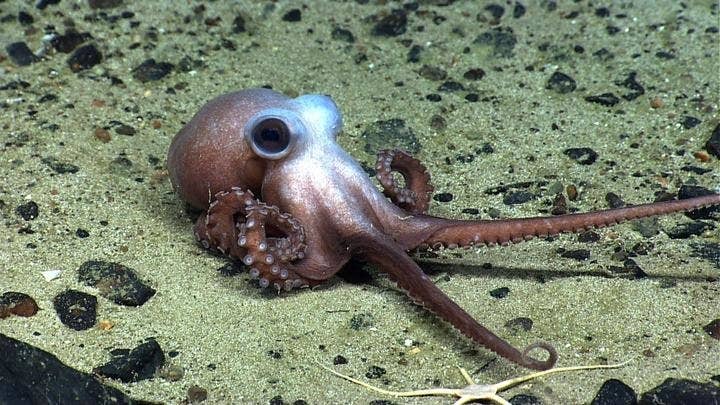 President Obama designated a national monument Thursday covering thousands of square miles in the Atlantic Ocean, pleasing environmental groups but flying in the face of opposition from state officials and fishing organizations.

The Northeast Canyons and Seamounts Marine National Monument covers 4,913 square miles off the coast of New England — an area nearly the size of the state of Connecticut — the White House announced Thursday. It will include "three underwater canyons deeper than the Grand Canyon, and four underwater mountains known as 'seamounts' that are biodiversity hotspots and home to many rare and endangered species," it said.
The monument is the first of its kind in the Atlantic. In a presidential proclamation Thursday, Obama framed the monument as a response to growing threats to a diverse ecosystem.
"Over the past several decades, the Nation has made great strides in its stewardship of the ocean, but the ocean faces new threats from varied uses, climate change, and related impacts," the proclamation stated.
Obama had already set aside more land and water than any administration in US history, and Thursday's announcement further solidifies such designations as a keystone of his legacy.
Environmental groups and some lawmakers have long been pushing for protections off the New England coast, and the White House said the declaration comes after "nearly half a century of calls to protect this fragile area."
"The canyons and seamounts provide habitat for protected species such as sea turtles and marine mammals, including endangered sperm, fin, and sei whales and Kemp's ridley turtles," the White House said.
A map released Thursday showed the monument occupying two areas southeast of Massachusetts.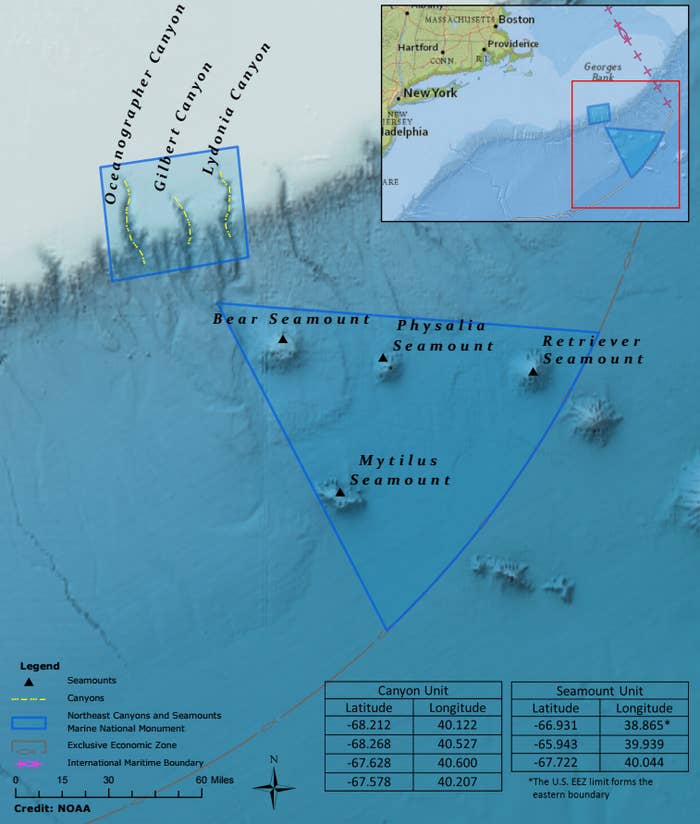 Advocacy in favor of the monument had grown stronger recently as the prospect of a presidential declaration became more likely. In August, Connecticut Sen. Richard Blumenthal and other lawmakers from his state sent a letter urging Obama to create a national monument. The lawmakers' proposal included a map that showed more than 6,000 square miles of ocean — bigger than the monument Obama actually designated — being set aside.
Environmental group Earthjustice said the region includes cold water corals and kelp forests which need "permanent protection now" because they face the "risk of being destroyed" by oil and gas exploration, as well as industrial fishing. On Wednesday, the Natural Resources Defense Council director Brad Sewell pushed for a monument, writing that "climate change and ocean acidification increasingly threaten ocean life."
A number of other environmental groups and scientists have also come out in support of a monument. Thursday, the declaration was praised by the American Fly Fishing Trade Association, Conservatives for Responsible Stewardship, several religious coalitions in New England, and EarthEcho International.
"This is the type of bold action our leaders must take to begin healing a resource that literally makes life on earth possible," EarthEcho International President Philippe Cousteau said in a statement.

But the move has also generated considerable pushback.

Robert Vanasse, executive director of fishing advocacy group Saving Seafood, slammed the declaration, saying White House officials never seriously took the concerns of locals into account.

"It's just really obvious that the fix was in from the start," Vanasse told BuzzFeed News. "I believe the sound waves hit their eardrums but I don't believe they were actually listening."
Vanasse said the designation could potentially cost the offshore lobster community $10 million a year. He also said red crab, squid, and other fishing industries could take significant hits by a monument designation.
According to the White House, fishing within the monument will be phased out; red crab and lobster fisheries will have seven years before having to leave, and other commercial fishers will have a 60-day transition period.
Vanasse praised the gradual change — because it'll give the industry time to fight the designation.
"The fact that they have some time is going to be a good thing because we can fight this and we'll be fighting it with a different administration," he said. "I imagine that we will see a legal challenge."
Bob Beal, executive director of the Atlantic States Marine Fisheries Commission, also criticized the monument designation. He said that the economic impact will extend to various onshore businesses that service the fishing industry and, like Vanasse, criticized officials for not adequately taking into account local opinion.
"There's a lot of concern from the fishing public that with a presidential designation there's no public input opportunities," Beal said.
On Tuesday, Beal's organization and hundreds of others sent a letter to Obama urging him to not create a new national monument. Instead, the letter suggested the government use existing management processes to take care of sensitive Atlantic habitats.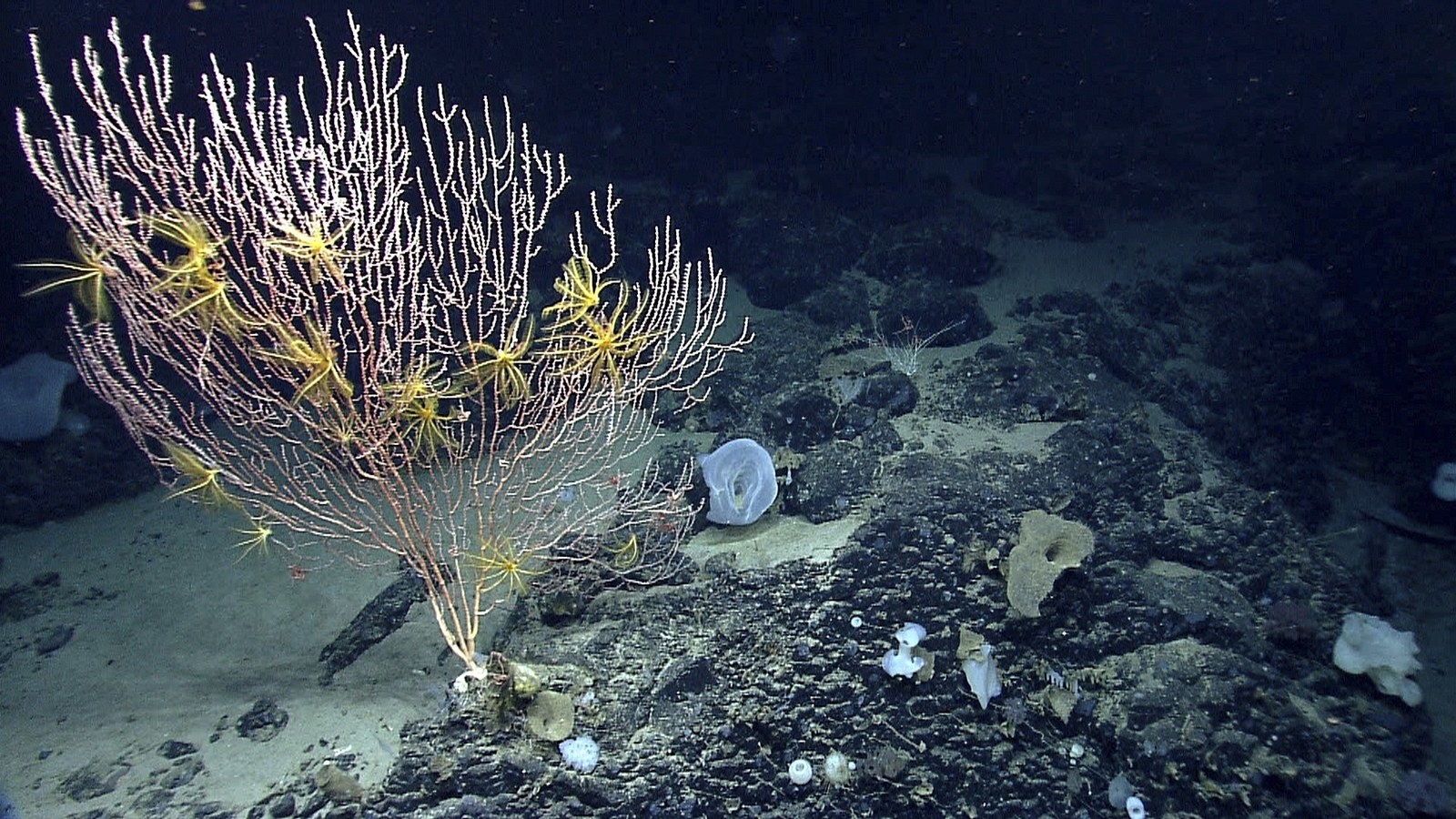 National monument designations are often controversial because they shift who can use land — or in this case, ocean — and how. Concerns about the fishing industry in the Atlantic also closely parallel those raised earlier this summer when Obama expanded Papahānaumokuākea National Monument in the waters near Hawaii. And both instances are part of a broader trend of resistance to national monuments that is particularly potent in the American West.
Much of that resistance in these cases focuses on the Antiquities Act, a 1906 law that gives presidents unilateral power to set aside land with the stroke of a pen. The act was at the center of concerns expressed by Vanasse and Beal, as well as the hundreds of organizations that signed the letter opposing a monument.
But uniquely in this case, the prospect of an Antiquities Act-reliant national monument has drummed up objections across the political aisle. Last year, Republican Gov. Charlie Baker of Massachusetts wrote to Obama about "apprehension as to both the process being implemented and the effects of such a unilateral declaration."
In a statement to BuzzFeed News Thursday, Baker's spokesman Brendan Moss further criticized the monument designation.
"The Baker-Polito Administration is deeply disappointed by the federal government's unilateral decision to undermine the Commonwealth's commercial and recreational fishermen with this designation," Moss said.
Gov. Paul LePage of Maine, also a Republican, has expressed concern as well.

"Maine's economy is heavily dependent on natural resources-based industries and these types of designations harm working Mainers the most," LePage wrote in a letter to Obama, according to the Portland Press Herald.

Democratic Massachusetts Sens. Edward Markey and Elizabeth Warren also both asked Obama to put the brakes on any designation.
"We ask that you engage stakeholders further before making a final decision," the senators wrote in a letter, which was also signed by three Democratic congressmen.
Markey, Warren, and LePage did not respond to a BuzzFeed News request for comment Wednesday and it was unclear if their concerns had been addressed.
For his part, however, Obama has shown a penchant for setting aside vast swaths of land and ocean using the Antiquities Act. In addition to the preserve in Hawaii, he recently created a monument in Maine, and there is widespread speculation about other potential designations in Utah, Nevada, California, and elsewhere in the West.

Thursday morning, Obama continued to tout his commitment to setting aside land when he announced the Northeast Canyons and Seamounts Marine National Monument.
"These actions reflect President Obama's commitment to the goals of combatting climate change and protecting our ocean, in a way that respects local communities, economies and native practices," the White House said.

CORRECTION
Charlie Baker is the governor of Massachusetts and Paul LePage is the governor of Maine. This article originally misstated their governorships.