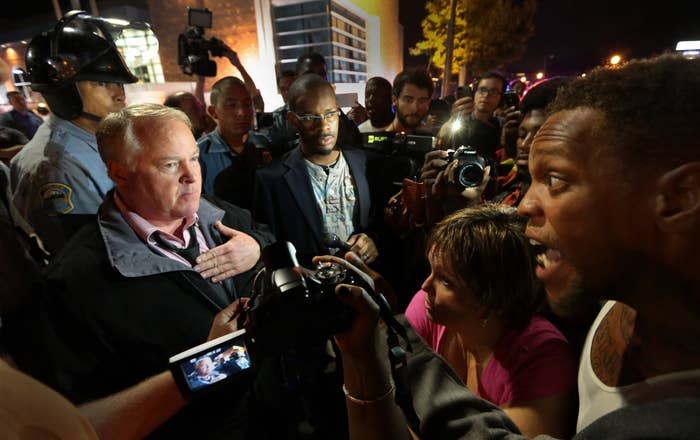 Since Michael Brown was fatally shot in Ferguson, Missouri, a mere 128 people have registered to vote, far fewer than was previously reported.
The St. Louis County Board of Elections previously reported that there had been 3,287 new registrations since Brown, an unarmed black teenager, was killed by Ferguson police officer Darren Wilson on Aug. 9. The new, lower number of registrations — which are only 3% of the original figure — comes after the board corrected it's reporting methods.
Board Director Rita Days told BuzzFeed News Tuesday that her office initially used a "summary report" to come up with 3,287 registrations. However, days later learned that the summary report — which pulls from a statewide database — was including everyone from St. Louis County that had experienced a change in their voter registration.
"The report is to be used when there is any kind of modification to the voter's record," Days said. "When they change their name, when they move, that's what that report is for."
Days said the error was caught when members of her office came up with different numbers of new registrations. She consequently reached out to to the Missouri Secretary of State for guidance.
"That's not a huge number in my mind," Days added of the corrected voter registration figure.
Voter registration has been a major theme in Ferguson during the weeks following Brown's death. Even as the protests continued on W. Florissant, activists set up registration booths in hopes of connecting in the community — which is two thirds black but has mostly white leadership — with the political process. The initial reports that 3,287 new voters had registered after Brown's death generated excitement; the city's population is only about 21,000, meaning thousands of new voters could have been poised to change the political landscape.
Days said she was aware of the voter registration efforts that have taken place in Ferguson. With so few new registrations, she speculated that most potential voters in the city may already be registered, though she did not immediately have data to prove that point one way or another. She also did not have a racial breakdown of the new registrations. She did add, however, that voters in St. Louis County only have until Wednesday at 5 p.m. to register if they want to vote in the upcoming November elections.