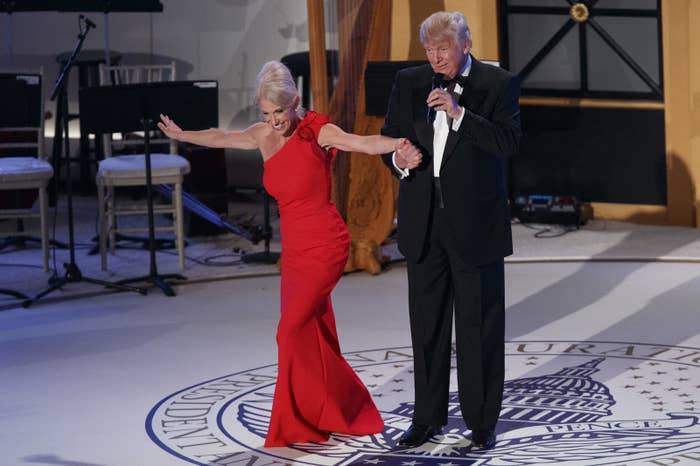 The internet was abuzz Tuesday with a rumor that Donald Trump had unfollowed his controversial senior advisor Kellyanne Conway on Twitter.

The only problem is, Trump has never followed Kellyanne Conway on Twitter — until late Tuesday.
Throughout much of the election season, Trump famously only followed around 41 Twitter accounts. The accounts were well documented, with multiple news outlets listing and profiling the people Trump followed.
The number of people Trump followed did occasionally fluctuate. In October of 2015, he was reportedly following 44 accounts. And in January, Trump briefly made headlines for following, then quickly unfollowing, the account @EmergencyKittens — which true to its name posts pictures cats.
But at no point throughout the election did anyone document Trump following Conway. The fact that Trump didn't follow Conway was noted by at least one Twitter user back in November.
No one has been able to show evidence — screen shots, news stories, etc. — that the official @realdonaldtrump and @POTUS accounts had followed then unfollowed Conway.
Nevertheless, numerous people — including many with verified accounts — tweeted Tuesday that Trump had unfollowed Conway. Many of those tweets racked up hundreds or thousands of retweets.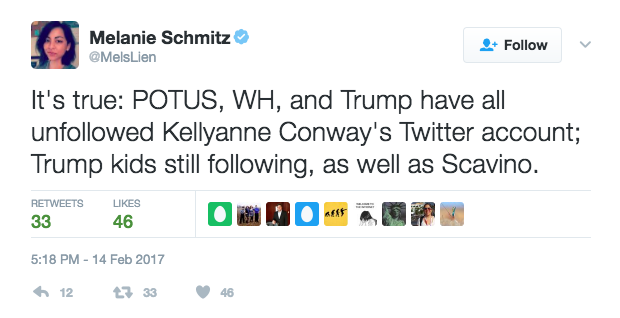 Coincidentally or not, the rumor that Trump unfollowed Conway took off the same day she found herself in hot water after her account thanked and retweeted a white nationalist. Conway claimed she didn't know who was responsible for the retweet, and then deleted it.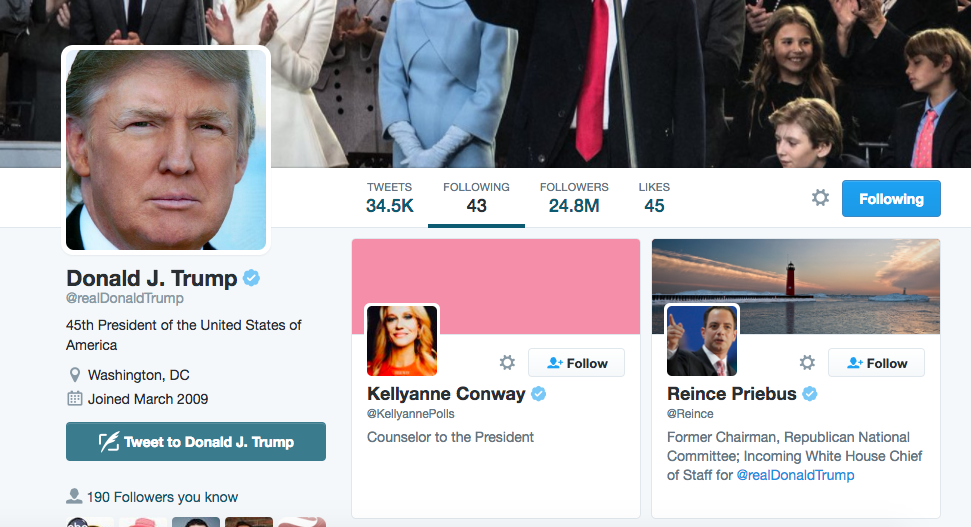 In the end, though, the rumors seem to have had an effect. As Twitter buzzed Tuesday with misinformation, Trump and the official @POTUS account actually followed Conway and White House Chief of Staff Reince Priebus.